New dance captain at DePaul set for top role in junior year
Beyond boosting school spirit and entertaining the crowds at games, being a dancer demands strength, leadership, self-discipline and dedication – qualities that DePaul junior dancer Sabrina DiPrizio identifies with.
DiPrizio became a captain of the DePaul Dance Team for the 2019-2020 season, alongside senior Ally Hursh. Both of them arrived at DePaul their freshman year and have been on the dance team since.
"I'm actually really excited to be a captain," DiPrizio said. "When I found out, I was jumping up and down."
Spirit Director of DePaul Dance and Cheer Shanon Lersch is excited to see DiPrizio earn her position as captain and continue to lead the new generation of the team.
"She strives not only to entertain but also to give back and support the community with her many talents," Lersch said. "Her infectious personality always brings warmth and heightened spirit to all her actions and is one that does not just show up, but gives her whole self while there."
This is something that DiPrizio has been working for her whole life. She started dancing at just 3 years old, and competitive dancing at 5 years old. Her older sisters danced, so she wanted to follow in their footsteps.
Her older sister, Angelica DiPrizio, danced for the Loyola Ramblers for four years until she graduated after the 2017-2018 season. This sparked a fun-loving rivalry between the sisters, as they danced for two different Catholic universities.
"We both went against each other at Nationals, but we were so supportive of the other team,"
"But basketball is a different story, Angelica DiPrizio said. "We killed it my senior year and I rubbed it in her face when we made the Final Four."
The sisters have eternal memories together.
"It was so much fun growing up together," Angelica DiPrizio said. "She is still constantly making us laugh with her quirky personality. She is our baby, so it's amazing to see the beautiful woman she grew into."
Sabrina DiPrizio chose DePaul over Loyola as her school because she loved being in the city from the moment she visited campus. The business program also attracted her since she is in the finance honors program.
Being in the honors program and a dancer leaves her limited free time, because when she's not dancing, she studies toward her plans to work in wealth management or private equity.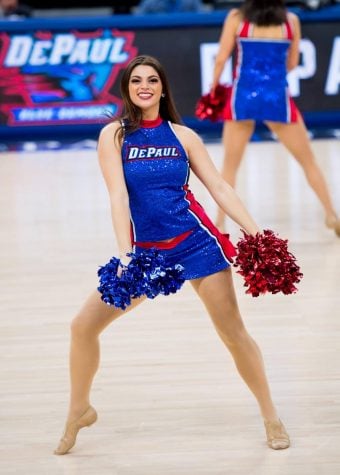 Beyond the physically demanding work that goes into dancing, Sabrina DiPrizio struggles with a herniated disc, which she goes to physical therapy for. She has her good and bad days — which require her to do extra dance-work on the good days, and keep it at a minimum on the bad days.
"It's difficult for dancing because it hits a nerve and I get into a lot of pain," DiPrizio said. "I just have to know my limits and push myself towards healthy dancing instead of pushing."
Sabrina DiPrizio ties her strong, loving personality in with her pride in being Italian. Both her parents, Angelo and Domenica DiPrizio, are Italian-immigrants from Bari, the capital of Italy's Puglia region in the south.
"I love being Italian," Sabrina DiPrizio said. "I feel like if I wasn't Italian – that just plays a huge role in my identity. Because I'm very family oriented. I care about all of our superstitions, our traditions. I can't picture not being Italian; that would be weird for me."
Going forward as a captain, DiPrizio has a clear idea of what she will do for her team.
"I am a very hard worker, so I feel like people will look up to me," DiPrizio said. "I gained a lot of trust with the girls, so if they ever need anything, they could come up to me and ask me."
DePaul sophomore Sam Wrobel is one of DiPrizio's teammates and her close friend outside of dance. Last year, DiPrizio became one of her first friends when Wrobel arrived at DePaul her freshman year.
"Sabrina will make a great team captain because she's very personable and makes everyone around her feel comfortable," Wrobel said. "You can always count on her for help."
DiPrizio has advice for the younger girls who aspire to become a dancer like her.
"My advice would be to just never stop working," she said. "Always give your 110 percent, and always be motivated and positive. You always want the best for everyone."