Even 25 years later, Mariah Carey's rendition of classic Christmas tune still not old — and never will be
No presents to be had, just that one special someone. That's what Mariah Carey has been telling us to wish for every Christmas for the last 25 years. This classic Christmas song stole America's back in 1994, so why do we still love hearing it today?
"The song is just so powerful and relatable," UIC alumnus and Mariah Carey fan, Brandon Lukas said. "I think we all have one person we want for Christmas."
Lukas, 22, has been listening to Mariah Carey for most of his life. There was even a two-year period where Carey was the only artist he listened to. Not just for Christmas, but all year long.
"I had her music going 24/7, I knew all her songs, and all the lyrics, like I was obsessed," Lukas said. "When I listen to her now, it makes me feel like a child again."
This nostalgic connection to Carey's music isn't singular to Lukas. DePaul student Micaela Sanders remembers a childhood full of Carey. But unlike other songs, Carey's songs continue to be relevant as people get older.
"'Rudolf' is great but it's not the kind of song that once I get past the age of 13, I want to continue singing," Sanders said. "Whereas Mariah Carey's song sounds like the kind of song I would want to listen to outside of the Christmas season." 
But is there more than just relatability that keeps this song at the top of the charts? Daniel Makagon, a professor in the College of Communications at DePaul began to answer this. 
"I am sure there are a lot of Christmas songs that are written that just don't stick, so songs that people have accepted are small in quantity," Makagon said. "Those songs will feature in Christmas TV shows and movies, play on the radio, and play in stores."
To Makagon's point, there were many songs on Carey's Christmas album that didn't "stick." Lukas' favorite song on the album is "Oh Holy Night," but this is not one of the better known songs." This is not normally people's favorite. In fact, many don't even know it's on the album.
"I honestly have only listened to 'All I Want for Christmas is You,'" Sanders said. "I'm sure I've heard the other songs, but for me, that's the only one that counts."
The other songs on the album are just covers of traditional Christmas songs whereas "All I Want for Christmas is You" has a pop flair that gets the people going.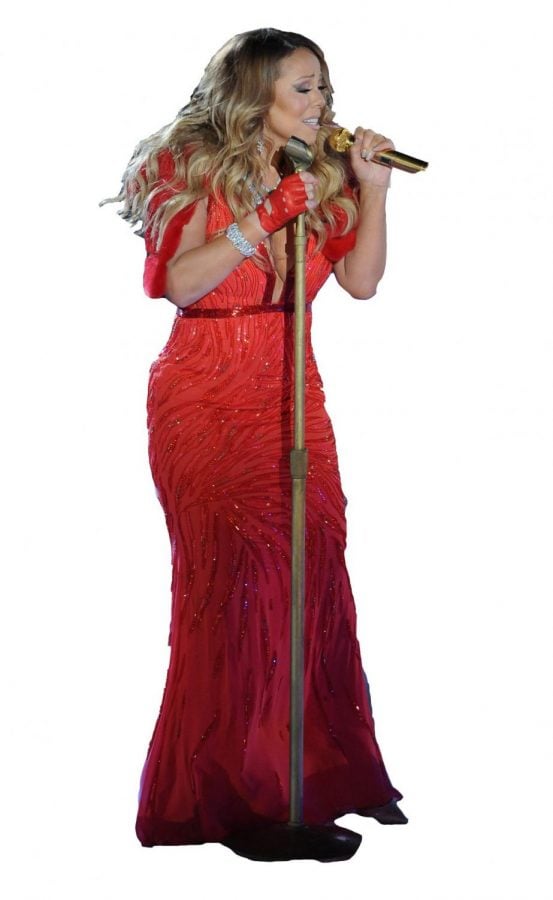 "It's such a sing-able chorus, and for a Christmas song, it's really pop-y," Sanders said. "It feels more like a song you can dance to and have fun with than a lot of the traditional 'Joy to the World' and 'Little Drummer Boy' kind of songs."
These slow songs appeal to some, but as a whole, the upbeat nature of "All I Want for Christmas is You" has kept the attention of Americans since it was released. , maybe because we are taught to care more about these songs, or maybe just because we can relate to them more.
With that said, there are a lot of Christmas songs that seem to annoy various groups of people. "Grandma Got Run Over by a Reindeer" and "Dominick the Donkey" are played less often than "All I Want for Christmas is You."
"The song was catchy, she was already famous, and there probably weren't any other Christmas songs released in the two or three years preceding or following Carey's song that excited the music listening public," Makagon said.
Being famous may have had a greater impact on the album than people may think. But something people don't think about as often is  her personal connection to the music industry.
"Mariah was around her peak at the time she released that song; she was the biggest pop star the world has ever seen," Lukas said. "Plus, her husband at the time was Tommy Mottola, head of Sony Music and, not to take away from her own talent and hard work, but I guess it is known that her marriage to him helped promote her music and success in general."
Her marriage may have helped cement her into the mainstream but it doesn't explain why the song has continued to thrive in pop culture. Makagon explained that Christmas songs are only played for about a month per year. That really isn't long enough to get sick of a single song.
"That one-month time period coincides with other feel-good factors," Makagon said. "Such as getting together with family, time off from work and school, and a general excitement about a season of giving."
The season of giving has turned into the season of Mariah Carey, and it may have gone to her head. Carey re-released the 1994 Christmas Album, now called "Merry Christmas II You." It includes several new covers, and a couple live tracks. It excludes "Miss You Most at Christmas Time" and "Jesus Born on This Day," which were the other two original pieces on the 1994 album.
The release has made many wonder if it was done to celebrate 25 years of the Christmas album, or more as a way for Carey to enter  the spotlight again. Sanders brought up the point that in her original "All I Want for Christmas is You" music video, she is being filmed candidly, but it doesn't come off the way she intended.
"It just feels very 'this is Mariah Carey and she likes to have fun' and it doesn't feel very genuine," Sanders said.
There has been a lot of Carey related drama since the album came out, like when the lip sync at the 2016-2017 New Year's Eve ball drop didn't quite sync up as planned.
But, when it comes to "All I Want for Christmas is You," it doesn't matter what Carey has done, the song is ingrained into America's heart whether it's because of her talent, the upbeat tune, and its singability. The song has been top of the charts for 25 years and it could  stay at the top for the foreseeable future.
"Mariah Carey is the queen of Christmas music and I think it's no coincidence that she shares the same initials as Merry Christmas," Lukas said.