DePaul fails to contain Creighton in 83-68 loss
Coming off an impressive win over then-No. 5 Butler on Saturday, DePaul looked to build on that win on Wednesday when Creighton came into Wintrust Arena. Instead, the Blue Demons came out flat and allowed Creighton to dictate the pace from the start. As a result, DePaul lost 83-68 in front of a mostly empty crowd. 
After DePaul picked up their first Big East win of the season, the hope was that they could use that momentum to jump start their first conference winning streak. The Blue Demons, however, failed to stop Creighton's lethal outside shooting, letting the BlueJays go 10-of-25 from the 3-point line (40 percent) — which gave them their fifth conference loss in six games. 
DePaul, on the other hand — who went 10-of-17 from the 3-point line in their win over Butler — went 3-of-16 from behind the arc in their loss to Creighton. At the start of the game, however, it looked like the Blue Demons would carry over that hot shooting into Wednesday's game, making two of their first six attempts. But the Blue Demons quickly cooled off after that, while the BlueJay kept attempting 3-pointers and making them. 
"Today, I thought our execution along with our energy wasn't what it needs to be," DePaul head coach Dave Leitao said. "So therefore, they took a 3-point halftime lead and came out after halftime a little bit more ready than we were as they were in the first half, and it costed us big time."
DePaul was also without its starting center Jaylen Butz on Wednesday, he missed the game against Creighton with the flu. Starting in place of Butz was freshman Nick Ongenda, who was making his first collegiate start. Ongenda was the one who gave DePaul its first and only lead of the game with a monstrous dunk to open the game, the forward finished the game with six points and four rebounds. 
"That's the million dollar question, is handling success," said Leitao, about building building off the Butler win and using it as momentum. "I've said it before, you got to act the same way through prosperity as you do through adversity. We haven't learned that yet."
Following the early 2-0 lead for the Blue Demons, Creighton gained control of the game and never allowed the Blue Demons to regain any momentum. The BlueJays scored the next seven points and held the Blue Demons scoreless for four minutes. 
Junior forward Paul Reed helped break the scoring drought with two straight baskets to make it a 10-6 game with just over 13 minutes to play in the first half. Creighton, however, kept attacking the Blue Demons on the other end and started to open up a wider lead with 10 minutes to go in the half. 
Junior guard Charlie Moore, who finished the game with 13 points on 3-of-15 shooting, brought DePaul within one, 13-12, after converting a 3-point play. But, like most of the game, DePaul's defense failed to contain Creighton and allowed the BlueJay to go on a 7-0 run to open up a 20-12 lead.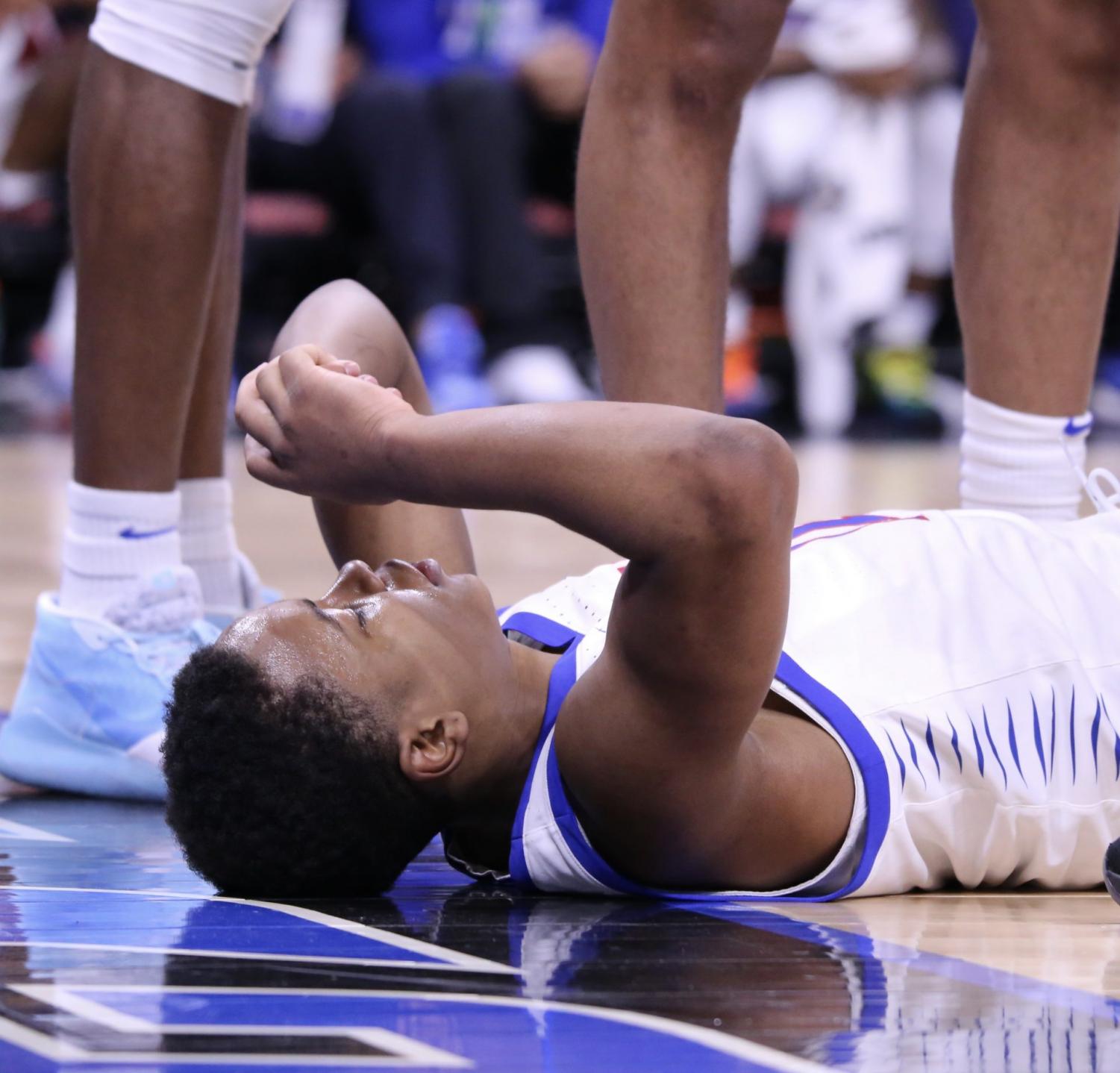 DePaul and Creighton would trade baskets the next couple of minutes, with the BlueJays holding onto a lead. But Creighton was able to get consecutive stops around the five-minute mark and turn those opportunities into 3-point shots for Mitch Ballock. 
That name should ring a bell for DePaul fans, considering he drained 11-of-12 3-point makes against the Blue Demons in the regular-season closer last season. While DePaul fans might still be having nightmares from their last sight of him, DePaul players had a hard time tracking the sharpshooter all night long. The junior got his night going with back-to-back 3-point makes with five minutes to play in the first half, giving his team a 34-25 lead. 
"Most anybody that can shoot makes open shots," Leitao said. "He got too many open shots."
DePaul, however, did a nice job of closing out the first half and cutting Creighton's lead to only three at the break, 37-34. Moore had four points at the end of the half to help pull DePaul closer.
In most of DePaul's losses this season, the Blue Demons have been known to came out slow in the second half and allow their opponents to take control of the game.
Same story unfolded on Wednesday with the BlueJays seizing the moment and never looking back.
If Creighton wanted to hit a 3-pointer, they got that. If they felt like attacking the Blue Demons inside, they were able to draw fouls and get to the free-throw line. DePaul simply had no answers for the high-flying Creighton offense in the second half. 
"I don't know, I don't know," said Leitao, about his team's defensive play in the second half. "I was asking for it the whole game, every dead ball, every timeout. When we play it's because we play energized and passionate and we didn't do that."
As a result, the BlueJays opened up a double-digit lead with 14:48 to play in the game following a Ty-Shon Alexander 3-pointer. DePaul's offense, on the other hand, went cold in the stretch and couldn't keep up with the BlueJays. 
After Darious Hall hit two free-throws to make it a 10-point game, Creighton went another 7-0 run that was started by Ballock's impressive 3-point shooting. The guard finished the game with 19 points on 5-of-11 shooting from behind the arc, including one make that came at the end of the shot-clock to give his team a 22-point lead, 73-51. 
Creighton didn't allow the Blue Demons to get on any big run following that make, and was able to see out their fourth Big East win of the season. 
One bright spot for the Blue Demons on Wednesday was the play of newcomer DJ Williams, who transferred to DePaul last week, the Chicago native played 10 minutes and had a nice drive to the basket that resulted in a layup. Freshman forward Romeo Weems also had a strong performance, scoring 11 points and doing a solid job against Creighton's Marcus Zegarowski — limiting the sophomore to only nine points. 
Junior guard Devin Gage also missed Wednesday's game with a hamstring injury, according to Leitao.
Besides a few bright spots against Creighton, the Blue Demons played their worst their game of the season. It was the first game this season they allowed more than 80 points, and the fifth time DePaul has scored less than 70 points in Big East play. 
Moore, who had a strong first half with 11 points, only scored two points in the second half as his team struggled to get anything going consistently on offense. Reed finished the game with 22 points and 12 rebounds, which was good enough for his 14th double-double of the season.
With the loss, DePaul dropped to 13-6 on the season and 1-5 in Big East play. The Blue Demons will look to get back to winning ways on Saturday when they face St. John's for the second time this season.