DePaul women's basketball senior duo enters home stretch of college career
Both Chante Stonewall and Kelly Campbell of the Blue Demons women's basketball team have had a moment during their senior season where they really felt the looming presence of the end of their college careers.
"Playing my last game in Jersey this weekend was definitely weird," said Campbell, a New Jersey native. For Stonewall, her homecoming game came at Butler. "I had that moment at the Butler game because I have family in Butler," she said.
Not only was it the last homecoming for Campbell and Stonewall, but now the duo has played their final game at McGrath-Phillips Arena after a two-game homestand against Butler and Xavier – a homestand that led them to another Big East regular season title after a 97-63 win over Xavier.
"[It's] definitely bittersweet," Stonewall said. Sunday's game against Xavier marked Senior Day for DePaul and signaled the final stretch of the Big East schedule, where the duo has dominated in their careers.
Stonewall and Campbell were expected to be here at the top of the Big East, racking up conference accolades and leading the DePaul women's basketball team to the best start in their four-year careers.
In each of the past four years, Campbell and Stonewall have either won the Big East regular season trophy or the Big East tournament championship, so their business this season is far from finished.
"I think the sky's the limit for this team," Stonewall said.
The starting forward and guard haven't missed a single game this season, and DePaul's  24-3 record is a result of that, cemented by a 14-1 start to Big East play. Campbell and Stonewall, along with sophomore guard Sonya Morris have started all 27 games, from the 20 point loss to Oregon State in November to the 16-point comeback win against St. John's in February.
Stonewall has averaged a team-high 17.4 points this year, and Campbell leads the team in rebounds (8.5) and assists (6.0) a game. However, the stat sheet isn't where the two make their biggest influence.
The senior duo has grown through DePaul's program and are the most recent example of players built for head coach Doug Bruno's "DePaulball" system, athletically as well as academically.
"It's just two seniors that have done so much and they've done it the right way," Bruno said. "They're both excellent students, they both are service leaders, so it's just a joy to watch good people have and create good results."
Since their recruitment, the two have been waiting for their role at the top to come. They were recruited from two different parts of the country, Campbell from the East Coast and Stonewall from the central Illinois city of Normal, IL. The two stuck together through their years at DePaul.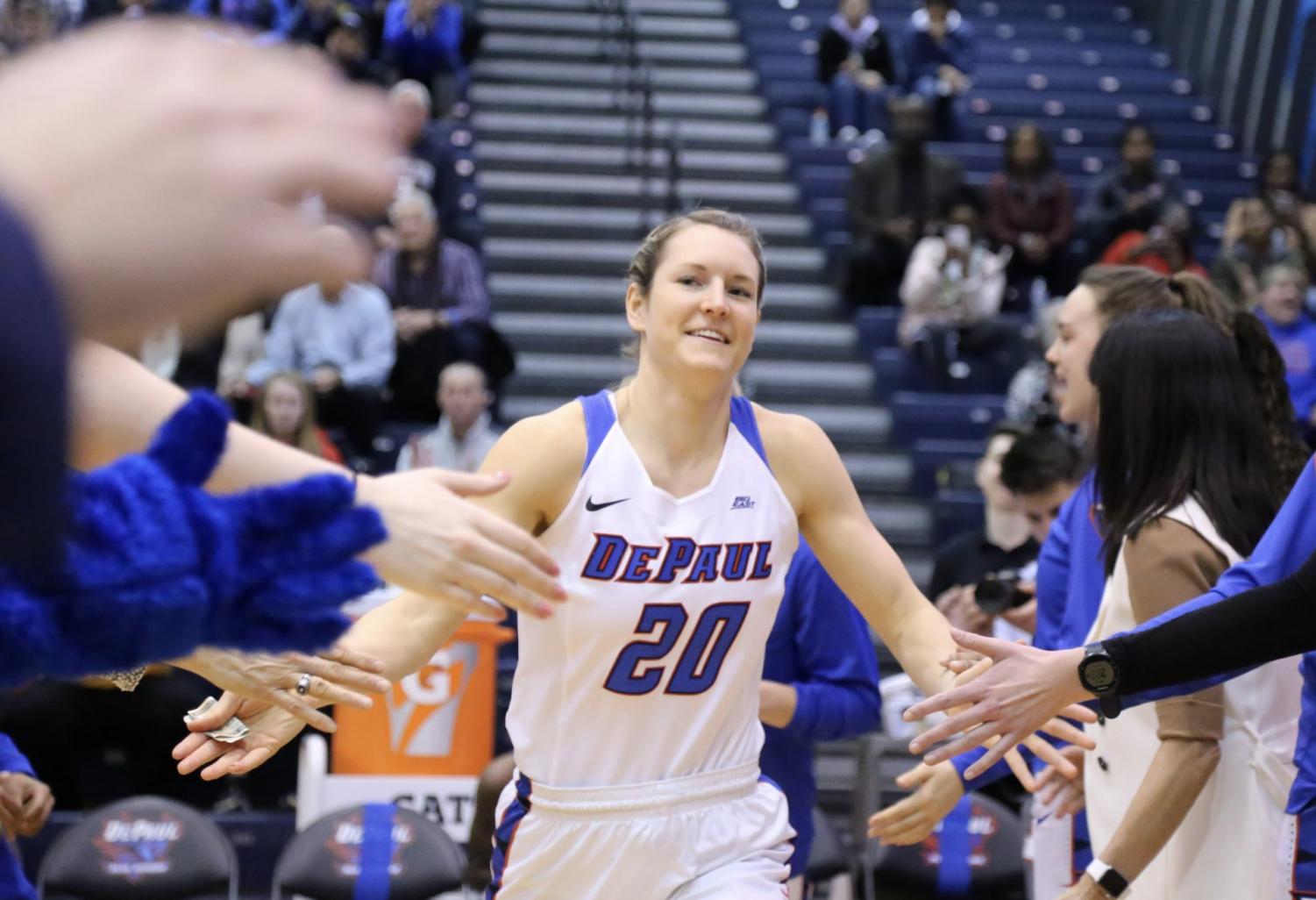 Being seniors is just a title – it's more about what that title carries with. "I think it's something that her and I have been looking forward to in that aspect, yet nothing's really changed you know, [we're] still carrying the reins to this team," Stonewall said.
On and off the court, Campbell and Stonewall's bond has been instrumental in their success. Right now, the two are on the home stretch of their careers. "It's been nice to have each other and to be on the same page as senior leaders," Campbell said.
Senior leadership is often thrown around as a major factor in a college team's success. Even though it doesn't fill a slot in the stat sheet, the influence has been big for Bruno.
"We're having a special season because Chante Stonewall and Kelly Campbell are special seniors," Bruno said. "It's not the only reason why we are here, we have some other very talented players but the group has to be led."
If leadership can be seen from an outsider's perspective, it comes with seeing a never-quit attitude that the women's team has brought to their games. The team's biggest win of the season might have come at Northwestern on the road on Dec. 1 where they trailed for most of the game before storming back to take a 70-68 win.
Against UConn, they erased a 26 point deficit to cut the game back to 4 points. Other comeback wins came against Green Bay and St. John's.
"I've seen a lot of growth in this team," Stonewall said. "We're very mature for us to be so young, super super competitive which is really something that stood out to me compared to other teams."
The win over Xavier clinched at minimum a shared Big East title, a win on Friday at Georgetown would clinch the outright title.
Yet through all of that, the process doesn't change for Campbell and Stonewall. The "one game at a time" philosophy has carried them through their careers at DePaul. "I think it's important for us to stay in the moment and really just focus on how we can be really really good but we also have to win one game in a row to just make sure we stay on target," Campbell said. "We do have really big goals and can achieve them."
Sunday's win came on an emotional senior day where Campbell and Stonewall rolled in the second half to a 32-point win. Their last play on the Doug Bruno court came in the tune of a pick and roll that ended with a Campbell dime to Stonewall who laid it in as she was fouled.
"When [Chante] set the screen, I knew how [Xavier] had been playing it and I knew Bruno was about to take us out so I wanted to get Chante and I one last little connection there," Campbell said.
The two have connected for plenty of plays over the past few years, both agreeing that last year's Big East Tournament championship game against Marquette was their favorite memory. "We got some games to go though, so we could have a new one," Campbell said.
Looking at life after DePaul isn't the main focus right now, but the duo is confident for the future. The seniors will look to continue basketball at a higher level along with school aspirations.
"I want to play professionally, at whatever level God leads me to," Stonewall said. "When that settles down, I'll eventually go back to school, get my masters in sports management, maybe coach somewhere, maybe [DePaul]."
The path is similar for Campbell. "I want to play basketball overseas so I can travel, and then eventually come back and go to grad school, I'd like to be a sports nutritionist at the college or professional level," she said.
The crawl to the end of their careers in basketball will be a trying time. The Big East tournament and the NCAA tournament are the next steps, and the No. 13 DePaul Blue Demons have another chance to make the Sweet Sixteen.
For Bruno and the DePaul athletics department, saying goodbye to the two will be nothing short of difficult. They are players known in the program for their loyalty, drive and care they brought to each and every day.
"These are two people that are very driven human beings," Bruno said. "And to be able to stay driven and still smell the flowers along the way, it's kind of a joy to watch that aspect of their lives."