DePaul women's basketball starting guards make leap in second season
When Lexi Held and Sonya Morris first jumped into college basketball from their respective hometowns of Burlington, Kentucky and St. Louis, Missouri, the first hit they took was not metaphorical, it was physical.
"We did a rebounding drill, and I just got thrown around," Held said. For Morris, the grueling back and forth of an open gym was a shock, even when playing in a program known for its up and down energy. "Like you think we run now, open gym is just ten times more," Morris said. "I think that was when I noticed it. The rebounding drills and the one on one drills and practice, that was just kind of a reality check."
Both Held and Morris fought through that initial adversity and got on the floor during their first seasons, a mark that is not easily attainable at a program like DePaul. Their freshman seasons saw solid production with Morris playing 14.5 minutes and posting 4.9 points a game with 1.6 rebounds. Held averaged 8.3 points on 45 percent shooting while playing 15 minutes a game.
This season, Held and Morris are playing double the minutes and scoring over fifteen points a game each. The prior experience in freshman year can be stated as a reason for their large growth.
"They both got educated as freshman," Bruno said. "Because they both put themselves on the floor. That's important. You play here because you make me play you. You don't automatically play because you are a freshman you automatically do not play because you are a freshman. You make us put you on the floor. They both made us play them as freshmen, they both had big games as freshman and they both had very freshmen-esque games as freshmen. But they were able to log minutes and earn game experience."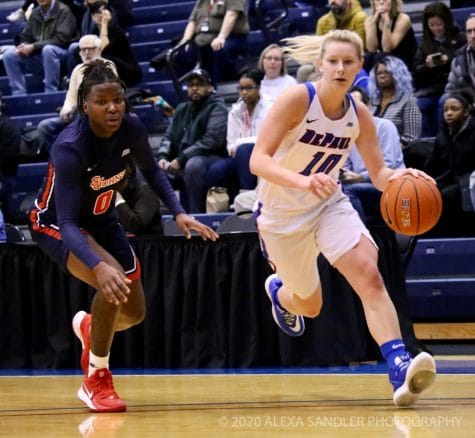 Both of them made these jumps in production mentally. Now, both of them have started every game they have played this year. Morris' change was also physical. The sophomore put in a big amount of work in the weight room, transforming her game through fitness.
"Sonya totally transformed her basketball body through conditioning," Bruno said. "She basically just changed herself and that was by getting in the weight room, proper diet and working on her conditioning, and she did this on her own."
That transformation has shown on the court in both the stat sheet and through observation. Morris is averaging 2.2 steals a game, which is tied for second in the Big East alongside teammate Chante Stonewall and just .2 steals behind conference leader Oumou Toure of Butler. Morris posted career-highs of 30 points and five steals in a win over Villanova on Jan. 24.
Those stats are just a reflection of the enhanced aggression and relentless effort that Morris brings to the court. Two attributes that Bruno saw when recruiting Morris out of Incarnate Word Academy. "I loved her competitiveness, her motor and she was a really really good defensive player," Bruno said. "She scored, don't misunderstand, she was a scorer, but her scoring was a little more at the rim. Basically what made me take note and want her was her competitiveness and her motor and her defensive ability."
For Held, some of the same things shined through when assessing her play at Cooper High School in Kentucky. Held has been a prolific scorer at DePaul, posting 28 points in a game against Seton Hall in January of her freshman season. This year, the 5'10" guard has scored multiple games over 20 points, including a game against Xavier earlier this month where she posted 26 points on 11-of-13 free throw shooting.
Yet in high school, defense was what shined and scoring was a little more of a question mark. "Lexi started out in her younger career as a great defender, and people questioned whether or not she could score," Bruno said. "And then she emerged into a great scorer going into her junior and senior year."
The two sophomores have had great seasons as a part of the program, and are destined to keep it up and graduate as great DePaul players. With all the daily challenges of a fast-paced college basketball schedule, they remember why they fell in love with the sport.
Morris grew up playing plenty of sports, including softball and soccer, but there was something to the feel of the game she played with her older sister. "I just always wanted to dribble the ball," Morris said.
Both marked the importance of constant growth when playing at the college level, and working on the everyday grind has been more welcome than a problem. "I think I've fallen in love with [basketball] because there are so many different aspects to work on," Held said.
Now the two are turning to the end stretch of a vital season. The Blue Demons are 25-3 and won the outright Big East regular-season championship for the third time in four years. Held and Morris will take the floor in the Big East tournament at Wintrust Arena and then the NCAA tournament.
But first, a game against Marquette on Sunday to finish the business of the regular season. "We still can't get comfortable," Morris said. With DePaul still on top of the Big East, every team that comes across them is trying their best to knock them off the top.
"We know we're going to get everybody's best shot as we have all season," Held said.
View Comments(1)