Pitchfork celebrates 15th anniversary with festival kickoff
Draped festival banners, archival merch and memories of past summers defined Pitchfork Festival's 15th year anniversary kickoff.
The festival hosted two free kickoff concerts after the festival lineup was announced on Feb. 19. The 19th hosted The Cool Kids, DJ Spinn and Kaina and the 20th headlined Spencer Tweedy, Dehd and Ohmme. 
This year's Chicago festival will be held on July 17- 19th at Union Park and will showcase up-and-coming bands and seasoned main stage performers. General admission tickets are going for $75 for a single day and $185 for a three-day pass.
The festival organizers will host events around the city at "storied institutions" and collaborate with some of their favorite venues and artists.
"We want to participate in a shared vision of arts in the community," said Kris English, marketing director for Festivals and Activations at Pitchfork. "I think a lot of people are nostalgic for the first festival that they went to. I think those emotions are pretty powerful and tapping into that makes a lot of sense for the 15th year."
Since 2006, Tame Impala, A Tribe Called Quest, Wilco, Kendrick Lamar and Vampire Weekend have all headlined at Pitchfork. This year, Run the Jewels, the Yeah Yeah Yeahs and The National are on the main stage.
"All of the flags decorating the court are the stage décor from the 2012 festival," said Marina Kozak, experiential creative director at Pitchfork. "People think I went with high school prom as an aesthetic because I wanted to. Even though I love it, it's vintage stuff and we are repurposing it."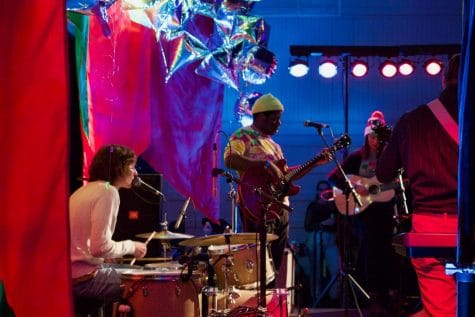 Set at the Chicago Athletic Association's Stage Court, the kickoff offered Chicago staples by serving Chicago-style hot dogs and Goose Island beer. It brought new and veteran Pitchfork goers who remembered back to the festival's early days.
"It used to be easy to sneak beer in the festival," said Scott Sachnofft, who attended the festival six times. "The main thing was you used to be able to bring a fold up chair. It made it easy to hide cans of beer and walk right in. Now we bring blankets. Probably for the better."
As the festival grows more and more popular, Pitchfork organizers hold on to the roots of the Chicago-based festival.
"[Pitchfork] is really run by Chicagoans," said Spencer Tweedy, a Chicago-based songwriter and drummer. "It's never been anything other than its roots. It's booked by people who have their ear to the ground."
What began as a festival showcasing primarily indie rock has now expanded to include more hip-hop, pop and metal in recent years.
"We've stayed true to our roots of promoting independent music that maybe a lot of people don't know about," English said. "That's true to our core. And hopefully continue for the next 15 years."
Championing itself as a welcoming, comfortable and reasonably priced festival, Pitchfork Festival makes an effort to work with local businesses and promote the Chicago arts and food community as a whole.
During Chicago-based Ohmme's set, singer and guitarist Sima Cunningham thanked Pitchfork Festival for being the "Biggest employer of broke artists."
"I've worked for the festival for almost 12 years now," Cunningham said. "I was 19 when I started. They employ a lot of musicians because it was founded by them."
With the rapid pace at which new music is released, organizers search for new artists in a variety of different ways.
"We all have diverse tastes in music and we bring that difference to the forefront," English said. "It's collaborating, communicating and being open to the music taste of our coworkers so that we can uncover new artists collectively and have the heart to promote them."
Chicago indie rock trio Dehd will be playing the festival on Friday where singer and guitarist, Jason Bolla, will appear for the second time. Bolla played for the first time with the band NE-HI, which has since broken up.
"The best thing about playing the Pitchfork festival is that they have a barista who will serve you any kind of coffee that you want backstage," he said. "Aside from that, I am excited to play on the big stage and show the world what we got."
"Playing Pitchfork is a really big deal to me," Bolla's bandmate Emily Kempf said. "It's like, alright, we've arrived to a level of 'bandom' now. I feel like it's the beginning of great things."
Pitchfork festival organizers say that you can expect more 15th year anniversary events to roll out before the festival in July. Event announcements will be made in late March on their website.
UPDATE: (March 5, 2020, 7:50 a.m.): This article has been updated to clarify that the two concerts were on separate days.