Various news and notes from practice compiled by Sports Editor Matthew Paras.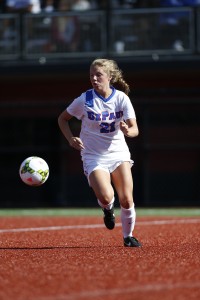 Women's Soccer
No. 8 DePaul women's soccer narrowly avoided having their undefeated streak snapped Thursday when they tied with Butler 2-2.
DePaul (12-0-3, 4-0-2 Big East) tied the game in the 87th minute when sophomore Abby Reed hit her  10th goal of the season.
The two teams went into double overtime, but ended up without a winner.
"It was really nerve-wracking because we have never been in a situation where we were down with less than five minutes to go," Reed said in a release.
Before that,  Butler (7-8-1, 1-4-1) led 1-0 and then later 2-1. Both times the Blue Demons held off the Bulldogs. Freshman Alexa Ben hit DePaul's first goal of the game from  a header from Elise Wyatt.
DePaul's final road game was Sunday against Marquette, but results weren't known as of deadline.
Volleyball
The losing streak for volleyball continued this past week with defeats against Villanova and Seton Hall.
The pair of losses dropped the Blue Demons to 3-18 and brought their losing streak to seven in a row in Big East play.
Against Seton Hall on Friday, the Blue Demons were overmatched, losing 3-0. In the third set, DePaul was outscored a lopsided 25-7.
DePaul's luck didn't improve the next day. Villanova came into McGrath-Phillips Arena and defeated the Blue Demons 3-1, despite freshman Caitlin Coffey's career-high of 14 kills.
The team continues conference play 7 p.m. Friday against Georgetown at Georgetown.
Hamilton in shape
DePaul sophomore Tommy Hamilton spent his summer losing weight. The sophomore is down from 285 pounds to 253 pounds, his lightest since before injuring his knee during his junior year of high school.
"It was a sacrifice," Hamilton said. "I was working out really hard and eating better. I just wanted to be better. I felt like I owed the team my all."
Crockett's motivated
Throughout Saturday's scrimmage, senior Jamee Crockett was consistent in attacking the rim instead of settling for 3-pointers like in the past.  With it being Crockett's last year as a Blue Demon, head coach Oliver Purnell said Crockett is motivated to go out with a bang.
"We're trying to get him to the rim more," Purnell said. "Jamee's in the best shape since he's been here."
Replacing Penny
Perhaps the biggest challenge for  coach Doug Bruno and the Blue Demons this season will be to replace the production of forward Jasmine Penny, who graduated in June. Penny, named the Player of the Tournament in the Big East, averaged 15.8 points per game and 5.3 rebounds per game.
Bruno said that he's looking to fill that some of that production — and more importantly size — with   redshirt sophomore Brandi Harvey-Carr.
"I'm trying to make our inside game servicable," Bruno said. "If Brandi-Harvey Carr is servicable, I think we can be really good. If she isn't, I think we can be really good, but it's really going to be difficult against teams who have overwhelming size."
Bruno said he thinks still has to grow into that role.
"It's still a work in progress," Bruno said. "She's in a good fit place."
Rogowski injured
DePaul senior forward Megan Rogowski has been out with an undiclosed injury since August,  Bruno said. Bruno declined to comment if she would be available for the opener.  The loss would be huge for DePaul if she isn't healthy by then.  Rogowski scored 15.7 points per game last season, second most on the team.