DePaul women's soccer wins on senior day, scores 1-0 against Xavier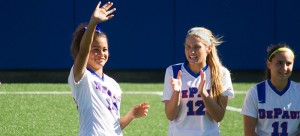 Despite not being able to capitalize on countless scoring opportunities, all No.9 DePaul women's soccer needed to beat Xavier was one goal.
In the 59th minute, freshman Alexa Ben received a corner kick from senior Amber Paul and scored a header goal to lead the Blue Demons past Xavier, 1-0.
On senior day at Wish Field, the Blue Demons improved to 14-0-3 and 6-0-2 in the Big East with just one remaining game on the schedule before the Big East tournament.
"I just kind of stepped out in front of the goalie and got my head into it," Ben said. "I think (the goal) took off pressure. It was great to get a boost that we needed. It just got us mentally prepared and ready to fight for the rest of the game.
"We have a willingness to win," Ben said. "We don't want to give up all we've done this season to lose just one game. That motivation just drives us every game."
Before that goal, DePaul struggled to score despite a number of chances. The Blue Demons finished the game with 25 shots, including 13 shots on goal. Xavier goalkeeper Katie Markesbery had 12 saves.
DePaul junior Elise Wyatt led the Blue Demons with seven shot attempts, four of those being on goal. The Musketeers were physical in the box, which helped slow the Blue Demons at points.
Xavier committed 15 fouls to DePaul's five. The Musketeers also were handed out two yellow cards, one against forward Tori Doss in the 56th minute and another to forward Ellie Eckerle in the 61st minute.
DePaul head coach Erin Chastain said that her team wasn't sharp in attacking the third.
"We missed a lot of opportunities in the first half," Chastain said. "We had 14 shots in the first half and just left too many on the table. Credit to their team, they battled."
But it was the Blue Demon defense that held Xavier at bay. Senior defender Sarah Gorden anchored a group that allowed just two shots, none of which came after halftime.
Chastain said that with the team finding a way to win regardless showed how much her group cares to win.
"It's not always going to be pretty, but it's a good sign they find ways to win, and that different people step up," Chastain said. "Our backline played really well. They didn't give them any chances."
With it being senior day, Chastain said it was an emotional day for her and her team.
"Our seniors won three games their freshman year and they've been a huge part of the growth in our program," she said. "They have set the tone for our team this year. They lead in all different ways. They have a tremendous work rate and they brought that today for sure."
Before the game, DePaul's eight seniors — Paul, Gorden, Rachael Pitman, Sara Brathwaite, Carolyn Garrison, Megan Pyrz, MaryKate Cicinelli and Nina Kodros — were all honored. They were also met afterwards with flowers and cheers from the crowd.
"I've been waiting for this day since my freshman year and it was amazing," Paul said. "Even though we didn't play our best today, I thought we gave a good effort. It was awesome to have everybody here."
DePaul's next game is at 3 p.m. at Wish Field against St. John's, who is third in the Big East. Chastain said that the team will have to play a lot better than they did against Xavier to get the win.
If victorious, DePaul would end the regular season undefeated.
"I expect to win," Paul said. "I expect to go undefeated."