Pop-punk bands battle over stage-diving safety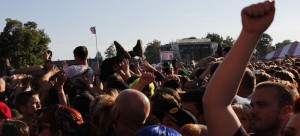 Joyce Manor took a stand against stage-diving last month, sparking controversy among the punk community.
Conflict surfaced when the pop-punk band's lead singer, Barry Johnson, denounced a stage-diver at their show in Jacksonville, Fla. on Sept. 19. In a YouTube video you can watch Johnson stop the band in the middle of a song, confront the man who jumped right into a crowd of girls and politely tell him, "Please don't do that again."
Things became more heated in Houston later that week. After asking fans not to stage dive for safety reasons, Johnson stopped the show once again when someone tried to make the jump anyway. The two got into an argument on stage and Johnson called the unidentified male a "patriotic straight-edge piece of s—" and then ordered him to leave. "You're not at a hardcore show," Johnson said.
The next day, Joyce Manor publicly apologized on Facebook.
This debate set social media on fire as Joyce Manor received hundreds of responses on Facebook and Twitter. Reactions ranged from praising and insulting the band, to making bad jokes about stage-diving. Fellow punk bands were quick to show support to Joyce Manor on Twitter, including Balance and Composure and Candy Hearts. Others made their own pro-stage-diving posts.
"If somebody is being obnoxious about it and involving people who clearly don't want to be involved or carelessly shoving people or kicking people's heads, then that's where the problem is and why I mostly agree with Joyce Manor," sophomore Taylor Novak said.
Stage-diving may be an adrenaline rush, but it can also be a safety hazard. Although some claimed that they have the right to enjoy this tradition, others argued that it compromised the safe and accepting environment that the punk scene has historically facilitated. Stage-diving can be particularly dangerous because if someone isn't paying attention, there is a risk of head and spine injuries.
"I think it's OK as long as you're not purposely trying to hurt somebody," concert photographer and sophomore Anam Merchant said. "But Joyce Manor should stop name-calling."
"Crowd surfing is a part of shows and if you get pissed off because someone kicked you in the head or fell on you, you need to leave," DePaul freshman Lizabeth Applewhite said.
Stage-diving and moshing have been popular for decades but weren't always part of the punk scene. Communications Professor and punk connoisseur Daniel Makagon helped conceptualize the history of stage-diving and moshing.
"Historically, in terms of punk dancing, people were just kind of pogoing, so jumping up and down," Makagon said. "From there folks started slam dancing, which is basically the same thing as moshing. They would bump into each other in ways that were sort of disorganized and chaotic."
In the early '80s this dancing wasn't violent at all but with the emergence of east coast hardcore bands in the early '90s, the atmosphere became extremely violent.
"People were showing up to the shows to fight under the excuse of dancing, in other words looking to hurt other people and that's not what punk was about, that's not how it started," he said.
"Stage-diving is a very different animal than all these other things because what you get is someone who is jumping off a stage that is a minimum of three feet high. Stage-diving, while not as violent as other forms of dancing like moshing, can be far more violent for an audience because someone not paying attention gets landed on and seriously injured."
He attributed this change partially to punk becoming popular with mainstream audiences.
"Mainstream audiences don't have any sense of punk's history. In DIY shows there's the idea that if someone falls down you help them up."