Don't call it a comeback: Chicago's emo scene as strong as ever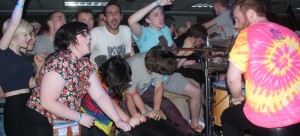 The word "emo" has gained many stereotypes over the years. Emo has become synonymous to goth in popular culture; eliciting thoughts of darkly dressed teenagers at the mention of the word. But, in music, emo describes a genre that is catching a second wind in Chicago.
Midwest emo saw its peak in the '90s and many of its bands established a place for themselves at the forefront of emo. Even now, these bands are the first that come to mind when discussing the genre. Emo music in Chicago, and the Midwest as a whole, has exploded within the last year. Essential '90s emo bands such as Braid, The Promise Ring and more recently, Mineral and American Football have reunited (although The Promise Ring's most recent reunion consisted of only a small stint of shows in 2011 and 2012), ushering in the so called "emo revival" that has brought the genre to the center of Chicago's current alternative scene. But "emo revival" can be a misleading term. Emo never disappeared and the reunions of these '90s bands aren't bringing it back; they're just forcing people to care again.
With this recent explosion of interest in emo, many Chicago area bands are beginning to gain more recognition. Patrick Delehanty, guitarist for Rockford based band Joie De Vivre, witnessed this growth firsthand.
"I've definitely seen an increase in (our crowds), it's way different than when we started," he said. "I mean, we couldn't get anyone to come out and see us play so now it's definitely the polar opposite of what it used to be."
Joie De Vivre is just one of many bands that have experienced an influx of notoriety. Chicago-based Into It. Over It. piloted by frontman Evan Weiss has skyrocketed in popularity, recently adding playing at+ Lollapalooza to their resume.
"We've played with Evan (Weiss)," Delehanty said. "There's this house that this band Merchant Ships used to have in Northern Indiana, and we saw him play acoustic there. We played with him, and there were small crowds and again, he's playing Lollapalooza. It's crazy just seeing everything move like that."
Chicago has become an influential force in the growth of emo and a designated stop for almost every band within the genre.
"I've made more friends playing in Joie De Vivre than I've had outside of it and I've met people from all over the world doing it and it's crazy," Delehanty said. A major reason for such a strong emo scene in Chicago, he said, is the friendships that bands in the scene are making with one another.
"I think that the whole networking of it, with people just being friends and supportive of each other, really rooting each other on and helping each other out with getting shows, telling each other about other people's bands, I think that was a really big push for it in Chicago."
Even to emo bands who don't call Chicago home, the city has pushed their bands to new heights.
"You have bands like The World Is a Beautiful Place… playing Riot Fest and just seeing those bands play to like 10 people and now they're playing festival stages and that is pretty incredible," Delehanty said.
It's not just the festival scene that's helping emo bands gain popularity. Small Chicago venues such as Township in Logan Square, or the Subterranean in Wicker Park have been essential in promoting the growth of emo  music in the city. Township is one of the most influential venues in Chicago's emo scene, regularly hosting Chicago area bands like The Please & Thank Yous, The City on Film and Warren Franklin & the Founding Fathers. Township also actively supports touring bands such as Empire! Empire! (I Was a Lonely Estate), who just played at Township with Joie De Vivre at the end of September.
Prawn, a New Jersey-based band, has had growing success at Township, as well. "The first time I saw Prawn in Chicago, there were probably 20 to 30 kids there and the last time I saw them at Township half the place was full," Delehanty said.
The recent growth in the popularity of emo in Chicago and across the nation is due to, in part, the reuniting of '90s emo's biggest bands, but it all comes down to the great support system that has been built for the genre. Delehanty mentioned MP Shows, House Call Entertainment and Chicago Reader music reporter Leor Galil as being an important part in helping Chicago's emo scene succeed. It is often what happens behind the scenes that has the most impact, and with Chicago's emo scene, it really is the invisible connections between bands, venues, promoters and fans that hold the scene together. The connections made within the scene make the music even more enjoyable.
"I have friends all over the country and overseas," said Delehanty, "So it's pretty amazing how many friendships came out of emo music and from the scene."