Zoom looks lead 2020 fall fashion
Back before the coronavirus hit, a great deal of DePaul students stepped out in unique, expertly curated outfits. Walking from the Fullerton stop to the Quad on a busy Wednesday morning was a colorful catwalk of self-made fashionistas. 
Every subculture of fashion — skater, preppy, bohemian, goth — could be picked out of the swaths of students who gathered outside Arts & Letters. Now, with most classes online, DePaul's most fashion-conscious students are adapting the ways that they shop, dress and show off their fits. 
"I've been shopping online every single day," Belle Ross, a 20-year-old PR and Advertising student says with a laugh.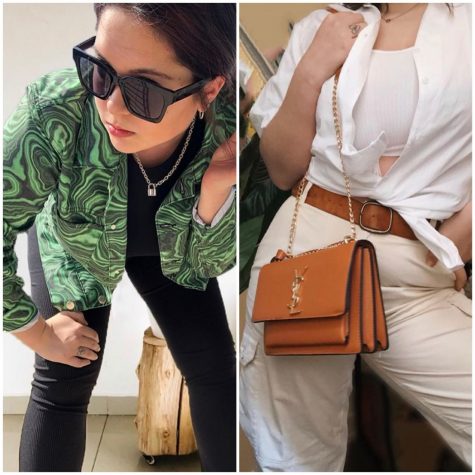 Online shopping revenue has increased by $107 billion since March 2020, according to Digital Commerce 360. Ross, who works as the marketing coordinator for ReadyPretty, a small Chicago-based fashion marketing agency, describes her fashion as ever-changing, but largely dependent on neutral colors and multi-purpose basics. 
Ross, who became interested in fashion during her high school years, owes most of her fashion inspiration to social media apps like TikTok and Instagram. When classes were in person, Ross found herself getting dressed up if there were other fashionable students in class. 
"I do miss getting dressed up for class." Ross said. "I think I just miss getting dressed up in general." 
In sharp contrast to Ross' wardrobe of earthy, neutral tones and basic pieces, DePaul junior Esther Ajayi always gravitates towards neon colors and bold pieces. Ayaji, who studies animation, misses the days in which she would be late for class for the sake of a good outfit. 
"I pull a lot of my fashion inspiration from kawaii fashion, streetwear, and Y2K." Ayaji said. 
"When classes were on campus, you could probably see me from a mile away." They said, laughing. "I was always wearing something really bright—like my bright pink sweater from Forever21." 
The nationwide call to stay indoors has most Americans regressing to outfits of pajamas, t-shirts and sweatpants. For Ayaji, a simple walk outside is still an opportunity for a new, colorful fit. 
"My style hasn't changed much since quarantine started. I'm not going out much, but if I do go out, it's still bright colors," Ayaji said.
Getting dressed up for class was a large motivator and source of joy for many students in the pre-covid era. 
"Getting dressed up for class was something I looked forward to every day," Says Jacquie Michaels, a 20-year-old English major at DePaul. "It was one of my everyday joys." 
Michaels describes her fashion as eclectic, a little dark and sometimes gothic. 
"I would describe my fashion as a cool grandma with colorful hair and too many layers of clothing," Michaels said. 
For all three students, getting dressed up to attend class was mainly about being seen. 
"I miss getting dressed up for school terribly," Michaels said. "I loved walking around and having everyone see the outfit from head to toe."
With online shopping on the rise, Ayaji and Ross have been especially wary of fast-fashion. In recent months, several fast-fashion empires such as SheInside, Boohoo and Zara have come under fire for exploiting their laborers. The apparel lines took advantage of the pandemic and people staying indoors by putting on "lock-down" sales in order to generate more revenue.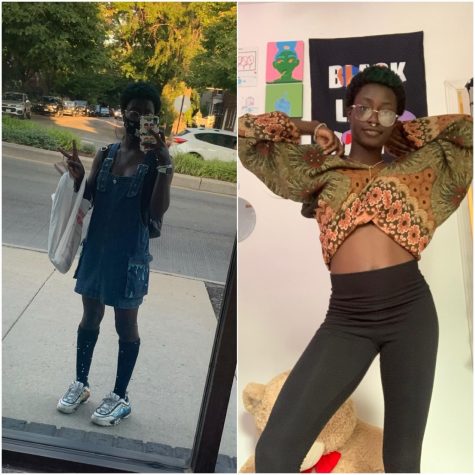 According to freelance fashion writer Frankie Leach, sweatshops in the United Kingdom have been working their laborers to deadly extents in order to provide their customers with pandemic-era deals on in-demand loungewear. 
Ayaji is aware of the enticing, yet dangerous, prices that fast-fashion retailers offer. To combat this, she often shops at thrift stores to supply her fashion tastes. Additionally, she finds ways to keep old garments in-style. 
Some of her favorite pieces, although from fast-fashion stores, have been with her since high school. Ross, who browses online fashion sites daily, notes that it is important to invest in high-quality items that have longer life spans than garments from fast-fashion sites. 
So, do these students have any outfits saved up for "when it's all over?" Ross is a bit wary of the idea of holding out hope for one special outfit. 
"I feel like that might make me sad," Ross admits. "Just because I don't really know when I would get to wear it."
Ayaji certainly does. 
"I recently wore this outfit that I can't wait to wear out," Ayaji said. "It was a black jean jacket that I painted myself, a blue angel-print mesh top over a white bra, blue jeans, and black heeled boots." 
Although Michaels doesn't have one outfit in mind, she still finds time to dress up for her Zoom classes. 
"Because you can only see me from the shoulders up, I'll wear a hat or some cool earrings," Michaels said. "Just so people know that I still look good."