Cynthia Pickett encourages diversity, equity through new appointment in the Office of Academic Affairs
DePaul appointed Cynthia Pickett as its new associate provost for diversity, equity and inclusion in the Office of Academic Affairs. Pickett started her appointment on July 1. She spoke to The DePaulia about her dedication to making DePaul a diverse and inclusive university and how she addresses equity in education fields for both faculty and students.  
 While most of the scope of Pickett's position focuses on faculty's academic equity, Pickett said one of the ways to serve students regarding their academic equity and diversity is through modifying the faculty environment first.  
 For example, Pickett encourages faculty to ask themselves whether the curricula and courses they've selected are conducive to increasing diversity or not. 
 Pickett aims to diversify the faculty, improve the faculty capacity for students, and serve a diverse student population.  
 "In terms of encouraging diversity, it has to be intentional and proactive," Pickett said. "It has to be through effort and has to be through a lot of small decisions made again and again." 
 Pickett built her interest in social psychology and her scholarly work on self and identity and intergroup relations through her birth background in a biracial family. Her upbringing helped her get a sense of how people can have multiple identities and how those identities can really impact their thoughts and behaviors.  
 Pickett said after she began her career in academic institutions, she realized inequity could really affect education fields. She found out how certain fields of study can be marginalized, in which faculty aren't welcoming toward all students, and students don't see themselves in faculty.  
 To change it from within, Pickett said she has to be proactive in creating change and giving academic advice to faculty and staff. 
 "I'm usually not the kind of person that sits on the sidelines, so I thought in this role as associate provost, if I take on more of an administrative leadership role, I can have an effect on how the institution operates that can have a positive effect on everyone in the institution," Pickett said. "It really came down to [me] wanting to create change and realizing that I have to be proactive, I have to be intentional." 
 It's tough to make improvements in faculty diversity, especially during the pandemic and with the hiring freeze, Pickett said. But building the pipeline of new faculty and increasing retention of current faculty are things that she is doing now.  
 "[To address the hiring freeze and faculty diversity,] one is better supporting the faculty of color that we do have already, so that they don't leave, so that's an issue of retention." Pickett said.  
 Specific actions to increase faculty diversity include improving mentoring for junior faculty so that they can navigate better their academia and giving faculty more opportunities for growth, leadership and promotion to attain better retention. 
 "We want them to feel that they can grow within DePaul," Pickett said. "[I want to] make the university more welcoming and I think everyone wants to feel valued and respected."
 She is also currently building relationships with other institutions so that after the pandemic, DePaul can find people from the job market and hire graduates from doctoral programs.  
Shu-Chuan Chu, a Taiwanese professor in DePaul's public relations and advertising program, applauded the academic equity and diversity at DePaul. She has been treated equally among other staff and the department has helped her grow a lot as a teacher and researcher, she said.  
 As for the improvement regarding faculty diversity, Chu suggested that DePaul could create a community for connecting faculty with similar cultural backgrounds. Chu also mentioned some workshops which DePaul is planning to do, according to Pickett's statement.  
 "It would be helpful to provide regular workshops or training on diversity-related topics at all levels," Chu said. "Diversity can be defined in many different ways (e.g., racial, sexual orientation, age groups, religious, disability). All groups should be recognized and supported." 
White faculty members represent 63% of all the faculty population. Other ethnicities like African American and Asian embody only 6.8% and 5.5% respectively.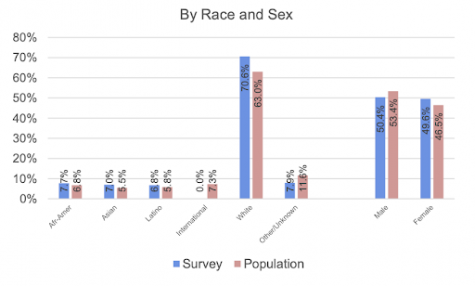 Pickett said she enjoys DePaul's book club "How to be an Antiracist," where faculty and staff will be involved to talk about racism and antiracism. She thought instead of racism, the term should be more phrased as "racial inequality," so a more important issue for faculty and staff to consider is how they adopt practices to reduce racial inequality.  
 There are a lot of options to be considered to meet racial equality.  
 "If we're having a meeting, is that meeting in a place that's going to reduce racial inequality? Will students of color feel comfortable going to that place? Or if the university is hiring for a major rule, are they looking at racial inequality?" 
 As a liaison between students and faculty, Pickett's role serves as helping to foster conversation and come up with solutions. She recognized that racial inequality plagues students of color, so making faculty be responsive to these issues becomes more critical.  
 Pickett frames questions regarding racial inequality for faculty to think about in their academia and teaching.  
 "How can this faculty be responsive to [racial inequality] that happened here; how can they recognize in their own actions and teaching; how they might be able to work with students on addressing the issue." 
 Speaking of "academic inequity," a fair amount of DePaul students think DePaul's tuition is too high.  
 Senior Xavier Ortega said that "academic equity" at a private institution seems like an oxymoron, though there are numerous resources that he can take advantage of. 
 "DePaul is not cheap and you have to pay for the services that it provides for you," Ortega said. "Right off the bat, DePaul is not inherently equitable for students, as the cost of attendance is so high, which is troubling considering the values DePaul attempts to push to its students." 
 Ortega said that diversity at DePaul also ties with the cost of attendance, as some students of color might not be able to pay the tuition and thus impede the improvement of diversity. 
 "Because if tuition goes down, more and more lower income people (which happen to be more people of color) will be able to join DePaul's community," Ortega said.  
 In response, Pickett thinks there are fundraising campaigns going on to make tuition more affordable while also meeting the financial obligation of the university.  
 "[For] lower income students who perhaps [come] from first-generation families, I would really be thinking about a kind of a long-term solution like having a greater endowment so that it's possible to reduce the amount of tuition that has to be put on the students each year," Pickett said.  
View Comments (2)