Lexi Held and Sony Morris receive preseason honors, DePaul picked to finish second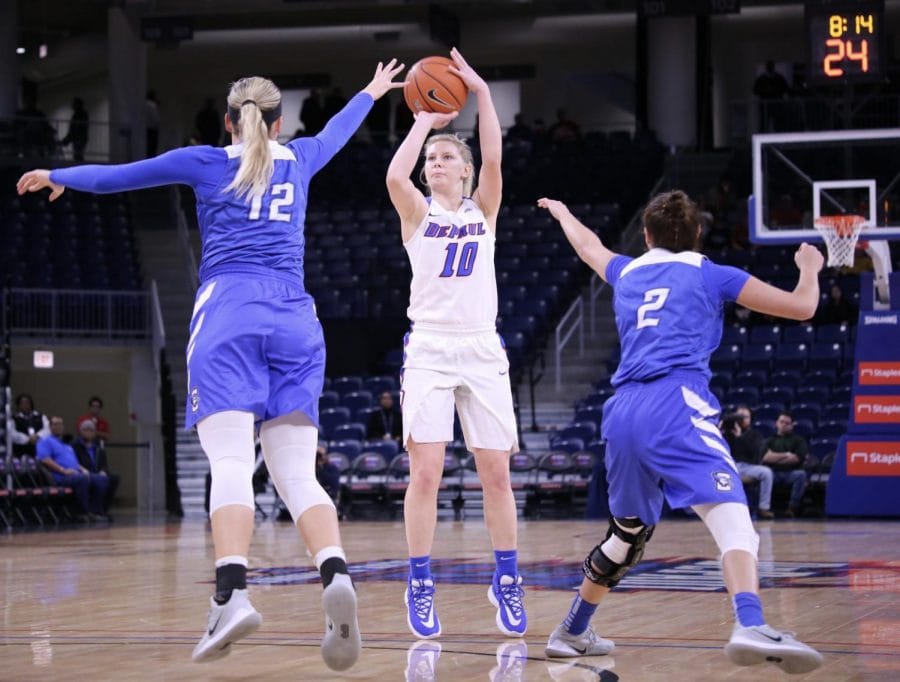 When UConn left the Big East to join the American Athletic Conference (AAC) in 2013, they opened the door for another team to dominate the conference like they did for multiple decades.
That hole was filled by DePaul and head coach Doug Bruno, who went on to win six Big East regular season titles and five conference tournament championships in UConn's absence. 
Seven years later, however, the Huskies have returned to the Big East and they are already the favorites to win the conference. The Big East released its annual preseason coaches' poll and UConn received 10 out of the 11 first-place votes. DePaul was picked to finish in second place and received one first-place vote.
"UConn is the best program in the history of all intercollegiate basketball ever, men or women," Bruno said. "So, our great Big East conference just got greater and with the addition of UConn, everybody in the league has a challenge that did not exist for the last seven years. At the same time, what makes this a great league is you can't put all of your emphasis on UConn, the rest of the league is also a very, very challenging league. So, I'm just really excited about having UConn join our program, helps the whole league raise our bar and yet the challenges still are going to be there from so many other programs top to bottom."
The Huskies also got recognition for Preseason Player of the Year, Christyn Williams, and Preseason Freshman of the Year, Paige Bueckers. DePaul, on the other hand, had two juniors selected to the Preseason All-Big East Team: Lexi Held and Sonya Morris. 
Both Held and Morris will be vital to the team's success this upcoming season in part because Kelly Campbell and Chante Stonewall are no longer on the team. 
"I think this year is going to be a lot about focus," Held said. "There are a lot of factors that we can't control, so just coming in every day, taking it day-by-day, getting better, pushing each other, competing in practice I think that we will end up where we want to be."
Held was the Big East Tournament Most Outstanding Player after scoring 31 points in the title-game win over Marquette last season. Morris was named to the All-Big East Second Team after averaging 15.7 points per game in league play and leading the conference with 75 steals. 
The Blue Demons,who always have a challenging non-conference schedule prior to the start of league play, will only have nine days from the start of the season on Nov. 25 to get ready for the start conference play. Big East commissioner Val Ackerman announced that the conference will start games on Dec. 4 and teams will get to play four games in the month of December. 
A day after holding its media day for men's basketball, the Big East did the same for women's basketball on Thursday. A major topic of conversation for all of the coaches was the possibility of having to play in bubbles and the NCAA's mandatory 14-day quarantine if an athlete tests positive for Covid-19.
Seton Hall's women's basketball head coach Tony Bozzella doesn't believe it's possible to play a full season with the 14-day quarantine. 
"There is no way we are going to be able to play with this 14-day quarantine," Bozzella said. "It's just not going to happen. Someone is going to get sick at some point and then to shut your program down. It's not 14 days, it's closer to 20 days because 14 days of non-activity and you need four to six days of activity before you can really physically play in a basketball game."
On Wednesday, Ackerman said that athletes will need to be accountable for staying safe and making sure they don't risk contracting the virus. On Thursday, Bruno emphasized the point that they are not with the players at all times and it's important for everyone to adhere to the proper protocols to ensure staying safe.
"We are not with them every day and we are not with them 24/7 and they are human beings," Bruno said. "There's no such thing as a partial bubble. A partial bubble is water. … I'm sure they are doing other things but I just trust that they are doing anything else they are doing in a really, really responsible manner. And I've just been impressed by the responsibility which our athletes have shown under these circumstances."