Protests, police brutality erupt in Colombia
Like many other DePaul students, Juliana Zanubi deals with distractions while doing Zoom classes from home. However, rather than typical distractions like noise from siblings or the lure of a comfortable bed, when sitting in class, Zanubi, a sophomore, hears military helicopters, rumbling tanks and, often, screams.
For the past three weeks, Colombia has been ravaged by protests and police brutality in one of the largest protest movements in recent years. Cali, the country's third-largest city and Zanubi's home, is the epicenter of these protests.
So far, at least 50 people have been killed, hundreds have disappeared, even more injured and dozens reportedly sexually assaulted by police. The protests started on April 28 and were spurred by a now-withdrawn national tax reform.
Since then, the protests have evolved into a nationwide movement with many other demands, including more opportunities for young people, an end to police violence and the withdrawal of a health reform plan.
"[Cali] was a time bomb. And it just went off," Zanubi said. 
The wildly unpopular tax reform triggered the protests, but the country's history of severe inequality is what has made it last, said Luis Martinez, an assistant professor at the University of Chicago Harris School of Public Policy.
Covid-19 has widened the already cavernous gap between the country's rich and poor. In the past year, Colombia's poverty rate has risen from 35.7 percent to 42.7 percent. The number of Colombians living in extreme poverty grew by 2.8 million people. Meanwhile, the country's economy contracted by 6.8 percent, according to the World Bank.
Covid-19 forced people inside, repressing simmering social issues. Now, the high levels of poverty, a lack of government attention to a 2016 peace treaty with Revolutionary Armed Forces of Colombia, a gross lack of opportunities and a devastated economy have brought the discontent to a boil.
The tax reforms were an attempt to balance the country's budget by raising taxes on those making more than $656 a month and extending the value added tax to basic products like eggs or electricity.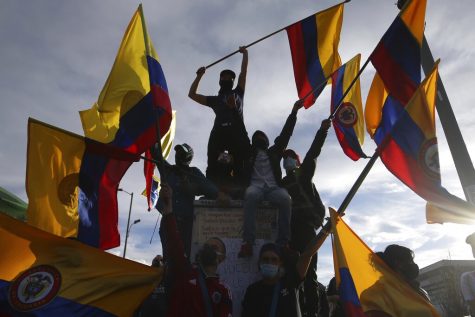 There is a clear distinction between these protests and an earlier movement in November 2019, when citizens took to the streets for many of the same reasons. 
"With this tax reform, the rage just came out once more," Zanubi said. "And it was 10 times worse — it had time [during Covid] to grow,."
These protests have been met by police forces usually used to fight drug traffickers and guerilla groups. 
"Protests here have been violent, aggressive, sometimes because of the protesters, but also because of the police brutality," said Juan Felipe Escobar Borrero, who attends Universidad del Rosario in Bogotá, Colombia's capital. 
Videos on social media have shown police in plain clothes and shoving people in vans and using undue force.
Although the protests are mostly peaceful, violence does come from protesters, too. Zanubi said she has received threats over the phone and a warning sign of violence to come — a box of cracked eggs. 
"We're afraid of our neighbors, afraid of the protestors, afraid of the police," she said. "We can't trust anybody." 
Escobar Borrero, 20, lives in a well-off neighborhood in Cali near where unidentified shooters in civilian clothes opened fire on an indigenous group on Sunday, May 9.
"I saw the army helicopters go above me and I listened to the bullets," he said.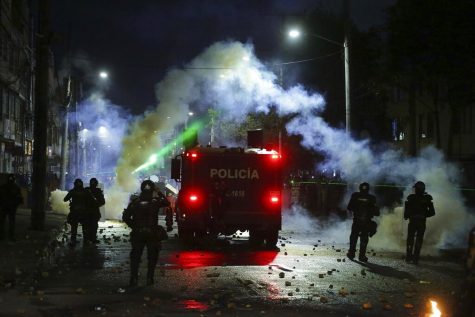 Young, poor citizens may be the most likely to go out to the protests. 
"Young people feel like they have no opportunities to go on with their lives," said Lilibeydy Manrique, a schoolteacher in Cali. "They have no education, no jobs, some of them had to stop their school because they had no money."
Martinez said the pressure and lack of opportunity is causing some to despair.
"There may be a large pocket of young people with not a lot of hope," Martinez said. "I think people want some kind of acknowledgement that their grievances are valid." 
Martinez said critics of the protests often refer to the economic losses and lost jobs incurred by the unrest. However, the costs of the protests largely don't fall on the protesters, he said. 
Zanubi works two part-time jobs, both virtual through DePaul, to support herself and her mother. Her mother lost half her income during the pandemic — despite now working five more hours a week — so Zanubi's jobs support them both. 
In Cali, the ongoing labor strikes and protests result in road blockages that add hours to normally short drives and a trip to the gas station can take four or five hours.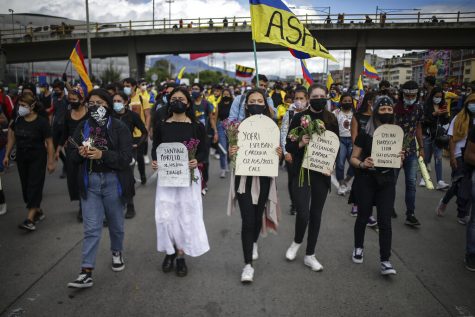 "There are no groceries and the supermarkets, there are huge lines," Zanubi said. "And when you get in, there's nothing inside." 
"Being in Cali, seeing all of the problems … is quite different than seeing them from Bogotá," Escobar Borrero said. 
Cali has a long history of social strife: Historically a "toxic cocktail" of crime, according to Martinez, the city is situated at the intersection of four different regions in the country, and Afro-Latinos, a historically disenfranchised group, make up almost half of the population. The city was home to the infamous Cali Cartel, which dominated the cocaine trade during the 1990s. 
Besides going to protests, people find other ways to resist against unpopular policies.
"Education is my revolution," Manrique said.
Manrique is the co-founder of Colegio La Fontaine, a bilingual elementary school in Siloe — one of the poorest neighborhoods in Cali. The school has around 200 students.
"People in power, they forget about the people," Manrique said.
For her, providing students in Siloe with an English education means giving them some power of their own. 
"I'm not a big social leader or political leader who takes the microphone and invites people to do things," she said. "But in a silent way, we're doing this revolution of running a school like this."
As a result of the protests, former Finance Minister Alberto Carrasquilla and former Foreign Minister Claudia Blum resigned earlier this month, as well as the entire Cali mayoral cabinet. Both the tax and health reforms have been discarded. 
"The government's legitimacy is just crashing," Martinez said. 
President Ivan Duque's approval rating has fallen sharply during the pandemic. 
"Contrary to what the president might say, political empowerment is a positive thing," Martinez said.
Overall, this protest movement may show the strength of younger generations, Manrique said. With the advent of social media and a global rise in inequality, this movement is just one of many.
"It's not the first time it has happened," Zanubi said. "It won't be the last time it happens. And it doesn't just happen here. This is something that happens everywhere."