Bonn-voyage: Trains, planes and automobiles – 4 tips for traveling abroad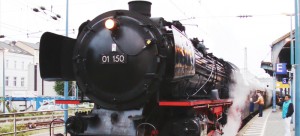 After almost three months, I've flown, bused, driven (or rather, been driven) and stayed in various accommodations across Europe. Studying abroad brings the world to your fingertips; all you have to worry about is getting there, and more importantly, deciding where to go.
Step 1: Choose a destination.   
Besides being drawn to the main attractions of any destination, the first realistic consideration for any trip is the cost. When traveling internationally, are you faced with the reality of currency exchange rates.
For an American looking to go anywhere in the eurozone (where for every euro you pay $1.24 U.S. dollars), that can mean a costly trip.
There is, however, a difference between countries that are part of the European Union and countries that have been allowed to adopt the euro currency.
Many Eastern European countries such as Poland, Hungary, Bulgaria, Croatia, the Czech Republic, Lithuania and Romania haven't been approved for the eurozone, but are part of the EU. This means they uphold the same standards as other EU countries, but have retained their fairly weak currencies.
So far, I've traveled through Budapest and Warsaw, the capital cities of Hungary and Poland. One dollar gets $247.60 Hungarian forints and $3.40 Polish zlotys. On both trips, I spent a fraction of what a weekend would have cost me in the eurozone, and the history, architecture, art, culture and food were in its own way as phenomenal as Paris and Cologne.
Step 2: Find a place to stay.
The most popular accommodation for students in Europe is a hostel. Often they are incredibly cheap and have been known to introduce you to a collection of interesting people. They have a much better reputation in Europe than in the United States, but I wouldn't recommend staying in one alone, and they should always be treated with caution.
Hostels typically offer their guests a bed in shared rooms with other guests. Some hostels offer private rooms with shared bathrooms, and there are hostels reserved specifically for young people. Some even serve breakfast.
I have been lucky enough to have free accommodations with people I knew in the cities I visited. This has saved me loads of money on meals, transportation and tourist expenses. Perhaps the best means of accommodation is with the friends and family of friends you make while abroad.
When I planned my trip to Paris, however, I didn't have a contact there. I wanted some place private and secure to stay, so by someone's recommendation, I looked into Airbnb.
People rent out rooms and apartments in cities all over the world for a fraction of what it would cost at any hotel. For Paris, I searched for apartments within my budget on Airbnb and browsed a map for available rooms in the areas I was looking for. Once I compiled a list of potential apartments, I filed through the reviews of each, paying attention to the safety of the neighborhood, local public transportation, cleanliness of the room and friendliness of the host.
I contacted a host I liked, received an immediate response and then paid in advance online. When we arrived in Paris, our host handed us the keys and the place was ours.
Considering we stayed in one of the most expensive cities in the world, we didn't spend too much. We saved money by making food bought from the local grocery store and packing lunches for days of sightseeing.
Staying with Airbnb brought us outside the expensive tourist areas and allowed us to glimpse what life was like in a typical Parisian neighborhood. This is the case with all other cities using Airbnb, and if I get the chance I will use them again.
Step 3: Find a way to get there.  
Planes are the fastest way to get anywhere, but they will almost always be the most expensive.
Some ways to avoid the expense is buying tickets far enough in advance, or using sites such as Momondo to compare different airlines. With Momondo you can also view charts that detail the cheapest times, days and months to buy tickets.
Airlines such as Ryanair are renowned for cheap flights, but watch out for loopholes.
For example, you may have to print boarding passes at home before a flight; otherwise you could be looking at a fee larger than what you paid for the ticket.
The most popular means of transportation for students in Europe is the train. Intercity trains run just about everywhere, and they travel at lightning speeds.
I made the 300-mile trek from Cologne, Germany to Paris in just more than three hours for a reasonable price. Rather than being dropped off at an airport on the outskirts of the city, the train brought me right into the city's center where the bountiful means of public transportation awaited.
Perhaps the cheapest option for traveling across Europe is the bus.
Like the train, you don't have to worry about food, drink or many luggage restrictions that you would on an airplane. Buses naturally take a longer time than the train or plane, so it is important to factor time into your trip and make sure it is worth the money you saved.
The final means of popular transportation in Europe is the ride-share system. Blablah Car is one of many websites that allow drivers to offer rides to people traveling all over Europe.
First, you contact the driver, then you agree to drive together and finally the payment is made in cash when you meet.
Drivers are reviewed by some of their riders, and they rate themselves as either an intermediate or expert driver.
When we booked our BlaBlaCar, we looked for an older driver with a five-star rating. The price was a bit cheaper than the bus, and the promised arrival time was sooner.
A note of caution is that BlaBlaCar is made up of individual people and is not run by a company.
When we planned to meet our driver in Warsaw, we found out that he had changed his plans, couldn't get ahold of us, and we had to improvise to find another way home. The snafu resulted in a pricy, last-minute plane ticket and a vow to always double, triple and quadruple check with the driver on the days before departure.
Step 4: Be prepared for anything.
When traveling, always make sure you have your passport, photocopies of your passport and plenty of money with you in case something goes wrong. We kept these things hidden on us at all times, and we were wary of pickpockets.
Some may say the beauty of traveling is in the mishaps that happen along the way. But the best piece of advice I can give is to have resources available and always travel with someone dependable.
Everything else is simple: Enjoy the ride.