Exposición del Museo Nacional de Arte Mexicano rinde homenaje a los latinos que han muerto del Covid-19
El Día de los Muertos es una celebración que se remonta a la época azteca. Los aztecas usaban calaveras para honrar a los muertos y en Chicago la comunidad latina continúan las celebraciones de las vidas de sus seres queridos. 
La exposición A Time to Grieve and Remember, en el Museo Nacional de Arte Mexicano en Pilsen, rinde homenaje y recuerda a más de 210 personas de México y Estados Unidos que han muerto del Covid-19 en los últimos dos años. 
Al honrar a un ser querido que falleció, familiares del difunto crearán altares en sus hogares con ofrendas para regalar a sus seres queridos. 
Estos altares a menudo están decorados con fotos a la luz de las velas de los difuntos y artículos que dejaron atrás. También ofrendas como tamales, chiles, tequila y pan de muerto son agregados. 
Leti Gamboa, de Summit Illinois, honró a su tío Albert Martínez de Blue Island, Illinois en la exposición.
Martínez tenía 62 años cuando falleció el 26 de diciembre de 2020. Gamboa dijo que ha estado participando en la exposición de Museos Día de Los Muertos desde 2016 cuando su madre falleció.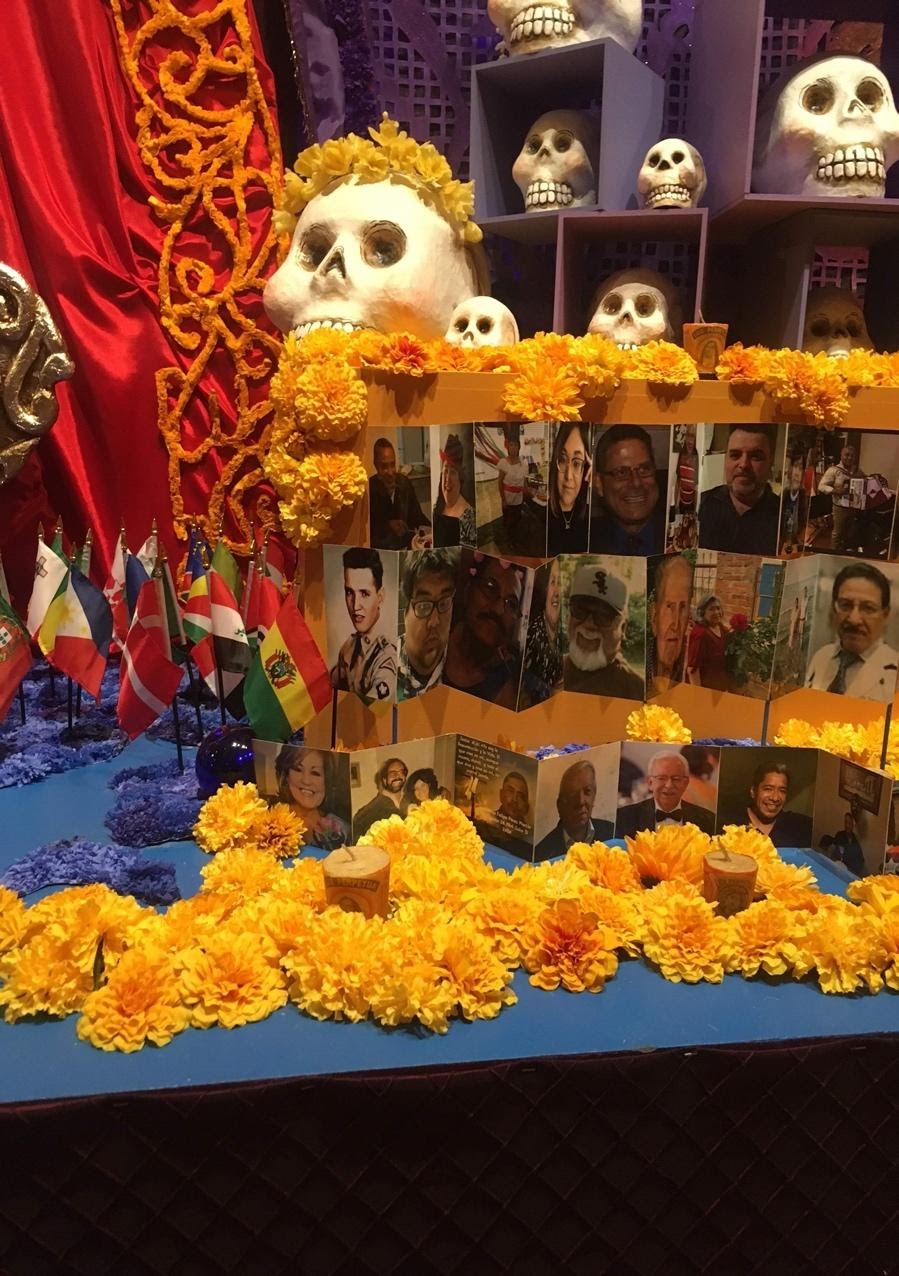 Debido a restricciones del Covid-19 la familia de Gamboa no pudo estar en el hospital cuando su tío falleció.
"Su muerte fue mucho más desgarradora que la muerte de mi madre. Al menos por ella tuvimos la oportunidad de llorar junto a la familia, estar ahí el uno para el otro", dijo Gamboa.  "La forma en que falleció [Martínez]  fue tan sola. Sentí que este memorial era para mostrar que nuestra familia no era la única familia afectada por esto".
Dentro de la exposición, cada sala de la galería representa una región diferente de México. Cada habitación del museo muestra las comidas y artículos típicos que se incluyen en las ofrendas del Día de los Muertos. 
Yucatán, por ejemplo, incorpora el mar, pescado, frutas y verduras. Oaxaca incluye pan.  
Además, la exposición incluye un altar para Adam Toledo, un niño de 13 años de La Villita que murió a tiros por un policía de Chicago.
El altar de Toledo incluye una camiseta de los Chicago Bulls, un balón de fútbol, papa fritas de ​​Cheetos y muchas otras pertenencias personales.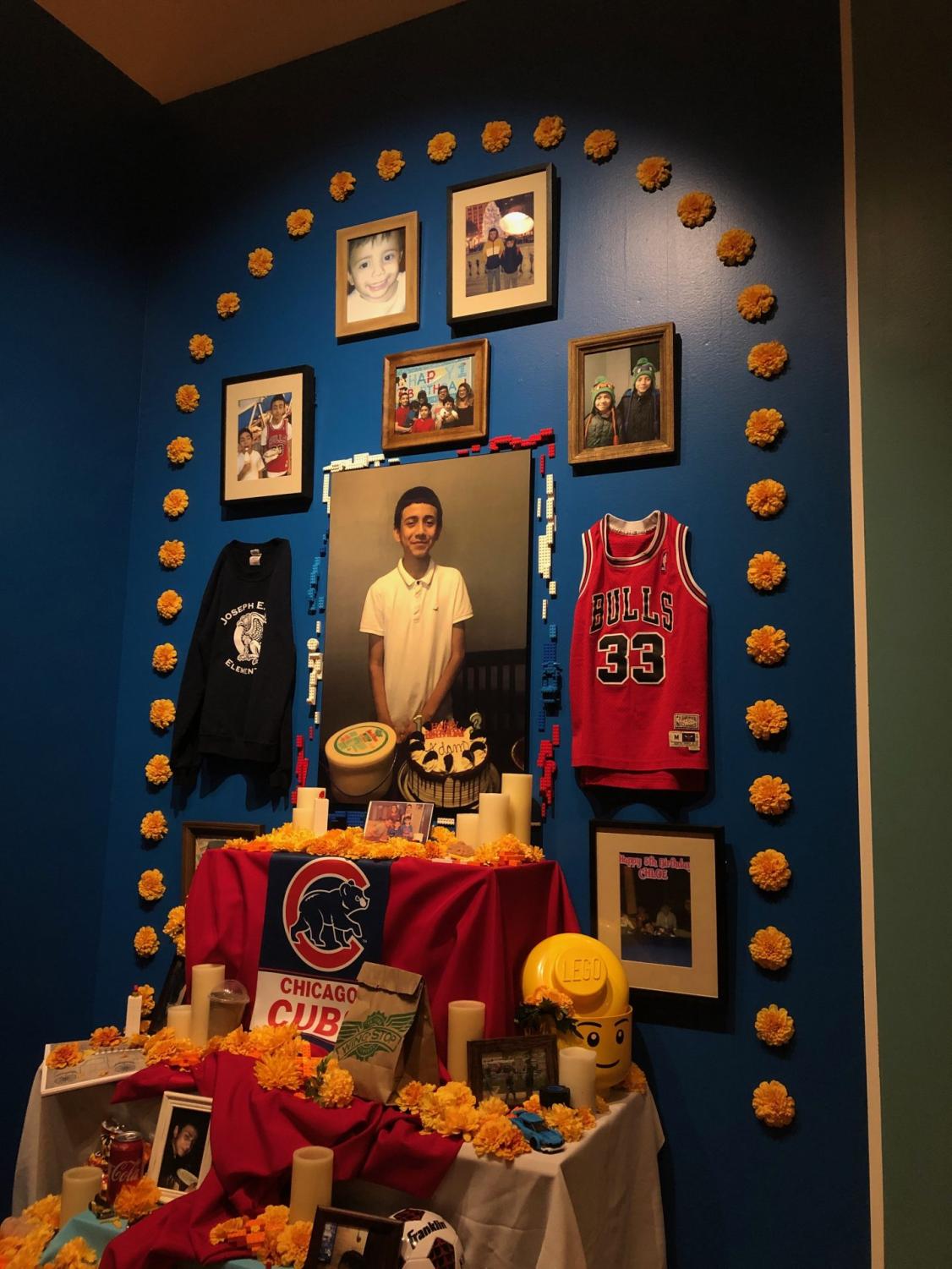 "Siento que el Museo de Arte Mexicano ha hecho un servicio al honrar a nuestros seres queridos y nosotros como comunidad lo apreciamos. No solo debemos recordarlos, sino también celebrar sus vidas", dijo Gamboa.
Cesáreo Moreno, curador jefe y director de artes visuales del Museo Nacional de Arte Mexicano, dice que esta exposición es importante para la comunidad latina porque el Día de los Muertos siempre ha sido una celebración importante dentro de la comunidad latina. 
Él dijo que esta tradición se remonta a cuando Estados Unidos comenzó a celebrar la festividad en los años 70 's en estados como California y Texas.
Para Moreno el Día de los Muertos permite a la comunidad  lidiar una experiencia de pérdida muy humana.
"En un país donde la muerte y la vejez están mal vistas y vistas de manera negativa, creo que el Día de los Muertos realmente nos permite la capacidad de entenderlo de una manera realista, aceptar lo inevitable, y realmente curarnos de la pérdida y el dolor manteniendo vivo el recuerdo de nuestros seres queridos en nuestra familia ", dijo Moreno. 
Yvette DeLeon Colson honró a su hermana Maxine DeLeon de Defiance, Ohio, en la exposición. 
DeLeon tenía 55 años y estuvo enferma durante cuatro días antes de fallecer, lo que dejó a Colson y su familia en estado de shock. Colson y su familia habían estado en Chicago dos semanas antes de su fallecimiento. 
El 20 de noviembre marcará un año de su fallecimiento. 
"Cuando mi primo vió la información del altar, me apresuré a encontrar la imagen perfecta de mi hermana", dijo Colson. 
Moreno menciona que la exposición es un símbolo de duelo colectivo porque la exposición muestra cómo una comunidad se enfrenta a la pérdida. 
Cada año, la exposición presenta artistas de los Estados Unidos, México y de Chicago. 
Debido a la pandemia, la gente no pudo reunirse para organizar funerales y velatorios durante los últimos dos años. 
Moreno dijo que es importante unirse y recordar a los que se fueron. 
"Ella [DeLeon] fue criada para celebrar la vida, amar a Dios, a la familia y al país. Siempre apreciaré el tiempo que pasé con Maxine DeLeon", dijo Colson.