Breaking out: Jessica January of DePaul women's basketball has potential to heat up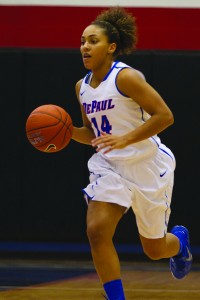 While she may not have always been in the starting five, sophomore guard Jessica January earned her role as a "starter" last year in the eyes of head coach Doug Bruno.
"I thought she had a really solid freshman year," he said. "Any other year I think she would have won Big East Freshman of the Year."
January lost out on Big East Freshman of the Year to Natalie Butler, who took her talents to No. 1 UConn after the season, if that's any indication.
She was a "starter" in the coaches' eyes with the idea that if she were to step onto the floor in place of a team member in the startng five, there would be little difference.
January will likely be one of the best bench options for the Blue Demons, coming off a season where she averaged nine points and 3.7 rebounds in 23.1 minutes per game. Her sophomore season could be a breakout year coming in as a regular starter.
"She's come back here and has just taken her game to another level of consistency," Bruno said. "She was always good last year, but freshmen tend to be inconsistent."
January said that coming into her second year is an entirely different experience than her first season.
"It's like a whole different world," she said. "Just feeling like I know where I am and being comfortable with school and my teammates around me really helps feeling more comfortable offensively, defensively and being out there in general."
January was part of the starting five in both of the exhbition games for DePaul, averaging 10 points in 23.5 minutes between the two games. Among the 10 guards that DePaul has on its roster, January sets hersef apart with her ability to see the court well.
"She's competitive and has great visual quickness which is what we recruit here," Bruno said. "She's also got great foot quickness and shoots the ball well."
Coming into her sophomore season, January will bring the experience of already being a strong option off the bench as a freshman. With the lack of size on DePaul's team this year, guard-heavy rotations are going to put January into a spot where she can come into games as either a starter or a bench option.
Her rebounding abilities also give her an edge as guard considering she led the team in four different games last year in rebounds, finishing with an average of 3.7 a game. She's also a threat defensively, registering 53 steals last year.
Whether as a starter or continuing to be the first option off the bench, the more minutes January gets this season on  account of having her first year down makes her a breakout candidate.