La banda Divino Niño de Chicago desafía géneros y representa la escena musical indie
Los álbumes de la banda bilingüe de Chicago,  Divino Niño están llenos de canciones de amor alegres y maravillosas que te harán sentir como si estuvieras en un montaje de cámara digital en el verano—a pesar que nos acercamos al final del trimestre de otoño y nos acercamos al clima frío de Chicago. 
En la canción titulada Quiero, la segunda canción  del álbum Foam, se nota el drama de las r's arrolladas de Camilo Medina, vocalista de Divino Niño.  Su entonación cautivadora en los versos en Español  se complementan con los versos en Inglés. Adicionalmente, los coros son acompañados de otros versos en el fondo de la canción:
''I don't ever wanna change your mind
I wanna be with you the way that you are''
Los sonidos de la música de la banda Divino Niño incluye: guitarra eléctrica suave y funky, rasgueo acústico, ritmos contundentes y sintetizador elevado. Los sonidos combinan algo que no es tradicionalmente rock latinoamericano, ni del indie pop , sino algo nuevo e inexplorado. 
Se puede rastrear los comienzos de Divino Niño a las infancias de Javier Forero y Camilo Media, quienes cantan y tocan el bajo y la guitarra para la banda.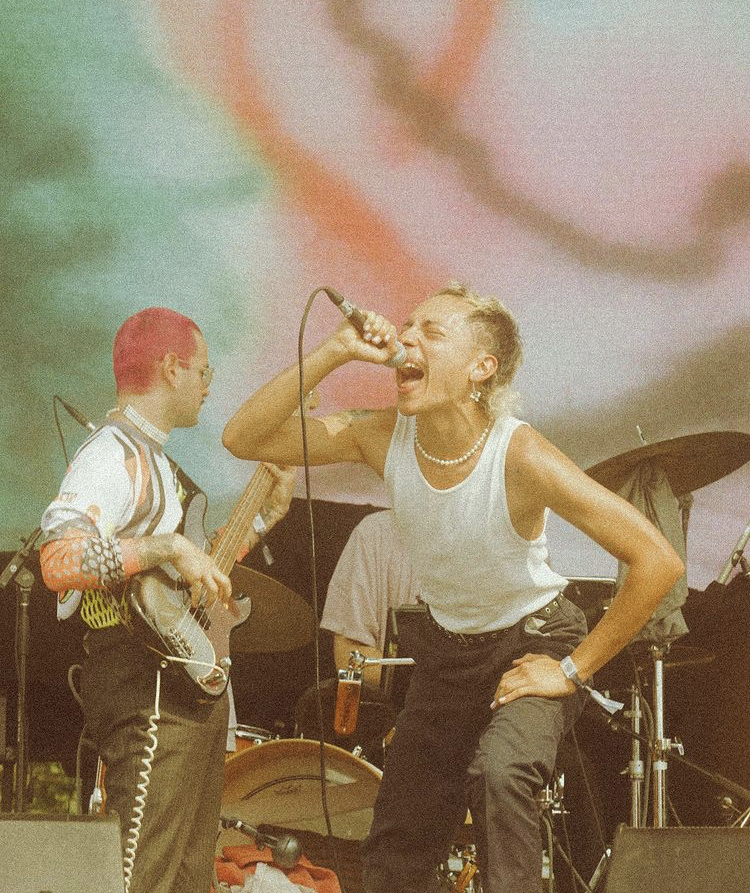 Ellos pasaron sus primeros años juntos en Bogotá, Colombia, y luego se volvieron a conectar en Miami por casualidad, cuando sus familias se mudaron. 
Con la pasión compartida de la música, tocaron juntos para su mega-iglesia en Florida, pero la cultura allí era limitante. Finalmente, ellos decidieron expandir sus horizontes musicales, se fueron de la iglesia, y viajaron juntos a Chicago para asistir al colegio y explorar una escena musical nueva, de acuerdo a WBEZ.
Aunque ya no estaban cerca de su hogar en Colombia , sus raíces todavía están presentes en su mezcla de Español y Inglés en la letra y sonido de verano. 
"Me encantaría dar a la gente una pequeña vacación", dijo Medina a WBEZ.
La banda acaba de lanzar una nueva canción, llamada Drive, en 2021, y ellos están de gira ahora mismo con Crumb, banda estadounidense de indie rock hasta noviembre.
Adrian Lara, 26, es empleado de mantenimiento y reparador de guitarras en Chicago. Él toca música, y conoció a los miembros de Divino Niño en 2018.
Lara conoció a la banda a través de ir a shows, ayudarlos a cargar sus equipos de instrumentos y toparse con ellos, ya que viven en barrios cercanos. Lara vive en Hermosa y ellos viven en Humboldt Park.
Él dijo que Divino Niño es único en parte porque los miembros tienen una larga historia juntos—es una experiencia diferente tocar la música con alguien a quien conoces muy bien. 
"No necesitas decirles, en esta parte [de la canción] tócala así. Solo les das una mirada, y ellos saben de lo que estás hablando", dijo Lara.
Lara  es un inmigrante de segunda generación de México. Su madre es de Totoltepec Puebla y su padre es de Olinala Guerrero. La banda lo ayuda a sentirse conectado a su herencia.
"Aprecio profundamente que ellos canten en Español. Es realmente genial ver que alguien está tratando de mantener sus raíces y hacer música que es bastante diferente de muchas cosas, incluso aquí en Chicago", dijo Lara.
Lara se describe a sí mismo como alguien que está realmente interesado en la música, y conoce a mucha gente similar en Chicago solo en ir a conciertos. Dijo que la banda está muy involucrada con la comunidad de música indie.
"La escena indie allí es increíble, toda la gente se conoce. [Divino Niño] definitivamente está involucrado diferente aspectos en su música. Ellos ayudan a tanta gente, que es "asombroso "y  muy necesario", dijo Lara.
Foam, el álbum más reciente, fue lanzado en 2019. Lara dijo que a medida que hacen más música, han crecido como músicos con su sonido único.
"En su primer álbum, Pool Jealousy, las raíces latinoamericanas están muy presentes. Ese álbum está un poco más cerca de lo que la mayoría de la gente llamaría rock indie con influencias latinoamericanas", dijo Lara.
En los siguientes álbumes, él cambió al rock indie.
"Con Foam, es tan evidente—estos son ellos, esta es su música, y es tan original e increíble", dijo Lara. "Hay tantas capas diferentes e interesante  música instrumental que se encuentran en su música que encajan perfectamente".
Gayun Cannon, estudiante de segundo año en la Universidad de DePaul con especialización en el negocio de la música, describe  los  géneros que cautiva  la música de Divino Niño.
"Tiene una especie de pop Latino, pero también tiene una sensación de pop de ensueño y pop psicodélico. Hay tanta reverberación en su música y es tan aireada", dijo ella.
Cannon ha tocado música desde que tenía cuatro años, y en el año pasado comenzó a escribir y publicar sus propias canciones. Vio Divino Niño en concierto por primera vez cuando abrieron para Crumb en Thalia Hall en el barrio de Pilsen en Chicago, y se enamoró de su música y estilo.
"El cantante principal—su baile me atrapó primero. Exudaba tanta confianza en el escenario. Me da la energía de Freddie Mercury", dijo Cannon. "Pero entonces, su voz era hermosa e inesperada, era tan única. Algunas de las cosas que decía eran  en Español, así que realmente no las entendí, pero era solo la forma en que las cantaba".
Bianca Brown, estudiante de segundo año de la universidad DePaul, por otro lado, se conectó con las letras en Español por sus raíces Mexicanas. Ella habla Español en casa porque su madre es de México. También escucha bandas latinoamericanas como Juanes Y cantantes Latinos como Bad Bunny.
Después de escuchar a Divino Niño por primera vez, estuvo de acuerdo con Cannon y Lara sobre la energía de la banda, y dijo que su música se sintió un poco diferente a la que ella está acostumbrada—dice que da un sentido más  juvenil.
"Me gustan, porque parece que su música está hecha  para personas de nuestra edad, un poco más que algunas de las otras canciones  que escucho", dijo ella.
Beverly Bryan, en una reseña de Pitchfork sobre el álbum Foam, dijo algo parecido. 
"Foam, es un álbum de mentalidad progresista. Si sus referencias son nostálgicas, su espíritu no es … Foam demuestra que es posible tomar de todas partes, sin sonar como otra cosa", dijo Bryan .
La banda ofrece algo realmente nuevo—e inspira a una nueva generación de músicos, como Cannon, que ha sido influenciado por su creatividad y ejecución fluida.
"Quiero que la gente sienta todo cuando escuchen mi música'', dijo Cannon.