Three things to watch for: No. 18 DePaul women's basketball vs. No. 5 Texas A&M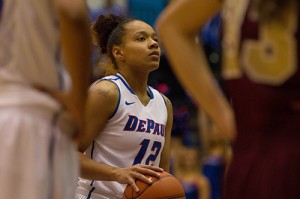 DePaul women's basketball head coach Doug Bruno swore that No. 5 Texas A&M being the first game on the schedule was a coincidence.  Season schedules are figured out long before NCAA matchups play out.
Despite that, No. 18 DePaul will kick off their season with a rematch against the Aggies, who bounced DePaul out of the Sweet Sixteen with an 84-65 defeat.  The Aggies commanded the first match, shutting DePaul down from the 3-point line (4-20) and limited DePaul's ball movement (12 assists instead of a season-average of 19.6).
Texas A&M will return a large portion of the team that troubled DePaul so much in March.  The Aggies will have four returning starters, including the dangerous guard-forward combo of Courtney Walker and Courtney Williams. Walker, named the 10th best player in the nation by ESPN, torched DePaul for 25 points on 9-12 shooting.
The Blue Demons shot just 40.3 percent (25-62) in the game.  DePaul has had eight months to figure out the A&M puzzle. Here's three areas to watch for:
Can DePaul score?
The Blue Demons averaged 83.5 points per game last season, but were held nearly 20 points below average against the Aggies. This is a troublesome matchup for the Blue Demons, starting with the Aggies backcourt.  Each of the A&M starting guards have the defensive prowess to give DePaul problems.
If DePaul is successful in Friday's match up, they will have to get more out of Brittany Hrynko and Chanise Jenkins. Hrynko went 1-5 in the first meeting while Jenkins went 1-7 for a combined six points.
It will be up to those DePaul guards to force the pace and find their teammates.
…And can they stop A&M?
There's a reason why Texas A&M head coach Gary Blair said after the first meeting that was the best A&M performance his team ever had.
The Aggies shot 60 percent (33-55) and had 44 points in the paint. Even more astonishing, the Aggies went that time without hitting a 3-pointer (0-2).
But despite losing by 19, DePaul glimpsed flashes of playing better. In the second half, they only were outscored 46-41.  Also, the Blue Demons forced 18 turnovers, which led to only 10 points scored.
However, if DePaul can continue to force turnovers that actually lead to more points score, then the game could swing. The Blue Demons will also have to limit the scoring efficiency of A&M.
The pace of play
DePaul is known for pushing the pace. Particularly at McGrath-Phillips Arena, the Blue Demons fly up and down the court, exhausting opponents with a press and a quick offense of their own.
Against A&M, the Blue Demons tried to slow the tempo down to respect A&M's speed and open-court ability, Bruno said in the press conference. The Blue Demons ran a similar game plan against St. John's to win the Big East title, but it wasn't as effective.
Will the Blue Demons approach a similar game plan with needing to execute a slower pace better or will they try to outgun the Aggies? Bruno told Eli Hershkovich of Radio DePaul that DePaul needs to establish their own tempo.
"We have to play the way we play," Bruno said. "If you were just coaching this game against Texas A&M in a vacuum, you'd like to keep it in the 40s or 50s.  But you can't be a team that go up-and-down like we do, and then all of a sudden, think you can pump the breaks.
"You still have to play the way you do," he said.
Whether DePaul is effective in that pace against the Aggies remains to be seen.  DePaul and Texas A&M tipoff Friday at 6:30 p.m at McGrath-Phillips Arena.