DePaul Marvel fans react to 2022 projects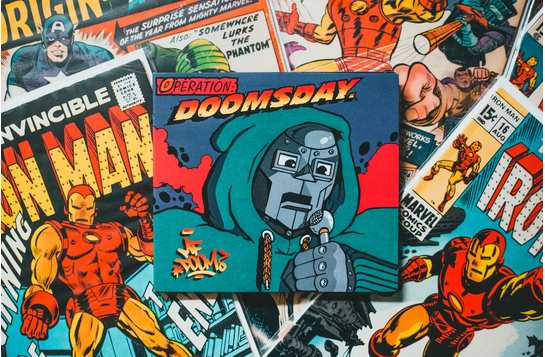 Beware! Spoiler and theory territory awaits you.  
On the heels of box office hits like "Spider-Man: No Way Home," "Shang-Chi," "Black Widow" and "Eternals," Marvel movie fans have much to look forward to in 2022. Three movies are slated for the 2022 Phase Four installment: "Doctor Strange 2," "Thor 4" and "Black Panther 2." On the Disney+ side, several shows are expected to drop this year: "Moon Knight", "She-Hulk," "Secret Invasion" and "Ms. Marvel."
"Marvel got rid of their two central characters — Tony and Cap," Hayden Pfeifer, a bonafide Marvel fan said. "And now they've got a chance to really explore other characters more in depth, before they go onto their next big crossover project."
Blair Davis, an associate professor for media and cinema studies at DePaul, thinks the Marvel Cinematic Universe (MCU) is about to dramatically change.
"I love where the MCU is at, for the way that it has allowed torches to be passed to a new generation of characters like Shang Chi and Kamala Khan, while at the same time expanding the scope of the stories being told with the use of the multiverse," Davis said.
Critics raved about the attention to detail applied to movies like "Shang-Chi" and "Black Panther," movies with POC leads that drew upon rich cultural backgrounds. Another one of the highly-anticipated POC characters is Kamala Khan, set to make her debut in the Ms. Marvel TV series. Being a young, Pakistani-American finding her way in New York, Khanamala's story will bring POC voices and lives to the forefront of the future of Marvel.
The first of the Marvel movies to premiere on the big screen will beis "Doctor Strange: In The Multiverse of Madness."
Doctor Strange, alongside Scarlet Witch and Wong, will team up to fight back the consequences of Doctor Strange's botched spell that wrought havoc in "Spider-Man: No Way Home." Alternate-universe cameos may be potential consequences of Strange's actions. Characters from other famous superhero groups outside the MCU will be seen. Allegedly, a  mind-reading, wheelchair-bound mutant will be one of those crossing over.
Part of the excitement for viewers is seeing variants of heroes we already know of.
"The multiverse holds so much potential for the expansion of cultural representation," Davis said.. "It can open up so many versions of the same character from other universes, representing a vast array of different identities.," said Professor Davis. "The multiverse has strong antiracist potential to allow well known characters to be embodied by a much wider range of identities."
While excitement is abound for fans, concerns for how "Doctor Strange 2" will handle the multiverse concept remain.
"The comic books make you read this to understand this book and that book," Pfeifer said.. "The multiverse can be a confusing concept.," Pfeifer said. "But I think the Loki series and 'Spider-Man:No Way Home' did it right by really clarifying who is who."
Besides the appeal of a multiverse of heroes recast and reimagined, fans are still excited to see their old favorites return to the big screen.
"I love Scarlet Witch," fourth-year student Phoebe Unzueta said. "['Doctor Strange 2'] is going to be one of the biggest things to come out of Marvel. And seeing all of these plots come together is so cool."
Fans lauded the arrival of a teaser trailer for the new Doctor Strange movie, but Kevin Feige might be pulling a fast one on the loyal fans.
In the trailer, Mordo blames Strange for the chaotic state of the multiverse. However, keen viewers suspect the blame is aimed at Scarlet Witch , instead. After the events of Wandavision, Scarlet Witch is using the Darkhold, an insidious and magical book, to find her kids in alternate universes. Wanda may inadvertently destroy the multiverse to get her kids back. If any of those multiversal cameos do show up, we can only hope they're not in her way. "Doctor Strange: In the Multiverse of Madness" teleports into theaters on May 6.
Another Marvel movie slated for the summer is "Thor: Love and Thunder." Chris Hemsworth returns alongside Natalie Portman. Christian Bale will make his Marvel debut as the villainous Gorr the God Butcher. Taika Waititi also returns in the Director's chair and the voice of Korg.
Not much is known about the plot of "Thor: Love and Thunder," but Natalie Portman's Jane Foster allegedly may get a thunder-summoning hammer of her own. Tessa Tomphson, who portrayed the fan-favorite Valkyrie in "Thor: Ragnarok," also returns. Thompson has stated that the character's bisexuality will be explored in the film. Many fans are excited because of the growing LGBTQ+ representation in the MCU.
"I'm not worried about 'Thor 4.' I loved 'Thor: Ragnarok,' so I trust [Taika Waititi] to make a great movie," Unzueta said.
Thor: Love and Thunder will hit the big screen on July 8.
Last but certainly not least, the second Black Panther movie, directed by Ryan Coogler, "Black Panther: Wakanda Forever" will premiere on Nov. 11. The death of Chadwick Boseman stunned the world in Aug. 2020. Black Panther aka T'Challa will reportedly not be recast, but the movie will move forward by passing on the mantle of Black Panther to someone new.
Danai Gurira will return as Okoye, the leader of the all-women Dora Milaje. Angela Bassett, Lupita Nyong'o, Martin Freeman, Daniel Kaluuya, and Leticia Wright will all return as well. Despite this highly-anticipated sequel, controversy and delays ran rampant on the set, after Leticia Wright halted production due to her refusal to get the Covid-19 vaccines. Allegedly, she spread vaccine disinformation to her co-stars. Her role in the film has many fans wondering what direction this movie will take.
For those of us who wait until the exact hour Disney+ drops new episodes of our favorite Marvel shows, there are many things to be excited about as well. Davis is particularly excited for Ms. Marvel, "I'm really excited to see Kamala Khan make her MCU debut in Ms. Marvel…She's such an engaging, relatable character to so many people."
"I'm really nervous to see how they [Marvel Studios] integrate the movies and the tv shows. There have been hints in movies like 'Doctor Strange 2' to tv shows, like Wandavision" Pfiefer said. "I've grown up with Marvel, so I haven't missed a beat, and I've kept up. But for new fans, now you've got another thing to watch. I hope Marvel can strike a balance."
For the newbies to the ever-expanding world of the Marvel Cinematic Universe, now is as good a time as ever to catch up on the grand adventures these heroes have taken thus far. This 2022 is full of Marvel movies and Disney+ content, so strap in, and get ready for the ride of a lifetime.