E3 announces online-only event due to COVID-19 concerns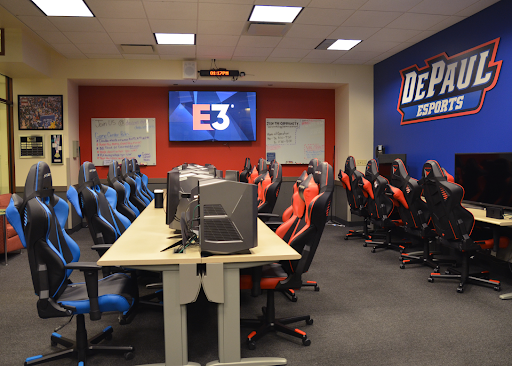 In the far-off past of 2019, 66,100 people flocked to the Los Angeles Convention Center for the latest video game press conferences. A sea of unmasked, non-socially distanced people cheered as Keanu Reeves stepped out of a cloud of fog to present the then-highly anticipated "Cyberpunk 2077" in an announcement that would live on in meme history.
This was E3 2019, the last year the Electronic Entertainment Expo — referred to as E3 — was in-person.
Second-year community psychology graduate student Matt Buerckholtz has followed E3 news since he was young.
"Back then people would always call E3 like the 'Christmas of video games' or whatnot, because it would just be this one day where all this news is just thrown out there for people to get excited for," Buerckholtz said. "As I've gotten older, though, I've gotten a better understanding of people in game development and how the industry works. I've had a little bit better of an understanding when companies started to slowly pull out or soften their presence at E3."
E3's organizers, the Electronic Software Association, announced on Jan. 6 that the video game trade show would be an online-only event for the third year in a row.
The pandemic forced many conventions and expos to adapt or cancel. In response to Covid-19 concerns, large gaming expos like Japan's Tokyo Game Show and E3 have moved to online-only formats to keep attendants safe.
"There's disappointment, but also, I feel like it is the smart move,"  Asko Skladany, a DePaul animation major with a minor in game design, said.  "You know, there's always the disappointment, because part of the whole experience of going to like a big convention like that is just seeing all the people, you know,  convention goers, all the people from the industry, and all of just the cool stuff that you can interact with in person. But I feel like moving it online also makes it more accessible in a way that way you don't have to, you know, it's not pinpointed to one location."
Companies have shifted to online broadcasts to showcase updates and announcements, such as Sony's State of Play and Nintendo's Nintendo Direct.
"I feel like a lot of things are just shifting to online, so I think I've just become accustomed to it,"  Maggie Vallone, a game design graduate student said. "It's really just a slight disappointment that you won't be able to see big displays and stuff like that. But at the same time, I think it's just now kind of more normalized."
With Sony and EA stepping away from E3 and companies moving to online presentations, what was once the "Christmas of video games," is now being called "less and less relevant," with some asking if it is still "needed."
"E3 isn't really 'necessary' per se, it's more that it's 'helpful,'" junior and game design major Luis Mojica said. "Having a set date for things to be announced gives studios big and small a deadline that they'll want to reach. Like, by E3, they want to have a kickass trailer or a kickass demo in order to be able to show it off to people to get them excited for their game. E3's just a huge marketing event. Because it's marketing, it's not necessary, but it definitely doesn't hurt."
Meanwhile, Vallone sees E3 as a good base for different gaming events such as IndieCade, a festival for independent games. In past years, IndieCade held showcases at E3 and brought innovative independent games to the industry's attention.
"[E3]'s still good to have just to have because it's trusted," Vallone said. "That's compared to like, some of the smaller reveals and stuff like that. But it is kind of large in the sense that you kind of just pick out the times of specific companies and game developers. You don't choose to really see the newer stuff."
E3's announcement came at a crucial time for game developers, as Microsoft — a repeat presenter at E3 — acquired Activision Blizzard in the midst of union efforts. Skladany hopes that the focus will shift to pushing for better rights for developers in the workplace.
"With all of the absolute storm of very bad things that have come to light in a lot of big studios, I'm just kind of excited to see where it goes from that," Skladany said. "I'm optimistic that that will kind of be a turning point to help really push for better rights for developers in the workplace and you know, avoiding crunch and overworking and like just the horrible workplace experiences and environments that you hear about from all the press that's been going on right now."