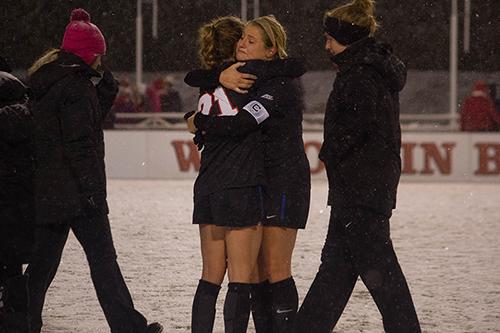 MADISON, Wis. — A monumental season for DePaul's women's soccer team ended last night at the hands of the Big Ten Champion Wisconsin Badgers, 2-0 in the first round of NCAA Tournament play.
With winter rearing its ugly head in Madison, Wisconsin, both teams had to play in less than ideal conditions of high-teen temperatures, as well as some substantial snowfall.
"I mean, it's tough, the ball does some unexpected things," said senior defender Rachel Pitman following her last game as a Blue Demon.
"However, I think we handled it well. The biggest difference was that they finished their chances and we didn't. Both teams have to deal with the snow, so either way, you just have to play hard."
Action in this game came early from both sides with all players trying to adjust to the snow-laden field that they were playing on.
Sophomore Abby Reed had three one-on-one opportunities in the first 30 minutes of the game, but was denied each time by Big Ten Goalkeeper of the Year Genevieve Richard, who only allowed an astonished seven goals all season.
To put this team's talent into perspective briefly, the lady badgers scored 40 goals in support of their goal keeper. Who would go on to save five total goals in this particular contest.
While DePaul's defense was stout, some openings were exposed in the first half by Wisconsin's quick group of forward's and midfielders, led by Rose Lavelle, Cara Walls, and Kinley McNicoll — all of whom were named to the Big Ten first team.
McNicoll would assist on Walls first goal, a give and go-esque play that created space along the right side of the goal, allowing Walls to shoot a header past the near post in the 32nd minute.
Walls, a senior from Wauwatosa, Wis. was a menace in the first half, cashing in on two of her three quality chances.
For DePaul, Reed, along with Freshman Alexa Ben and junior goal keeper Alex Godinez were instrumental in keeping things close throughout the game. Wisconsin would rip 13 shots at Godinez, with nine of those coming in the first period.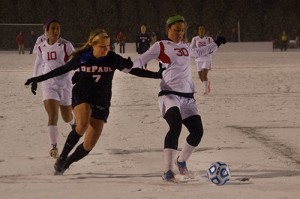 Once the Badgers established a comfortable lead, they became hell bent on keeping it that way.
Adjustments came in the form of not allowing a single Blue Demon in the box, and keeping as many as 7-8 players on guard.
The numbers show that this strategy was successful as DePaul only took three shots on goal in the second half, compared to the five they took in the opening period.
Weather showed no mercy throughout the night as the game time temperature actually fell from 21 degrees to 18 degrees by the end of the match.
The accumulation of snow proved to be tough, especially for goalkeepers, as no shot on goal was routine. Both Godinez and Richard were regular sliding to the ground and using their bodies to secure the slippery soccer ball.
While both teams were constantly adjusting all night, neither gave up on the aggressive style of play that got them to this point.  Wisconsin's three real chances in the second half came in the first couple of minutes, ending with Godinez save followed by a goal kick.
A defeat like this however does not detract the major strides this program made throughout the year, culminating in a number seven national ranking heading into first round play.
With a good mix of contributing underclassmen and experienced seniors who know how to win big-time college soccer games, they've got every reason to be confident heading into the offseason.
"The program is just going to go up from now on because we know what it takes," said Big East Rookie of the Year, Alexa Ben.
"Next year we'll have some incoming freshman step up just like this freshman class stepped up. I can only see this program climbing up the charts from here."
DePaul has every reason to be exciting about next year as they return several impact players, including Ben and Reed, along with freshman Lucy Edwards and Elizabeth Endy.
The national accolades were quite lofty, with maybe the most impressive one being their undefeated record, matched only by UCLA (18-0-2), the No. 1 overall seed in the country.
Coach Erin Chastain and her staff were also named the Big East coaching staff of the year.
"At the end of the day, Wisconsin took advantage of their chances to score, and we didn't," Chastain said following the 2-0 loss.
"But I couldn't be more proud of this team. I'll look back and have a big smile on my face about his season. This is a really special group of young women who have no reason to hang their heads."