Farewell to Pink Floyd: Seminal prog group leaves a long legacy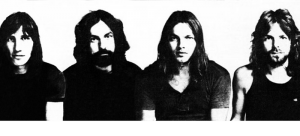 Pink Floyd bade farewell to the world last week with the release of what Gilmour and Mason contend will be the band's last album after nearly 50 years of what many consider to be the most varied and influential discographies of any classic rock band.
To discuss Pink Floyd in terms of their influence, though, would be a near impossible task, or perhaps an unnecessary one.
"To call Pink Floyd influential would be like calling water — and not Waters —influential," Deena Weinstein, sociology professor at DePaul who teaches a class called Sociology of Rock, said.
Indeed, the group has had such a creative output over the years, and such a wide reach — including being one of the most commercially successful rock acts of all time — that their music resonates throughout classic rock, and modern music in general, just as water makes up the bodies of its agents.
What's left of the band has now said goodbye, but their career has been one of many goodbyes. The first to depart was Syd Barrett, founding member and original leader, after just a few singles and the debut album, "Piper at the Gates of Dawn," lending one composition of deranged beauty, the bittersweet "Jugband Blues," to Piper's follow-up, "A Saucerful of Secrets." His replacement, David Gilmour's blues-inflected and spaced-out guitar would become one of Pink Floyd's trademark sounds over the coming decades.
Weinstein said that Pink Floyd's greatness is exhibited "first, in Gilmour's guitar; second, in Water's lyrics; and third,  in (legendary album art photographer) Storm Thorgeson's album designs."
What Barrett's brain and Gilmour's fingers could have done together, the world will never know.
Still, Barrett's sound noticeably resounded over the next few Pink Floyd albums and would remain a ghost of creative inspiration throughout the band's tenure as the world's most popular progressive rock band. But it wouldn't be for five years — despite a few masterful albums in the interim — until "Dark Side of the Moon," that Pink Floyd would reach its largest audience and leave its indelible mark on music and pop culture for years to come.
The album was an instant hit and later went on to become one of the best-selling records of all time, turning Pink Floyd into a household name. It became a critical favorite and to this day has had an almost constant presence on most publications seeking to be comprehensive Greatest Albums of All Time lists, and a mainstay on record shelves across the world.
Their next three albums cemented the band's place in popular music history, from "Wish You Were Here," to "Animals," and culminating in "The Wall," which would become their second best selling album, introduced the band to a new generation of fans.
The golden age of Pink Floyd, though, with the release of "The Wall," had ended in the eyes of most fans and the band  began to come apart at the seams.  Under the stress of what many perceived to be the semi-tyrannical rule of Roger Waters, who had come to dominate the band's creative direction more and more, Rick Wright would be the second member of the original lineup to say goodbye.
The band's next effort, "The Final Cut," was commonly agreed upon to be by and large a Waters solo album, with Gilmour and Mason — somewhat begrudgingly—along for the ride. Waters was the next to leave the band, later saying that Floyd was "a spent force creatively."
Wright rejoined Gilmour and Mason for the following two albums, "A Momentary Lapse of Reason" and "Division Bell" (though only as an official member on the latter), before the long hiatus between them and "Endless River," which, despite Wright's death in 2008, heavily relied on recordings and compositions he was a major part of around the time of the recording of "Division Bell."
To measure the influence Pink Floyd has had on music would be a Sisyphean task — or "Sysyphean," if one were to spell it as Floyd did on "Ummagumma." Their impact was so large and their music so prevalent, Weinstein said that musicians can't help but be influenced inadvertently by Floyd. Perhaps there were better progressive rock bands than Floyd, or better psychedelic rock bands than pre-"Dark Side" Floyd, but the sheer impact they had on the world is undeniable and they will continue to be the standard by which all progressive rock is measured.
Regardless of whether they have been "a spent force" or not for years, "Endless River" seems a fitting farewell from the band. Some fans that have been around for it all are likely glad to say hello to some new material.  Fans like myself, who were two months old at the time of the release of "Division Bell" it is an unexpected pleasure to be greeted with the words that must have thrilled so many eager ears four decades ago- a new Pink Floyd album—and for the chance to say goodbye to a band who has been, despite their literal absence, such a welcome presence in our lives.