Practice makes perfect: Chicago bands struggle to find ideal urban practice space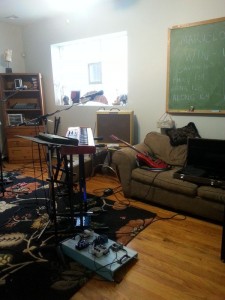 There are many difficult aspects about starting a band ­— finding members, picking a name, finding out who your influences are going to be.
But for many bands located in the city, without a basement or garage to practice in, finding a practice space may become one of the more difficult aspects of starting a band. The two main choices available for many bands within the city are renting out a practice space in a warehouse, or finding a house where the complaints of neighbors aren't an issue.
Senior Charlie McKeown hasn't had any problems with his neighbors, yet. His band, Arkham, practices in his house in Humboldt Park.
"We have no neighbors on one side, and young punk neighbors on the other side," McKeown said. "We can practice until 2 or 3 a.m. sometimes."
Arkham started when McKeown was in high school where they practiced in their vocalist's basement. When it was time to start college and make the move to Chicago, the band still practiced in Naperville.
"We would make trips back to the suburbs to practice because we had apartments," McKeown said. "You can rent practice spaces in the city, but they're pretty expensive."
When McKeown moved this year, having a place to practice was one of the considerations in where he was going to live.
"We weren't going to turn down the perfect apartment," McKeown said. "But when we were looking at places we thought this would be awesome. We've also started having shows there."
Another band that has found a house to practice in is Oshwa, an "exploratory pop" group based in Chicago. The group initially began as a solo project for guitarist, pianist and singer, Alicia Walter, while she was studying music composition at Columbia College Chicago.
While still a solo project, Walter practiced in the basement of the Rogers Park co-op she was living in, which housed 17 people.
"I bought some small PA speakers and an SM58. I didn't even have a mixer, but it worked," Walter said.
Walter enlisted friends made at both Columbia and the co-op, as well as a friend from high school to form a full band. This led to difficulties in finding a space to practice within the city.
"Unfortunately, I moved out of the co-op and into a two-flat, so we couldn't practice too easily," Walter said. "We used to go to friends' spaces, and we even spent a long weekend at a friend's family cabin in Michigan just to work on material."
Living in a house isn't the only option for being able to practice in the city; bands can also rent out practice spaces.
"We found our practice space through my friends," Mike Bellis, of the band Clearance, said. "They have a couple of groups themselves, so we just split the rent."
Many bands split practice spaces with other groups to keep the rent lower.
"It's usually smarter to have multiple bands to a single room to split rent," Bellis said. "It also gives everyone more of a variety of instruments and things to play around with."
The Please & Thank Yous have been together since 2005 when members Marcus Nuccio and Geoff Schott met in high school. Years later, with all the members living in Chicago. They now rent out a practice space in Garfield Park, which they found through friends.
"Some friends of ours needed some extra members in the practice space to keep the rent down," Nuccio said.
Although they found a practice space, Nuccio still acknowledged the difficulties of being a band in Chicago.
"Chicago is a pretty hard city to be a band in," Nuccio said. "It's virtually impossible to practice in a residential building without making neighbors angry, and practice spaces are expensive."