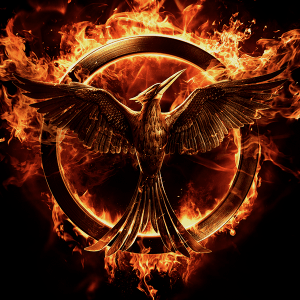 Although it only just premiered Friday, "The Hunger Games: Mockingjay – Part I" is already projected to be the biggest box office opening of the year. The pull the franchise has over its fans is massive with people lining up for midnight releases all over the nation.
The third of four films based on Suzanne Collins' highly successful series takes Katniss Everdeen (Jennifer Lawrence) to District 13 where she hides with the other survivors, including her younger sister Primrose, played by Willow Shields, 14.
Although Shields was only 10 during the first film, she has grown with her character that has a much larger role in this film. Shields stopped by Chicago, Wednesday Nov. 12, for a roundtable to talk about Prim's evolution, being home schooled, and her life after the films.
The DePaulia: How did you initially land the role for Prim?
WILLOW SHIELDS: I was living in New Mexico and they couldn't find anyone they liked for [the first film], so they started looking everywhere and had people send in audition tapes. I taped one and sent it in and it was the scene where [Lawrence] and I are saying goodbye and I'm handing her the mockingjay pin. It's a very emotional scene. So I flew into Los Angeles for my callback and I expected to see tons of girls there. There's no chance I'm getting this, I go and the director and producers are all there and I do the scene, and the director just tells me in the room that I got the part. It was surprising, but I feel like it was perfect. I felt like it just worked. It doesn't happen very often that you get told you got the part in the audition room.
How does it working being home schooled and working on a set?
WS: Basically my mom and dad switch off being my teacher and then when I'm on set I have a tutor and I have to get done four hours a day of school work while I'm working on set. When I'm not working on a film I just do the regular amount of school just like everybody else.
How has Prim evolved over the course of the movies so far?
WS: I think Prim's character has evolved a lot. Not only do you see her change the most physically in the films, but for me I feel a lot of changes in her character being the person who plays her. She starts off as this really young girl who's scared of this world that she lives in. And you see her in "Catching Fire" discovering who she is as a person and the fact that she wants to become a doctor. In "Mockingjay" she finds a lot of strength in herself that she didn't know she had. And she obviously gets that from Katniss, and she is able to help Katniss a lot in "Mockingjay," which is an interesting dynamic to see because you see Katniss falling apart and then asking Prim for advice and help. You know she's in a tough place when she asks Prim for advice and [Katniss] knows that her sister is smart enough and now strong enough to help her.
Both you and Prim have nature inspired names, what do you think about that coincidence?
WS: It's funny because I just had a conversation with my mom about this. My brother is River and my twin sister is Autumn so it's like a theme. I get asked all the time if my parents were hippies but they just wanted something interesting. It is an interesting connection and I love the name Primrose and I think it's beautiful and fits her so well. She's so sophisticated and she's prim and proper in a way. There's one common theme for Prim throughout the entirety of these films is that she's always the light through all of these film. You see so much darkness with Katniss and her fight and Prim is always the light in [Katniss'] world at least.
The rest of the cast always talks about playing pranks on each other, have you been involved in any of them?
WS: I haven't been involved in any pranks but we're always messing around on set. Sometimes [director Francis Lawrence] jokes around with us too. We literally are laughing all the time until they say "action" and they we laugh again when they "cut." It's a circle of just laughter. It stops for a few seconds here and there..
What are you plans after you finish with the series?
WS: I definitely want to keep acting but it's the question of what's the right part to do right after this series. Part of me wants to do something that's just completely different to show people I can play a totally different role. That's something I would love to do but it's about whether the part is the right part and everything fits into place and feels right. You don't want to play a character that you can't pull off or you can't give all of yourself to. I need to find a role that I feel comfortable in but also really challenging at the same time.