DePaul Volleyball hopes to repeat last year's success as new season begins
Having made their first Big East tournament appearance this past season, the DePaul women's volleyball team plans to make it two consecutive seasons under head coach Marie Zidek. 
The Blue Demons have a core of experienced juniors and sophomores who understand what it takes to be successful throughout the entirety of a season. 
"The majority of this group has played together now for two or three seasons," Zidek said. "When you have a very experienced group, you can train higher level concepts a little bit earlier in preseason, and that is what this group is doing. When you fold in new players who are very talented, those players are just jumping on." 
Although this team has multiple seasons of experience, Zidek made changes to her coaching staff over the offseason, which brought new ideas to help acquire more talent for the upcoming season. 
Coach Zidek brought in two new assistants for this season: Adriano De Souza from West Virginia University and Maddie Beal, a graduate manager at the University of Mississippi. 
New changes to the team have required Zidek to make sure her staff, and players are all on the same page before the season starts. 
"It's been the opposite of a struggle," Zidek said when asked if changing the coaching staff and adding to the roster would potentially set the team back. "It has actually been what's allowed us to get to that next level and start accessing that next gear. You want to start competing with teams that are used to going deep into the NCCA tournament." 
With a young developing roster of three new freshmen and three new transfers, senior Bailey Nelson hopes she can be a leader on this team, the same way previous Blue Demons seniors were when she first started.  
"I feel people look to me as the person to ask questions," Nelson said. "I want to be a support for other people, and I hope that they feel that I do support them. I am trying to act as though the people I looked up to when I was a freshman." 
DePaul came off a 19-12 season, which led to them placing fourth in the Big East tournament. They won a first round match, but fell short in the semi-finals to the eventual champions, the Creighton Blue Jays. 
The Big East preseason coaches' poll has the Blue Demons as the No. 3 seed in the preseason ranks, which is the highest the team has been ranked in over 16 plus years. 
Zidek gave a lot of her playing time to deserving sophomores last season, so now juniors Rachel Krasowski and Hanna Karl are looking to take their game to the next level.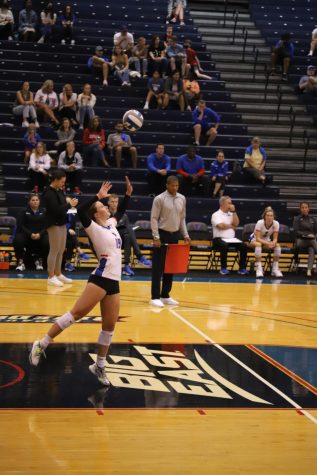 Krasowski led the team with 172 defensive digs this season as the team's starting libero. She was able to earn a Big East defensive player of the week honor in March. On Feb. 19, she was able to record her career high with 24 digs against Xavier. Krasowski is an anchor on this team, as the librero's usually are. The position is not the easiest by any means, but Rachel seems confident she is able to keep moving forward. 
"In a volleyball aspect, I feel I have a better understanding of the game and how DePaul volleyball is meant to be played," Krasowski said. "I am willing to be open minded to learning new things especially with the new coaching staff." 
Karl is one of DePaul's many outside hitters this season. With the Blue Demons running a 6-2 offense of two setters and six attackers, there are always two outsides, one playing back row and one hitting at all times. Karl's game is very versatile, and she sees the value in DePaul's volleyball. 
"Most of the new hitters are freshmen, so it's really nice to be able to use the experience that I've had to help them up their game because college is very different from club and high school," Karl said. 
With Zidek at the helm and the team developing a winning culture, the team has developed a way of life.
"The biggest thing I've heard from other commits and incoming freshmen that I had a chance to talk with is the comfort level that the team brings to the people that are new," Karl said. "I think we are very welcoming on the court and off the court, which allows the people who are more reserved to feel comfortable and confident right away." 
The NCAA rules do not allow preseason training over the summer for fall sports, so Zidek and her coaches use all the time they have to make sure the players get acclimated before the season begins.
 "I think it's very challenging being a fall sport, and expecting these players to be in their physical shape right away," Zidek said. "The unique way we approach it is we go really heavy in the weight room and heavy in the training. Our student athletes do a great job of making sure they are taking care of themselves over the summer, and once August hits, we go." 
The building blocks are in place for the Blue Demons to repeat the same success they had last season. With lots returning experience and new faces to the roster and coaching staff, Zidek feels this team can make it to the end. 
"I think this team is capable of winning it," Zidek said. "I think we are capable of hanging a banner, but knowing the league is going to get very strong it's going to get harder to win, but I do think the ceiling is very high for this team and some point in time seeing this team play in December." 
Connect with Preston Zbrosczcyk: @PrestonZbroszc1 | [email protected]