Donde puedes ayudar a los inmigrantes llegando a Chicago
Con los autobuses llenos de inmigrantes que fueron transportados de Texas a Chicago, funcionarios de la ciudad de Chicago están buscando voluntarios y donantes para ayudarlos.
La alcaldesa Lori Lightfoot afirmó que la ciudad está en colaboración con organizaciones locales, pero que necesitarán más ayuda para apoyar a los migrantes.
La ciudad de Chicago ha puesto en marcha un sitio web para el público que desea ser voluntario,o donar bienes como ropa, artículos de aseo y otras necesidades para ayudar a los migrantes.
"Como una ciudad acogedora, sabemos que los habitantes de Chicago están listos para mostrar su generosidad y están buscando formas de apoyar a estas personas", dijo el sitio web de la ciudad de Chicago.
Aunque muchos habitantes de Chicago han estado recaudando donaciones para los inmigrantes, la ciudad ha designado algunas oficinas de concejales como lugares de entrega de donaciones.
Ald. Michael D. Rodríguez,  del distrito 22, ha estado recolectando donaciones y transfiriéndolas a la Coalición de Illinois por los Derechos de los Inmigrantes y Refugiados (ICIRR) y otras organizaciones comunitarias.
Carlos Gamboa, el Jefe de Gabinete del Distrito 22, dijo que en cuanto supieron que el gobernador de Texas estaba enviando inmigrantes a Chicago, ellos decidieron actuar rápidamente para proporcionar recursos a su gente.
"Es injusto que el gobernador de Texas los envíe a varias ciudades de los Estados Unidos sin absolutamente ningún recurso ni un plan", dijo Gamboa. "Siempre ayudaremos a alguien, independientemente de su estatus migratorio. Trataremos a todos por igual".
 "Creo que muchos mexicoamericanos de segunda, tercera e incluso cuarta generación están más conscientes de lo que está pasando y quieren marcar la diferencia facilitando que los inmigrantes pasen por este proceso, porque tienen familiares que han pasado por el mismo sufrimiento", agregó Gamboa.
 Se puede acceder a la oficina del distrito de D. Rodríguez los lunes de 9 am a 7 pm, y de martes a viernes desde las 9 am a 5 pm en 2500 S. St. Louis Ave.
ALD. Byron Sicho-Lopez (25th) agregó que cuando la gente hace donaciones, están haciendo una diferencia más grande en la comunidad de lo que se dan cuenta.
"Son las comunidades más vulnerables las que hacen el trabajo del gobierno, lo que es una vergüenza", dijo Sicho-Lopez. "Son los que no tienen mucho los que ayudan a los que no tienen nada, y necesitamos apoyo, y esta debe ser la charla de Chicago, porque ni una sola persona que llegó en un autobús se lo merece".
Organizaciones sin fines de lucro y grupos comunitarios de Chicago, como The Resurrection Project, que ayudan a las comunidades de inmigrantes, también han intervenido para realizar donaciones.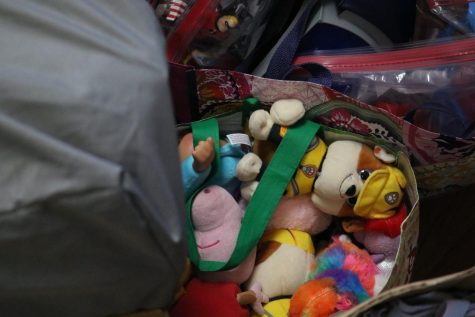 Laura Mendoza, organizadora de inmigración en The Resurrection Project, dijo que están allí para ayudar con cualquier cosa, desde traducción hasta la entrega de los elementos esenciales que la gente necesitará.
"Armamos kits de higiene, que incluyen artículos como desodorante, shampoo y desinfectante para manos; así como otras necesidades básicas", dijo Mendoza.
"Ayudarles es importante porque se convertirán en miembros contribuyentes de nuestra comunidad", dijo Mendoza. Solo necesitan que les demos un pequeño empuje con las donaciones para que se encuentren estables. Luego ellos serán capaces de superar este proceso al igual como otros inmigrantes lo hicieron en el pasado."
Para aquellos que estén interesados ​​en donar, The Resurrection Project acepta donaciones monetarias.
"Tenemos un gran equipo de voluntarios que trabajan con los migrantes para brindarles recursos porque nos preocupan. Queremos darles recursos porque son importantes para la ciudad de Chicago. Son seres humanos", dijo Mendoza
Se puede encontrar una lista de bienes que se necesitan y se pueden donar a las oficinas del regidor u otras organizaciones aquí.
"Los habitantes de Chicago deberían donar porque ellos [los inmigrantes] no tienen nada. Ellos no pidieron venir aquí. Todo lo que quieren es una vida mejor", dijo Gamboa. 
La alcaldesa Lori Lightfoot afirmó durante una conferencia de prensa que desde el 31 de agosto, cuando llegó el primer autobús lleno de solicitantes de asilo, alrededor de 500 migrantes han llegado a Chicago. Lightfoot anticipa que ese número seguirá creciendo.
Otros miembros del Consejo Latino del Concejo Municipal también están recaudando donaciones. Aquí hay más oficinas donde se pueden llevar donaciones.
Ald. Susan Sadlowski Garza (10) – Oficina del distrito, 10500 S. Ewing Ave.

Ald. George Cardenas (12) – Ayuntamiento, 121 N. LaSalle St.

Ald. Byron Sigcho-Lopez (25) – Oficina del distrito, 2242 S. Damen Ave.

Ald. Roberto Maldonado (26) – Oficina del distrito, 2511 W. Division St.

Ald. Ariel Reboyras (30) – Oficina del distrito, 3559 N. Milwaukee Ave.

Ald. Felix Cardona, Jr. (31.°) – Oficina del distrito, 4606 W. Diversey Ave.

Ald. Rossana Rodriguez Sanchez, – (33rd) – Oficina del distrito, 3001 W. Irving Park Rd.
Ald. Carlos Ramirez-Rosa (35th) – Oficina del distrito, 2934 N. Milwaukee Ave., Unit C

Ald. Gilbert Villegas (36th) – Oficina del Distrito, 6560 N. Fullerton Ave., Suite 118-A

Ald. Andre Vasquez (40th) – Oficina del DistritoWard Office, 5620 N. Western Ave.

City Clerk Anna Valencia – City Hall, 121 N. LaSalle St., 1st Floor Las