Una guía para los estudiantes internacionales: Cómo hacer Chicago tu nuevo hogar
Cuando llegué a Chicago desde Perú, como estudiante internacional, recuerdo sentir emoción, nervios e incertidumbre al mismo tiempo por cómo cambiarían todas mis actividades en mi nuevo entorno. A pesar de ser una ciudad tan grande y con tanto para explorar, al inicio se me hizo muy complicado encontrar lo que tenía para ofrecer.
Como estudiante latinoamericano, a veces busco sitios donde sentirme en casa. En esta ocasión presentaré los lugares, actividades y algunas comunidades que me ayudaron en el proceso, y que estoy muy seguro te pueden ayudar también.
The Urban Football League
En mi país de origen, el fútbol era una de mis actividades diarias, por lo que fue de las primeras cosas que busqué en Chicago. The Urban Football League es una comunidad organizada por varios amantes del fútbol que ofrece partidos amistosos de libre acceso a todos los aficionados de este deporte. Allí la comunidad latina también se hace presente, por lo que se pueden encontrar diversos estilos de juego. Se organizan partidos todos los domingos, usualmente de 10 a.m. a 12 p.m. en Kenwood Park, 1330 E 50th St. 
Saturdays for Football
Al igual que la anterior, esta es una comunidad que ofrece partidos amistosos de libre acceso a todo aquel que quiera pasar un buen sábado por la mañana jugando fútbol. La variedad de estilos de juego también se hace presente, y el juego latino nunca hace falta. El ambiente es muy agradable y todos te reciben con una cálida bienvenida. Los horarios se encuentran de 9 a.m. a 11 a.m. o de 11 a.m. a 1 p.m. Localizado en Fleet Fields, 1397 W. Wabansia.

Frente del Lago
Si te gusta dar un paseo tranquilo por la ciudad escuchando tus bandas favoritas, esta es la mejor opción. Con un recorrido al frente del lago, Lake Front ofrece una de las mejores vistas de la ciudad y los mejores caminos para un recorrido en bicicleta, skateboard o para un simple paseo.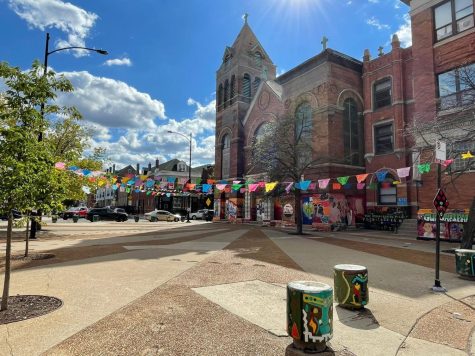 Pilsen
Pilsen es el lugar ideal para cualquier latino en Chicago. De acuerdo al Censo de Estados Unidos y la encuesta de la comunidad estado unidense en 2017, la población latina representa aproximadamente el 52% de la población total en Pilsen. Desde la variedad de restaurantes hasta su propia infraestructura, Pilsen te hará sentir como si hubieras tomado un vuelo de regreso a casa. El Museo de Arte de México, decoraciones como las del frente del Guadalupano Family Center, la música y todos los murales hacen que Pilsen sea definitivamente un portal a casa. Siempre hay eventos o festivales en los que participar, y como dato extra, todos los martes a las 6pm, en Harrison Park, se ofrecen partidos amistosos de fútbol para el público en general.
Al igual que la ciudad, DePaul también ofrece varios espacios para estudiantes internacionales.
Tepeyac
Tepeyac es una organización estudiantil destinada a representar a la comunidad latina en DePaul. A veces ser estudiante internacional carga con la idea de ser incomprendido, pero en Tepeyac puedes encontrar a varios estudiantes latinos con experiencias similares con quienes puedes compartir momentos y pasar un buen rato. Durante el año escolar, usualmente, se reúnen todos los jueves de 3 p.m. a 4 p.m. en el Lincoln Park Student Center.
Global DePaul
Global DePaul es una comunidad de estudiantes, profesores y personal destinada a dar una cálida bienvenida a estudiantes de todo el mundo. Los viernes se ofrecen los Global DePaul talks donde estudiantes internacionales se reúnen para hacer distintas actividades y conocerse entre ellos. Personalmente, aquí conocí a mis mejores amigos de DePaul. Localizado en el Loop Campus.