Back in full swing: DePaul basketball unites with fellow Chicago teams at Tip-off Luncheon
Coaches Tony Stubblefield and Doug Bruno and DePaul basketball players represented DePaul at Thursday's Chicagoland Media Tip-off Luncheon.  
Hosted by ABC7's Dionne Miller, this was the first year the Chicagoland Luncheon took place at the Chicago Sports Museum at Water Tower Place. 
Northwestern, Chicago State, UIC and Loyola attended as well.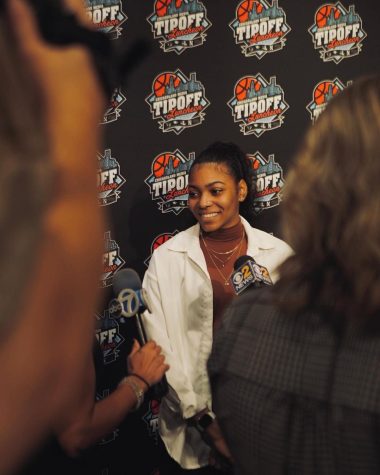 After teams arrived and spoke to the media, coaches sat in high rise chairs as Miller asked them questions about the teams' upcoming plans for the season. 
This is not the first year Chicago basketball was united, but it is something Stubblefield hopes happens every year. 
"This is a great event," Stubblefield said. "Obviously, Chicago is a great city. There are some great universities, and we see a lot of these guys in the course of the summer out on the road recruiting, but it's good to all come together today for this luncheon." 
The expectations for both basketball programs are as high as they ever have been. Coach Doug Bruno plans for a repeat appearance in the NCAA Tournament. After last season's 15-16 record and a 10th place finish in the Big East, the Blue Demons look to finish towards the top of the standings. 
One of DePaul's few seniors, center Nick Ongenda, talked about how the team has bought into Stubblefield's brand of basketball in year two. 
"I feel like year one, you know, he came in and did an amazing job," Ongenda said. "But he came in, it was his first time in the position, so now in year two he's going to be much more comfortable, much more ready to throw in what he needed to. From summer ball, we've seen so much improvement through the players and obviously through the coaches too." 
As far as Bruno and his women's team, the hopes are to go further than the First Four in the NCAA Tournament. After last season's early exit to Dayton, the Blue Demons improved their roster adding more depth and experience. 
The Blue Demons plan to prioritize health, as they suffered a number of season-ending injuries that diminished the team's roster.
Bruno brought in Anaya Peoples, a Notre Dame transfer who brings her years of NCAA Tournament experience and backcourt knowledge as a point guard. DePaul also plans to take advantage of Aneesah Morrow's breakout season, giving her the chance to lead the team.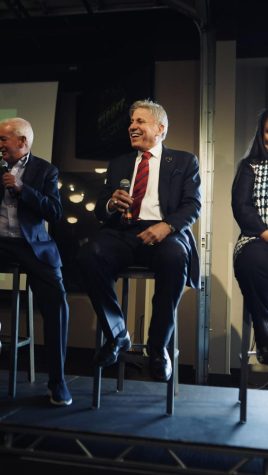 Recruiting for Stubblefield in year two has been even better. He has brought in experienced depth in the backcourt with transfer guards Umoja Gibson and Caleb Murphy. Stubblefield also landed guard Zion Cruz, his second four-star recruit since arriving at DePaul. 
Both basketball programs will face Northwestern and Loyola this season, a Chicago tradition that hopes to continue. 
Graduate student Javan Johnson, who only played 10 games last season and was limited, said the team has aspirations of competing far into this season. 
"I want to make it to the NCAA Tournament, that's first and foremost," Johnson said. "We really know the system this year. So [coach Stubblefield] doesn't really need to teach us much. He can be more hands-on now, and won't have to reiterate things." 
DePaul basketball is the most popular sport on campus, and the team makes an effort to connect with their fans and season ticket holders. 
Events like Blue Madness will be making a return to involve the DePaul community and get to know the teams. On Oct. 14, the preseason fan event will feature an outdoor court in the parking lot of Saint Vincent de Paul church. The completely free event for the public will have contests, food and t-shirt giveaways.