50 years after Title IX, DePaul looks to invest in women's athletics
DePaul University made history several weeks ago when it announced its plan to implement the "Women's Athletics Advancement Fee." This initiative will add $1 to the face value of any men's basketball admission ticket, with the profit to be distributed amongst the university's female athletic programs. DePaul is the first known Division I university to unveil such a plan. 
"I think it's an excellent idea," said Frederick Mitchell, DePaul professor and award-winning Chicago Tribune sports writer. "I think it could put pressure on other universities to do the same thing and say, 'DePaul is doing this, so why aren't we doing it?' I think it has the potential to enhance the profile of the entire athletic department at DePaul." 
The idea for the new initiative sprung up during the Athletic Department's discussion about the 50th anniversary of Title IX and how the milestone could be used as an opportunity to highlight the need for funding in women's athletics. 
"Once the idea was established and we knew what we were going to do, it really didn't matter to me what other people thought because I knew at that juncture that this was going to be something that really helps bring some attention to women's athletics," DePaul Director of Athletics DeWayne Peevy said. "There was a really good discussion about how we wanted to do things because we didn't want it to look like it was coming from a PR standpoint." 
Peevy and the rest of the athletic department hope that this new initiative will garner a profit of at least $50,000 to be distributed among the nine women's athletic teams at DePaul.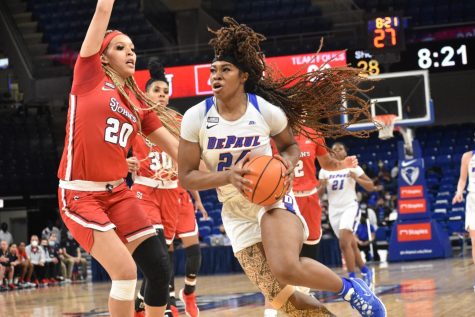 "I think we came up with that strategic number by determining what was feasible and what would be a goal for us to reach for," said Kassidy Brown, senior associate Athletics Director of Marketing & Communications. "Once we are able to get the funds we will start looking at which areas, which scholarships, and which ways we can best use it for our female student-athletes at DePaul."
DePaul has one of the lowest athletic revenues in the Big East, reporting only $29 million in the 2020-2021 season per the U.S. Department of Education. This has made it difficult for the university to spread funding to all sports with men's athletics often prioritized when it comes time to pay dues. 
Peevy hopes that this initiative can start a new precedent of intentionally investing resources into women's athletics at the collegiate level instead of just handing them the leftovers.
"I don't want it to sound like charity because it isn't," Peevy said. "In my 22 years working in football and men's basketball, we would proudly go out there with initiatives and make those programs better, and sometimes women's athletics get left behind, even though they are just as much a part of the overall athletics initiatives." 
There is still work to be done outside of the financial arena to further advance the support that women in sports receive at all levels. The women's athletic programs at DePaul have a long and celebrated history of success, but fans would not necessarily know it from attending a game. 
"If I'm looking at anything that was really disappointing from last year it was the student turnout for women's basketball," Peevy said. "I think there is a lot of room for growth there, because if we can't care about it enough on campus, how do we compete with issues outside of campus? Our female athletes need to know that they are supported by the DePaul community." 
In order to increase engagement with the team and bring in more fans, the athletic department has created a new internal position solely focused on marketing for women's basketball.
"We have an unbelievable history in women's athletics from a performance standpoint and we need to match that with the support they deserve," Peevy said. "This initiative provides us with an opportunity to intentionally invest our time and effort into developing our women's athletic programs."
A project like this one is enough to inspire any former female athlete, especially those in the DePaul community. 
"I'm actually a former student-athlete myself, so seeing and being part of a team that implements this here at DePaul really excites me," Brown said. "We are doing a lot to give our women's sports here at DePaul what they deserve."
Arianna Raimonde, a former student-athlete and junior at DePaul, is hopeful that this initiative may mark a turning point for the appreciation of women's athletics at the collegiate level and beyond. 
"DePaul's women's basketball team has been so dominant in recent years that they deserve more credit and recognition for their hard work," Rainmonde said. "It gives me hope that this is just the start and hopefully we can implement these initiatives at higher levels like the WNBA." 
The anniversary of Title IX has provided a platform for DePaul to highlight the accomplishments of women's athletics and plan for their future by creating initiatives like this one. 
"We've been continuously sharing achievements on our social media platforms and we have a Title IX game for every woman's sport this year," Brown said. "I am really excited and proud of everything that we have put out so far and I'm really looking forward to what we're working on right now."
The ticket fee is the first step in what could potentially be many toward increased support of and investment into women's athletics at DePaul and elsewhere. 
"It isn't easy to be the first person to ever do something, but this is important," Brown said about the trailblazing initiative. "But just because no one has ever done it before doesn't mean it shouldn't be done."