Here, we jam: DAB brings back Demon Jam, annual concert from DePaul's past
When students think about the events they have to look forward to during their time at DePaul, FEST comes to mind. The end-of-year concert series put on by the DePaul Activities Board (DAB) has been a end of the spring quarter staple for as long as anyone can remember. But this year, DAB is bringing back another tradition to DePaul, Demon Jam. The last time the concert was held was in Sep 2019. After this three-year-long hiatus, students are unsure of what to expect. 
To build buzz around Demon Jam, DAB hosted a save the date event in the LPC Student Center atrium, on Nov 3. The event included save-the-date postcards and cupcakes.  
The concert is coming back to its roots. Prior to being held in 2019, the concert was known as Polarpalooza and served as a winter quarter concert. This year, Demon Jam is taking place on Jan 12 in Student Center room 120A/B, shortly after the beginning of the winter quarter. 
DAB is excited to bring back this event for students. 
"Demon Jam was the fall concert that happened in 120 A/B and we haven't had it since September of 2019. So I decided that it was time to bring it back." DAB Concert Chair, Nancy Walker said. "It's free for students, all you have to do is be enrolled and registered at DePaul."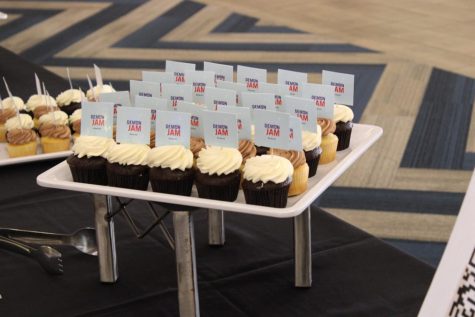 When asked what artists students can expect they didn't give an exact response. 
"Students can expect an up-and-coming artist," Walker said. 
In the past, Demon Jam has included the musical talent of MAX, Echosmith and We The Kings. 
Since this event hasn't happened in over three years, students don't know what to expect or what Demon Jam even is. 
"I don't know anything about the Demon Jam concert," sophomore Mary Patolot said. "It would be nice if DAB did more advertising around campus, or maybe partnered with other organizations to advertise." 
However, students do seem to be more familiar with FEST, the end-of-year concert series. 
"I haven't heard about this concert, but I've heard about the big fest one at the end of the school year," freshman Ben Chase said, "I see flyers around in the SAC or the student center for activities going on… I haven't seen anything for Demon Jam." 
Students are confident in DAB's ability to find artists students will enjoy, given past musical appearances. 
"They got good performers for FEST [in prior years] and the Blue Demon Welcome in September, so I think they'll find someone good [for Demon Jam]," Chase said. 
Finding a local artist is a priority for students. 
"I would love to see more Chicago-based artists outside of DePaul being featured," Patolot said. 
Students are also concerned that if these events are not being advertised well, their money may be wasted. 
"I think if DePaul continues hosting events such as this one, they should do a better job of outreach so that more students are aware and can attend," freshman Sofia Joseph said. "Otherwise, the money should be reallocated to resources that will help students or just outright cut."