Youth turnout soars: Voters under 30 make an impact in the 2022 midterm elections
Cindy Cooper worked to collect the community's votes at the Lincoln Park Public Library for 17 days straight. In late October to early November. Her team was among the 775,101 nationwide poll workers in the 2020 election coming back as retired, now unpaid Chicago employees. "Let's face it, we're Chicago employees. We don't get paid," Cooper said. "But we do it because it's that important, we are like a part of this neighborhood." 
Cooper describes the Lincoln Park CPL location as not a normal polling place. Community members send her team plants, pizza and encouraging emails as this is ingrained into the neighborhood. "If you're a first-time voter, we're going to embarrass you. If it's your birthday, we're going to embarrass you," she said. "I know it's supposed to be a serious thing, but if you're standing in line for three hours you gotta lighten it up." 
Being across the street from DePaul, Cooper notices the influx of students turning in ballots close to election day. 
"Yesterday we did 100 new registrations, just at this location,"  Cooper said. "I will guarantee you, about 60% of them were DePaul students."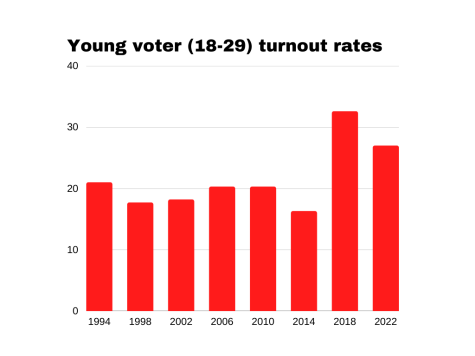 Many DePaul students had the opportunity to vote for the first time in this election.
"I think that no matter what, for anybody who can vote, they should take that opportunity,"  Maysoon Kadiri, a sophomore at DePaul and first-time voter said. "I think it's really important because we determine what happens in the future and we're the ones that are going to be involved in whatever is decided." 
 According to NPR, researchers say that the 2022 election had the second-highest turnout among voters under 30 in the past three decades. 
Youth voter turnout was at an all-time high in battleground states, especially with issues like abortion on the ballot.
There was a larger turnout," Adjunct professor R. Craig Sautter said. "Certainly there was a larger turnout where abortion was on the ballot. In general, it probably motivated people." 
Cooper said her polling site saw a good student turnout out on election day, but she was not satisfied with the number of students that were early voting.
"We have been here for two and a half weeks, I don't think we have seen enough of them,"  Cooper said.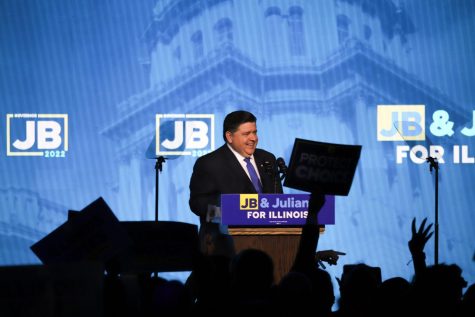 While a ballot cast on election day is the same as an early vote, being proactive by planning a trip to the polls a few days early counteracts any possible last-minute plan changes or other personal factors that could delay a vote being cast. 
In addition to early voting, Cooper also urges voters to make sure to come prepared.
"The most important thing is to go to the Chicago Board of Elections website and look at a sample ballot,"  Cooper said. "Make a decision, do you want to do just the governor and the senate seats, or do you want to delve deep enough to do the judges? There are so many great places to get that information."
Kadiri agrees with Cooper and believes that a large factor that stops youths from voting is a lack of education about the election. 
"I think that there is a big gap between what people do know and what people don't know about who is on the ballot," Kadiri said. "I think this midterm for me is an opportunity for everyone to show the representation that they want."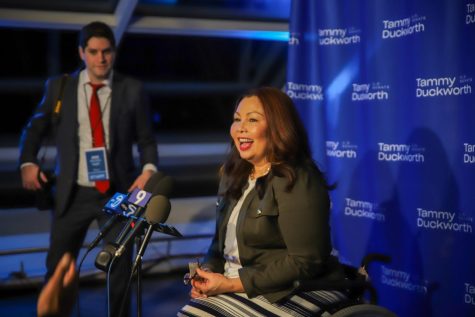 Nonetheless, many youth voters recognized this election as their opportunity to make the voices of their generation heard. 
"I think that it's really important, just to have that voice," EJ Bradford, junior at DePaul and absentee voter said. 
Youth voters made a large dent in the previously anticipated 'red wave'.  At Arizona State University, 96% of students voted for Democratic candidate for governor Katie Hobbs, whereas 4% voted for Republican candidate Kari Lake according to PoliticsVerse.  
As for the Republicans, this election did not turn out how they had hoped or expected. Historically speaking, the midterms usually lean in favor of the party that doesn't hold the presidency. 
"I think young people disproportionately go Democratic. Old people are going, right now, disproportionately Republican,"  Steger said.
Republicans failed to gain many majority seats, historically underperforming. According to the Washington Post, this will be the first time since 1986 and the second time since 1934 that the opposition party has had a net loss of governor's seats. 
 "I suspect that the reason that they did this way is Trump's visibility for Republicans and Democrats," Steger said. 
A higher youth voter turnout was seen in the Latino community, as well.
"For Latino voters, 50% of Latino voters that early voted were urban voters," Joe Tafoya, professor of political science at DePaul said. "That tells us that they're typically younger, they're second or third generation… we saw a spike in young Latino men who voted."
According to The Washington Post, voter turnout was especially high for a midterm in several battleground states, where expectations of a close contest boosted voter participation. In Wisconsin and Michigan, nearly 6 out of 10 eligible voters casted a ballot.
Illinois voters solidified Democrat J.B. Pritzker as the governor against Republican Darren Bailey. Nationally, The House looks set to flip to the Republicans. 
Democrats will keep control of the Senate, NBC News projects holding at least 50 seats. 
Connect with Una Cleary: @unacleary_ | [email protected]