Blue Demons fall flat against Nova, bounce back with win over Xavier
On Jan. 11, DePaul suffered their third straight loss for the first time since 2012 under head coach Doug Bruno. The Blue Demons quickly turned their attention to Xavier on Saturday, where they picked up a must-win game and extended their streak to 24 straight wins against the Musketeers. 
Unlike many games so far this season, DePaul commanded the first quarter. They controlled the pace of the game early and dominated the paint, as sophomore All-American Aneesah Morrow and senior Jorie Allen each had 8-points all under the basket. 
Allen did not see another shot until late in the third quarter after shooting 4-of-4 in the first. Her next basket came under four minutes in the fourth when she made DePaul's first three. 
Morrow notched a double-double but struggled scoring on the night, shooting 12-of-34 from the field. Junior Darrione Rogers' performance was one she likely wants to forget. Tallying her first point in the third quarter from a free throw, Rogers went 1-of-10 from the field with five turnovers and a plus/minus of minus nine. 
DePaul's late fourth quarter comeback started with its defense when Morrow and senior Anaya Peoples combined for six steals, leading to transition baskets.  
Senior Kendall Holmes and Allen knocked down back-to-back threes, which were DePaul's only two of the game as it brought Villanova's lead to within six points. 
Costly turnovers resulted in the Blue Demons falling short once again. This is the first time  Bruno and his DePaul team have lost three straight games since the 2012 season. 
"Villanova is a good basketball team and we dug a hole going down 18," Bruno said. "It's a pretty simple game, we have to defend more consistently, we have to rebound better on the second shot factor." 
DePaul donned their red alternate uniforms for the first time this season, paying tribute to the late former DePaul assistant coach Maggie Dixon while also raising awareness and funds for the American Heart Association. 
Dixon coached at DePaul from 2001-2005 before passing from complications due to an enlarged heart in 2006 at the age of 28.
Prior to Wednesday's game, Morrow and Villanova's Maddy Siegrist were both named to the Ann Meyers Drysdale Midseason Watch List. The list was announced by the United States Basketball Writers Association (USBWA).
Siegrist scored a game-high 32 points and 12 rebounds. She made clutch baskets throughout the game and iced it when DePaul drew within double-figures.  
Morrow spoke about the frustration throughout the three game losing streak and staying composed. 
"I just simply stay calm throughout the game, " Morrow said. "I feel like I play the best when I'm calm. As a leader, you have to stay calm." 
As DePaul's hopes for a potential NCAA Tournament window drastically narrows, the Blue Demons will need to stack wins to close the season.
Saturday at Xavier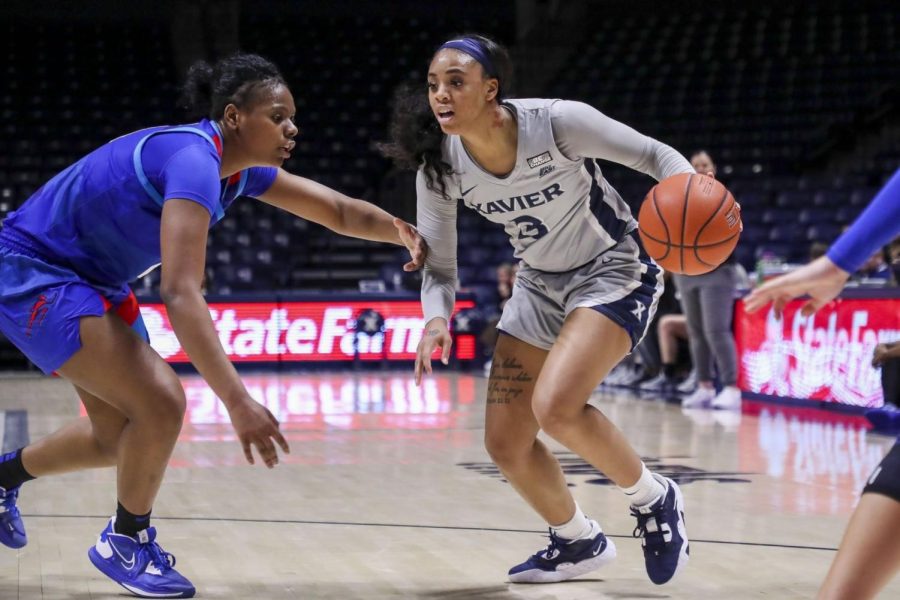 Following the loss, DePaul traveled to Cincinnati on Saturday looking to put a three-game losing streak to bed and finally pick up a much needed win over Xavier. 
The squad did just that, trouncing Xavier 91-56. The Blue Demons led from tip-off and never looked back. An offensive explosion was long awaited for head coach Doug Bruno and his team. They finished the night shooting 57% from the field, and shot 14-of-26 from three, a season-high in threes made in the game so far. 
Saturday's game marked the 25th all-time meeting between the two programs, with the first meeting dating back to 1984. During that span, DePaul has only surrendered one loss to now 24 wins. 
This was DePaul's 24th straight win and 17th straight Big East win over the Musketeers since their merger into the Big East in the 2013-14 season. 
A true balanced scoring attack took place in the win on Saturday, four Blue Demon scorers finished in double-figures, including junior Darrione Rogers who had struggled mightily to get her offense going leading up to the game. 
Everything was clicking. DePaul distributed the ball all over the court with 24 assists, a season-high in Big East games, leading to 34 points.
Junior Kendall Holmes added 18 points all off threes in the victory. Her 10.3 points per game has been third best on the team. Shooting 44% from the three is the highest on the team, and has given her a vital role on the team. 
Morrow added her 14th double-double on the season. She had a particularly quiet game, scoring just 15-points and grabbing 11 rebounds. 
Since her return to the rotation, senior Keke Rimmer has impacted the game every time she checks in. Rimmer finally provided Bruno scoring off the bench and a reliable go-to when needed. Saturday, Rimmer notched a double-double, with 14 points and 10 rebounds. 
Leading the Big East in rebounds per game with 42.7 DePaul, out-rebounded the Musketeers 47-to-28, leading to 14 second-chance points. 
After DePaul concluded its seven game homestand ending against Villanova on Jan. 11, the Blue Demons will have nine out of their next 13 games on the road, where they are 4-1 so far on the season. This is by far a better split then their home games, which currently sits at 5-5, barely hanging on to .500. 
With 13 games remaining in the regular season, DePaul has still yet to play a large portion, which will have a large implication to the conclusion of their season and Big East standings. 
The Blue Demons still have yet to play UConn, with the rescheduled game taking place Jan. 23. 
St. John's is another Big East opponent, who currently sits 14-3 on the season with just one win above the Blue Demons in the Big East standings at 5-3. The Red Storm will match up with DePaul twice with the first matchup coming Jan. 21 at Wintrust Arena. 
Finally, DePaul has yet to play against the Pirates of Seton Hall. Splitting last season, the Pirates won the more recent matchup 94-90 on Feb 25, 2022.  DePaul visits Seton Hall first on Jan. 28, before hosting them on Feb. 15. 
Prior to all these matchups, the Blue Demons will have to take care of business against Georgetown in their next game on Jan. 18. DePaul won early in the season 80-71 and will look to complete the sweep. 
Tip-off is scheduled for 6:00 p.m. CST in Washington D.C. and can be watched on Flosports.