"There was just a huge lack of accountability:" Student veterans share their experiences with the Department of Veterans Affairs
When DePaul junior and West Pullman native Richard Malone enlisted in the army in 2002, he felt honored to serve his country. Coming from a lineage of veterans dating back to World War II, Malone always knew he was destined for the grueling, yet rewarding, life of service. 
However, when his honorable discharge as a sergeant came and went in 2007, Malone found himself ill-prepared for the transition back into civilian life, especially with his new-found diagnoses of PTSD and depression. When he reached out to the Department of Veteran Affairs (VA) for guidance and the benefits and special hiring authority he earned from his service, Malone expected a straightforward encounter.
"I think one of the biggest disconnects [with the VA] is how veterans are able to access their benefits," Malone said "A very simple process somehow becomes like pulling teeth."
In order for veterans to be eligible for benefits, they must serve a minimum of 24 consecutive months or the entirety of time they are on active duty. Benefits can range from the Post 9/11 GI Bill, which financially assists veterans enrolling in higher education, to VA-backed home loans and disability compensation.
"Somehow someone did not file something properly and [the VA] said I was not entitled to all of my benefits even though I had five years of direct service," Malone said. 
What followed this miscommunication could only be described as a nightmare for Malone. 
"No one talks to each other … there was just a huge lack of accountability," Malone said. "It's almost like wage garnishment. They took it [financial entitlement] out of my benefits that I was getting … that's one of the battles I'm still fighting."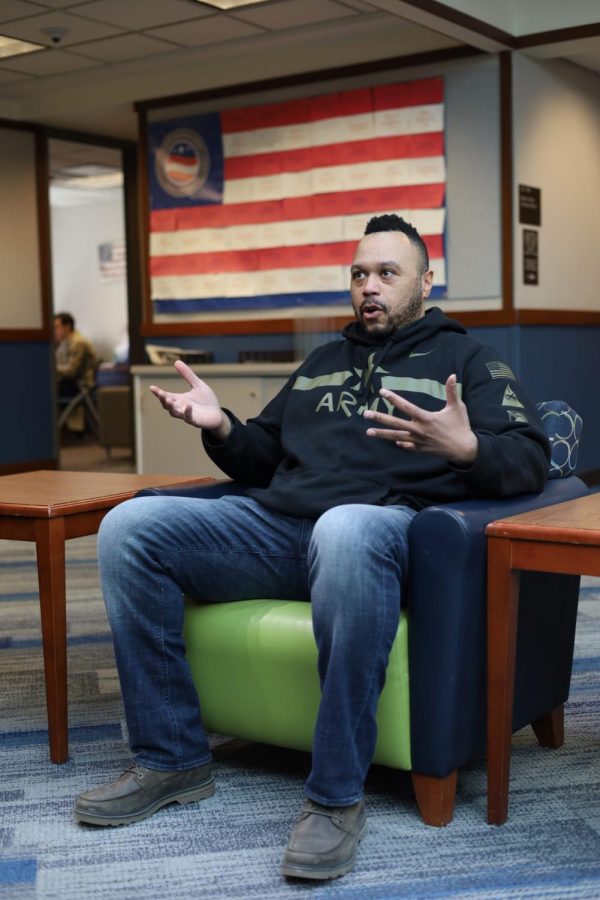 Originating in 1811, the VA once stood as a champion of veterans' rights, providing anything from medical care to pensions and benefits to service members and their families. Yet, two decades later, accompanied by severe understaffing and underfunding, the VA has become another obstacle for veterans transitioning back to civilian life. 
The department has been plagued by excessive spending due to insufficient health care and a backlog in processing benefits, shaking veterans' dwindling faith in the organization. 
Yet, for Malone, the VA's shortcomings exude far beyond his benefits. After receiving services at Jesse Brown VA Medical Center in 2008, Malone began working as a medical record technician, where he uncovered a trove of forgotten records.
"About a year or two of me being there, it's discovered that the woman training me stored five years' worth of records and requests for records in various cabinets and credenzas," Malone told The DePaulia. "We don't know if they've gotten processed or what's going on."
Despite little coming from the hospital's alleged mishandling of the records, the medical center is no stranger to quality of care complaints. 
"The VA wants to hold on to as much money as possible, so they are trying to figure out ways to discourage and discredit veterans," Malone said. "I don't think the system needs to change. I think just holding people accountable at their jobs is really the biggest thing." 
For former Marine and junior Brandon Carroll, the VA represents a double-edged sword. 
"There's plenty of great stories people have with it [the VA], but it can get difficult at times," Carroll said. "I would say the educational portion of the VA is a bit more organized … but the VA as a whole can be daunting to a lot of veterans … if you don't know the right questions to ask, you're not gonna know what you're doing."
Serving from 2016 to 2020, Carroll recounts the difficulty of abruptly returning to civilian life alongside the lack of an organized transition process.
"There was a big portion of it [transitioning] of figuring it out on your own. In the Marine Corps they have a little seminar they call transition readiness … it was designed to advertise and promote what the VA has to offer," Carroll said. "But once you get out, I mean it's almost like you're on your own unless you have people that made it through to the other side."
Carroll said the community of veterans and those still on active duty kept him grounded amid the stress of discharge. 
With over 500 enrolled student veterans, the university offers a range of programs, from the Office of Veteran Affairs, to advocacy services and Yellow Ribbon Program which pays for out-of-state tuition.
Furthermore, Carroll, alongside the veteran student he encountered as a peer adviser and liaison in the office of Veteran Affairs, revealed a pattern in the VA's urgency toward those no longer on active duty.
"They had direct access to all your medical records and because you're still in, they were able to prioritize you," Carrol said. "Once you get out, things slow down, it gets harder to get appointments. The biggest thing people talk about is hurry up and wait. It always feels like a hurry up and wait."
However, not all veterans view the VA the same. 
Carl Castro, University of Southern California professor and retired Army Colonel expressed his satisfaction with the department. 
"I think overall the VA does a good job," Castro said. "That doesn't mean there's not war stories … that's the nature of large organizations so I don't like to condemn large organizations for that because you know, human beings run them."
According to a 2019 study conducted by VA, 80% of veterans were satisfied with their VA health care and more than 90% would recommend VA care to fellow veterans. 
Acting as the director of military and veteran programs at USC, Castro believes the VA's treatment toward veterans, especially students, has significantly advanced in terms of quality and compensation.
"They've really improved, " Castro said. "No organization's perfect, people aren't perfect. They're going to make mistakes … People are going to fall through the cracks, paper works gonna be lost … so this is understanding the process and the magnitude of the job and they're human beings. We're going to make mistakes."
While missteps and indiscretions may define the VA's past, veterans like Malone are confident in one day re-writing the narrative. 
"I think that's why I'm more invested in Veterans right now because ultimately I just want to help people function and live a healthy life," Malone said.