SZA lives up to the hype, performing at a sold-out arena on her 'SOS' Tour
The West Loop was flooded with both heartbreak and excitement for SZA's "SOS" tour. On Feb. 22, SZA performed in front of a sold-out United Center. It was SZA's second stop of her tour, following her performance the night before at The Schottenstein Center in Columbus, Ohio. 
SZA's released her sophomore album, "SOS," in December 2022. The album features 23 songs and runs just over an hour. Throughout the album, SZA experiments with rap, R&B and punk rock. "SOS" is an album complete with a Morse code distress call and an emotional pendulum, swinging from bad bitch to sad energy.
"SOS" is her second studio album released since "Ctrl" in 2017, however, many fans felt the tour was long overdue. 
Andro Jacobs, 31, of Avondale, says he has dreamt of seeing SZA live since "Ctrl" came out.
"She is the queen of R&B," Jacobs said. "I knew I had to be here. When the tour was announced, I didn't care how much it cost. I was going to be here baby."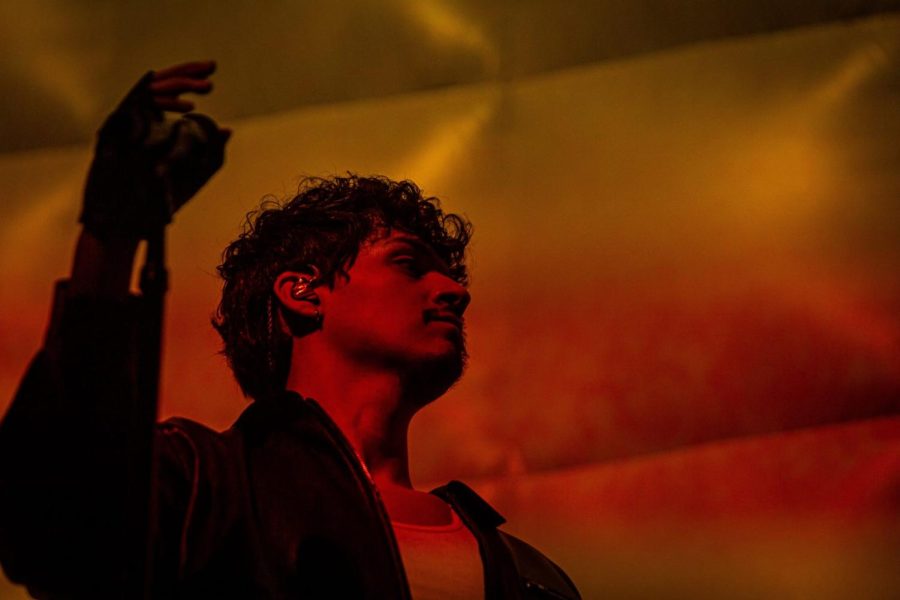 Omar Apollo kicked off the night with vibrancy and swagger. Apollo is a 25-year-old Mexican-American artist who pumped up the United Center for SZA. During his set, he said, "this is the biggest crowd I've ever performed in front of," as well as "this shit is packed.
After a 30-minute intermission, SZA took the stage, beginning her performance on the edge of an elevated platform, surrounded by blue water. She sang an unreleased single "PSA" before leaping off the platform into the sea of water. 
"Her singing 'PSA' was slay," Jacobs said. "It was beautiful, she is beautiful, and I will never forget it."
At the beginning of the show, SZA paused mid-singing to say "night two, my first arena tour ever."
Throughout the night, SZA and four dancers performed choreographed dances. "SOS" on the other hand had its own discography, taking fans through many emotional experiences.
Jasmine Occasio, 25, of Humboldt Park, described seeing her as a whirlwind of emotions.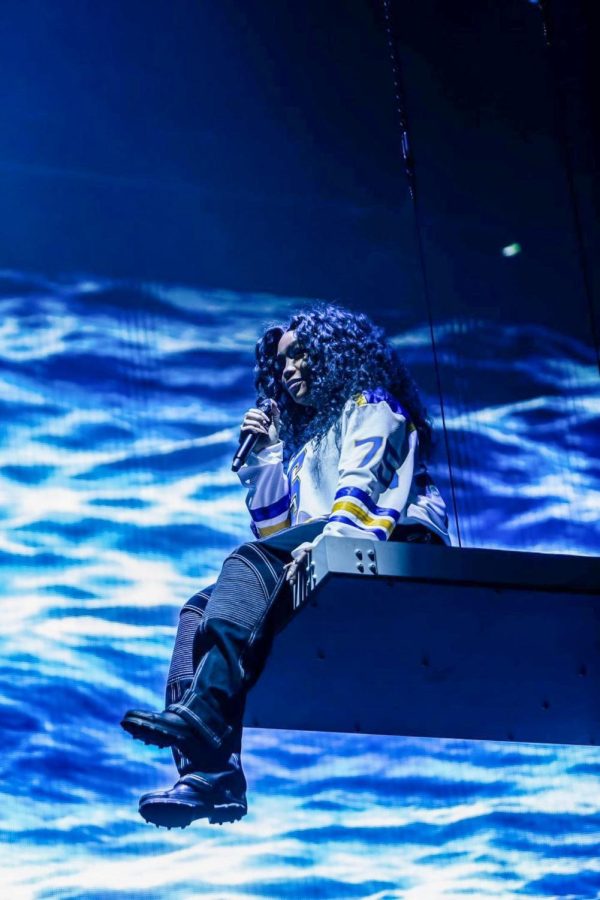 "Listening to her just does something to my soul, it's healing," Occasio said. "I listened to this album over and over, and seeing her live made me want to cry."
The show featured multiple set designs and outfit changes. SZA also performed several songs from her album "Ctrl," including "Love Galore" and "Broken Clocks."
"After hearing Broken Clocks live, I felt like I got my money's worth," Jacobs said. 
SZA continued her show with a shipwreck-like theme where she revealed a large boat where she performed "All The Stars" and "Low."
Shortly after, a raft appeared on the side of the stage, followed by SZA, who had changed into a large yellow dress. The raft was then lifted into the air and floated above the audience. SZA performed some of her more emotional songs, including "Supermodel" and "Special," while tossing flower petals off her raft.
Kenna Husain, 23, of Indianapolis, said SZA floating on the raft caught her off guard. 
"It was fabulous," Husain said. "She put so much effort into her performance that it felt like the entire arena was connected when she was up there."
SZA eventually floated back down to the stage and completed her performance with "Good Days." She sang in her final wardrobe change, a red dress, on a platform above the stage while the visuals moved from day to nightfall over the sea of water. 
SZA ended the night by saying, "thank you very much Chicago, I am so grateful," before disappearing behind the screen.
However, as fans began to leave, a snippet of "Low" unreleased music video was played, and SZA came out to thank the audience once again.
"This is my first time doing something like this," SZA said to the audience. "I can't thank you enough for your time and attention … I hope you had a great time, I really love you guys."
Despite SZA's tour being long awaited by many fans, Husain was not disappointed. 
"​​SZA is my favorite artist, and in my opinion, this is one of the best concerts I've ever experienced," Husain said. "Everything was amazing."
SZA's tour will continue through March 23, with her final performance at the Kia Forum in Inglewood, CA.  Tickets can be found at https://www.szasos.com/tour/.