'La Poderosa': un evento en Chicago para brindar un sentido de libertad para las mujeres
Marzo es el Mes Internacional de la Mujer y para celebrar, Viviana Luna organizó el evento "La Poderosa", para crear un espacio saludable en donde las mujeres del área de Chicago se puedan sentir liberadas.
El evento de celebración estára abierto al público y se llevará a cabo del 24 al 26 de marzo. 
La celebración también servirá como una recaudación de fondos para refugios de mujeres y niños locales. Todas las donaciones serán usadas para crear paquetes de atención para la Casa Esperanza, localizada en 8801 S Saginaw Ave., un programa de vivienda de transición para  personas en situación de calle.
El objetivo de Casa Esperanza, que fue fundada por Society of Helpers, es crear una comunidad solidaria con los habitantes para ayudarlos a romper el ciclo de pobreza y se alinea con las metas de La Poderosa. 
El evento tendrá un tema diferente cada día para animar a las personas a disfrutar de actividades variables. El primer día incluirá varios artistas musicales en vivo, específicamente cantantes y músicos.
Algunos de los artistas que asistirán incluyen Bri Medina, Alinna Brigitte, Kyra Love, Ashley Huicochea y más. 
Luna dijo que es importante que todas las artistas que se presenten sean mujeres porque un evento para mujeres necesita ser organizado por mujeres.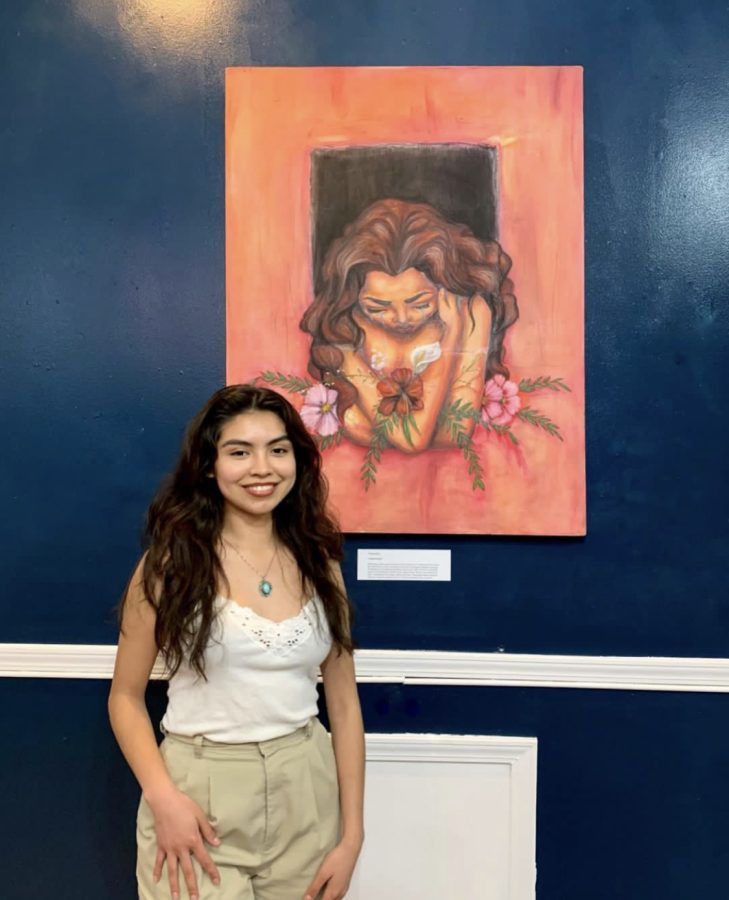 "Creo que sería especial si realmente escucháramos a mujeres cantando y actuando y viviendo en esa creatividad", dijo Luna. 
El segundo día será la noche de baile: Música tanto en español como en inglés que animará a los asistentes a hacer actividad física de una forma divertida. 
El último día se enfocará en poesía y en el autocuidado. Durante todos los tres días se presentarán artistas visuales vendiendo su arte para recaudar fondos.
Entre las artistas Chicanas que asistirán están Jaeya Bayani y Pozz.
Jaeya Bayani es conocida profesionalmente como Jaeya en la comunidad Hip-Hop y street dance. Es estudiante de tercer año en Columbia Music Business y secundaria en Hip-Hop Studies. 
Jaeya también es asistente ejecutiva de la corporación musical The Luna Company, y directora de operaciones de la revista multimedia Quilt Magazine.
Ella dijo que espera conectar con muchos otros artistas y  "crear esta atmósfera segura y divertida para que las personas se relajen, se desestresen y simplemente se diviertan".
En los ojos de Jaeya, la música es una forma de arte que se debe compartir.
 "El arte está destinado a ser comunitario", ella dijo. 
Habló de cómo diferentes tipos de arte -como cantar, bailar, tallar y, acolchar- han sido usados por culturas indígenas y no-occidentales para crear comunidad.
 "No se trata de cómo usarlo como una herramienta, sino más bien de darnos cuenta de que podemos crear estos espacios para hacer cosas en las que ya somos buenas junto con otras personas", añadió.
Pozz es una artista visual de 22 años nacida en Chicago. Se hace llamar Pozz como una abreviatura de 'positivo', pronunciado como "pause": un alter ego que adoptó como filosofía en la vida para permanecer agradecida por las cosas en su vida que le brindan alegría. 
Su trabajo consiste en la manipulación de una sierra de vaivén para cortar letras en tableros de masonita. Usa colores brillantes y temas específicos que generalmente tienen connotaciones positivas. 
Este paso inicial por sí solo es empoderador porque juega directamente con la dinámica de género de lo que se considera masculino y femenino. 
"Este evento habla de quién soy y cómo veo a otras mujeres jóvenes a mi alrededor, pero lo que es más importante es que representa el poder colectivo que mantenemos cuando nos apoyamos unas a otras", dijo Pozz. "La Poderosa es la madre, la abuela, la hermana, la Tierra o una amiga querida de alguien. Son todas las experiencias colectivas que las mujeres han nutrido y brindado a aquellos a quienes cuidan".
El evento es gratuito, por lo que los fondos serán recolectados por medio de las compras de obras de arte de las artistas. Si desea obtener más información puede ver las actualizaciones sobre el evento siguiendo a Viviana Luna en su instagram.