Periodistas comparten cómo informar al público sobre comunidades étnicas a las que no pertenecen
Como parte de su misión de remodelar la narrativa de las comunidades afroamericanas en Chicago, la reportera Tonia Hill se unió a la publicación de noticias digital The TRiiBE.
Hill dice que la publicación ofrece "una perspectiva diferente que la gente quizás no había considerado" sobre cómo reportar sobre la comunidad Negra en Chicago.
Los esfuerzos comunitarios del TRiiBE están enfocados en elevar las voces afroamericanas y eso fue lo que la llevó a postularse para el puesto de editora multimedia.
Pero a lo largo de su tiempo en The TRiiBE, Hill tuvo que reportar sobre las experiencias de otras comunidades étnicas diferentes a la suya, generando preocupaciones sobre su capacidad para contar esas  historias con precisión.
En febrero de este año, Hill escribió una historia sobre las opiniones de las personas afroamericanas y latinas sobre la capacidad del excandidato a alcalde Jesús 'Chuy' García para construir una coalición entre las dos comunidades.
"Estaba nerviosa de hacerlo", dijo Hill.
Ella sabía que García había sido una figura política activa durante 40 años y era "importante para la comunidad latina en Chicago".
Por eso, Hill  tuvo que aprender a conectarse con la cultura latina y la cultura de otras comunidades de color para poder informar correctamente al publico.
En sus inicios como reportera, Hill dijo que dependía en gran medida de otros periodistas latinos para llenar vacíos que pudiera tener como periodista afroamericana al reportar sobre esa comunidad.
"Como periodistas de diferentes comunidades, debemos unirnos para contar historias con más precisión", dijo Hill. "Realmente somos más fuertes cuando trabajamos juntos".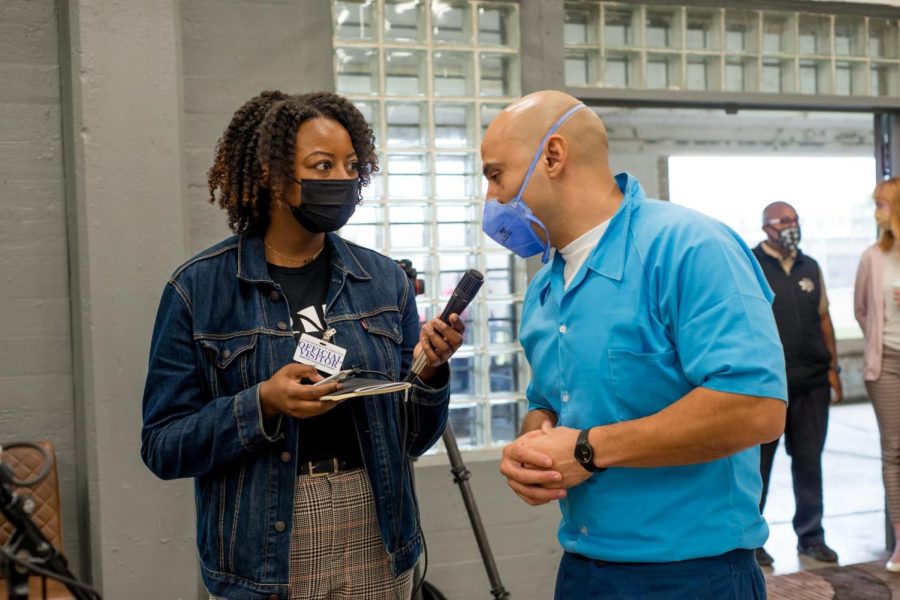 Otra publicación que centra las voces de la comunidad afroamericana es MLK50: Justice Through Journalism, una sala de redacción local sin fines de lucro con sede en Memphis, Tennessee.
Andrea Morales, directora visual de MLK50 y fotoperiodista, dijo que aprendió que a veces una historia debe compartirse a otro periodista para que se pueda garantizar que sea un cubrimiento justo.
"Si estás trabajando como periodista, tienes que reconocer que hay momentos que no eres experta", dijo.
Aunque Morales dice que tiene la capacidad de cubrir varios grupos de personas de diferentes culturas, ella refiere a los fotoperiodistas a sitios como Diversify Photo, Women Photograph y Authority Collective. Estos sitios ayudan a conectar a gente no binaria, trans, afroamericana y fotógrafos latinos quienes comparten la  misión de diversificar la industria.
Para Morales, encontrar el equilibrio entre informar sobre comunidades que no son la suya y "saber cuándo pasar la antorcha a otros periodistas para que cuenten las historias de su propia comunidad" es algo con lo que muchos periodistas todavía tienen dificultades.
La directora ejecutiva de MLK50, Adrienne Johnson Martin, dijo que lo más importante que los periodistas deben recordar al  cubrir una comunidad de la que no forman parte es "ir a la comunidad y escuchar".
Más allá de escuchar a las comunidades, Martin dijo que los periodistas deben entender que "la humanidad es lo que tienes en común".
Cuando las personas dejen de intentar encontrar diferencias entre sí, sus reportajes se fortalecen, dijo Martin.
"La mayoría de nosotros queremos las mismas cosas", dijo Martin. "Queremos ser escuchados, valorados, amados, tener un buen hogar, estar seguros".
Los periódicos grandes o tradicionales tienen la tendencia de controlar la narrativa, dijo Martin.
Sin embargo, en periódicos comunitarios como MLK50 y The TRiiBE, Martin dijo que el objetivo de los periodistas es esforzarse por centrar a las comunidades marginadas.
"Es un trabajo de equipo", dijo Martin. "Nos necesitamos el uno al otro".