How DePaul and others are using analytics to gain an edge
When it comes to gaining an edge on an opponent, there are multiple ways to do so. In recent years, collegiate programs turned their attention to technology and the use of analytics. 
In sports, analytics refers to the practice of plugging statistics into mathematical models to predict the outcome of a given play or game. Many college coaches use analytics to scout opponents, along with using an algorithm to project the trajectory that a player may or may not take to reach their potential.
"Analytics usually is synonymous with modeling, and modeling is just using mathematical representation of reality," said Adam Grossman, vice president, business insights and analytics at Excel Sports Management, which is an industry-leading management and marketing agency that represents top-tier talent, blue-chip brands and marquee properties. "So taking something that happens in reality and using numbers to either represent or explicitly describe what's happening in some form of reality."
DePaul women's volleyball has adapted to the use of analytics and focuses primarily on load management, which is when a healthy player is held out of playing in a game for rest or precautionary reasons and the physical development of its athletes. 
They use software known as Vert Basics, which optimizes performance, improves player health and strategically develops practice plans to ensure a team is at its best on game-day.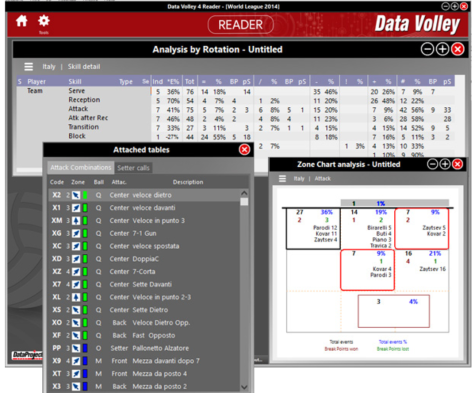 "Vert helps me day-to-day manage not only their jumps, which in volleyball is the most important metric, but also their economy of work," DePaul head coach Marie Zidek said. "We can see how quickly and aggressive their center mass is moving and in college, we get five sets, so every practice day, they had sensors that basically track how they move and how quickly they're able to produce force."
Volleyball analytics are not only used to track player development, but also teams believe it gives an edge over its opponent during real-time matchups, specifically with win probability. 
"We now have analytics in real-time on the bench, so the biggest impact that analytics has made at the collegiate level when you think about volleyball specifically, has been in-match adjustments," Zidek said. "I can see my players' performance in live time and see the iPads on our bench that are connected to the petition desk."
The team also uses Data Volley, a physical program anyone can keep on the bench. The software can scout every skill and analyze every detail of the game and configure the program to suit the team's needs and abilities.
"You can get not only basic stats that these statistical teams keep, but attacking efficiencies and how many aces and blocks a player has and how many digs of those absolute numbers," Zidek said. "It kind of looks for how points are built and how uncertain rotations teams are playing you … You can actually see in live time if you place your first serve towards a certain person and play the probability of what a team is going to do in terms of who they choose to set."
Analytics first became prevalent in baseball, specifically at the major league level. Many know about the "Moneyball" philosophy first employed by the Oakland A's in 2002, but over  time, virtually all sports at the professional and collegiate level have adopted the use of analytics for success.
Katie Krall was a former developmental coach in the Boston Red Sox organization with a background in analytics. Her role involved integrating new technology and data into advanced scouting, in-game strategy and player plans to improve on-field performance. She collaborated with the baseball analytics and sports science departments to construct goals for players as it relates to run creation and prevention based on quantitative metrics.
Krall believes analytics can have a significant impact at the collegiate level for players' development and growth as athletes, but it is also important to find creative ways to set up an athlete for success.
"I think it's key that you customize your approach to the athlete so it's not necessarily walking them through a spreadsheet," Krall said. "It's more so understanding what that unique player needs in order to be successful."
Outside of using analytics for athletes on the court or field, the inception of analytics has created opportunities for those with interest in pursuing the field as a career. 
Krall graduated from Northwestern in 2018 and built a career off her knowledge of analytics, eventually leading  her to be one of the first former female athletes to work in Major League Baseball.
"I think there are great opportunities for students who want to work in front offices someday and be a part of those initiatives," Krall said. "For a lot of college programs, they might not have the budget to have a full time analyst or biomechanist on staff."
College basketball has adapted to the use of analytics over the years and former Butler head coach and current President of Basketball Operation for the Boston Celtics Brad Stevens was one of the first to adapt it.
"I think probably Brad Stevens," Grossman said of who comes to mind for analytics at the collegiate level. "I think his main focus was what were the best five man lineups for plus minus statistics and like which lineups created the best offense and defense efficiency. I think basketball, generally, but particularly in college is probably an area we've seen from our side [analytic side]."
During his tenure at Butler, Stevens had Drew Cannon on staff, whose official title was the Bulldogs Analytics Manager. It is unclear in details what his use of analytics was since Stevens has been reluctant to release any public knowledge on the specifics of his research to the media.
In 2013, Pete Thamel from Sports Illustrated reported that Cannon would keep practice statistics and track the efficiency of set plays and tendencies of opponents. Cannon would also regularly send Stevens a 10-page email breaking down and analyzing the numbers after every Butler win.
Analytics is not just used primarily for performance on-the-field, it has a huge impact off-the-field for athletes as well. Grossman's platform, Excel Analytics, helped develop its own (NIL) platform that focuses on the value of athletes from an in-real-life perspective.
"The platform is focused on key metrics including what is the amount of conversation around an athlete's sentiment or people saying positive or negative things about an athlete," Grossman said. "Then we see if the objective of sponsorship and the audience that an athlete's trying to reach generate value for companies."
Grossman believes that colleges will continue to use analytics and the growth and evolution of analytics is progressing. Many in the industry believe analytics is on the rise and the future of success in sports at the collegiate level could primarily focus on the use of analytics.
"I don't know about every program, but I think it's definitely on the rise," Grossman said. "Coaches at all levels are more comfortable using  data and know the proliferation of tools that allow for you know, even training and collecting data to be analyzed have become much more proficient not just at the college level, but at the U-sports level and high school level."