No more Morrow: Star leads exodus of Blue Demons into transfer portal
For DePaul women's basketball, a 16-17 record and a heartbreaking loss in the Big East Tournament was not part of the plan, but the future looked brighter for the upcoming 2023-24 season. 
That was until Wednesday when two Chicago natives, sophomore All-American Aneesah Morrow and junior All-Big East Second Team Darrione Rogers placed their names into the transfer portal, shocking the DePaul and college basketball community. 
Rogers and Morrow combined for 42.5 points per game this season, which was more than half of the team's average scoring total of 76 points per game.
Morrow averaged a double-double in both seasons and led the team in scoring in her freshman and sophomore years. Rogers had her biggest jump in her production from 9 points a game in her sophomore year to 16 in her junior season. She also had the program's sixth triple-double this season. 
According to MaxPreps, Morrow was ranked the No. 1 player in the state of Illinois and 20th in the country as a high school senior when she led Simeon Career Academy to its first state championship and achieved All-State First Team honors. 
Rogers played at Lake Park West High School and was considered an ESPN top-50 recruit in the top-100 in 2020. She, like Morrow, was a state champion and a two-time All-State guard.
Landing a talent like Morrow after having Rogers already committed the year before and keeping them close to home was unheard of at DePaul in recent years. After seeing what Morrow did in her first month of her freshman season, and Rogers growth, the combination of  talent and head coach Doug Bruno's winning ways, was supposed to serve for many winning seasons. 
In a statement to The DePaulia from DePaul Athletics, it addressed the surprising news about the two best players on the team and their decisions. 
"We appreciate all the hard work and dedication both have given DePaul University and the women's basketball program," DePaul athletics said. "We support them in whatever decisions they and their families believe are best for them in the future." 
Following the statement's release, the Athletic department allowed no further comments or interviews to be conducted with players, or staff. 
Junior Kendall Holmes, who was the team's third leading scorer and had the teams highest three point percentage, told The DePaulia she also entered her name in the transfer portal, but did not want to comment. 
Since the mid 1990's Bruno has had the winningest teams in DePaul history. They have maintained the local talent from Chicago and have appeared in 25 NCAA Tournaments. What has changed. The first losing season in over 15 years, lost its top three scorers in one season, is it time to panic for the program?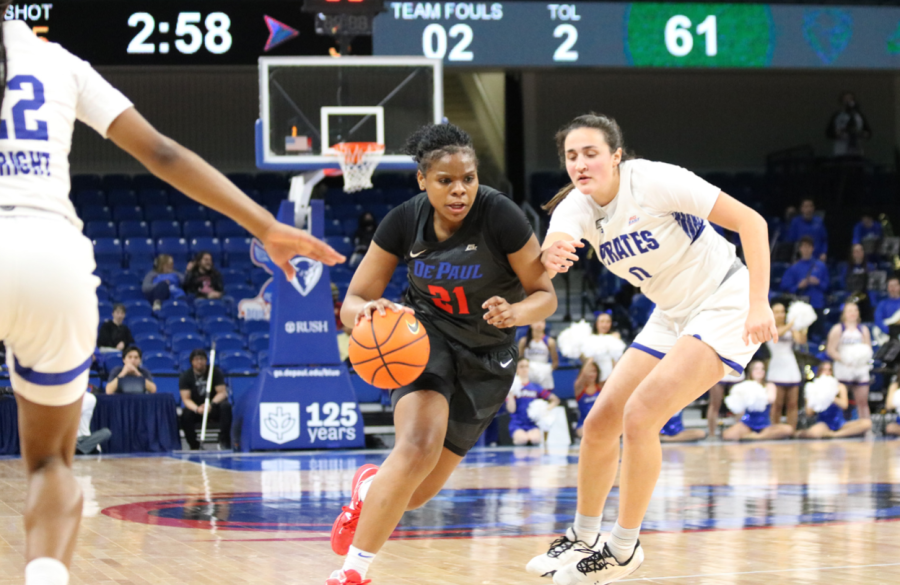 Former DePaul player in the 2017-18 season, Rachel McLimore, who transferred from the program after just one season, and is currently playing for Butler University, said she just wanted to be closer to home. 
"I had a great experience at DePaul," McLimore said. "Great coaches that treat you the right way and a great environment to play in. I was actually very curious as to why so many people are leaving now too. Bruno is an amazing coach and I learned a lot from him in the year I was there." 
Keke Rimmer, who played with Rogers and Morrow said the lack of winning recently had nothing to do with them leaving. 
Rimmer, who played four seasons at DePaul, said she built a stronger relationship with the two girls and is excited for what their future holds. 
"I don't think that [not winning] played into their decision making," Rimmer said. "But I do think everyone loves to win. Knowing them personally, I think it was something they thought about long and hard about while factoring in difficult components. Transferring isn't easy, and starting over isn't easy."
Rimmer herself, announced on her Instagram on April 6, that she would be playing her graduate fifth year at University of Illinois at Chicago, making her the third player in a matter of days to leave the program. 
Since the 2017-18 season, 11 players have now transferred out of the DePaul women's Basketball program. Four of them are from the Illinois and Chicago area. 
Prior to the start of the 2022-23 season, Morrow told The DePaulia, "I chose DePaul because a lot of star athletes considering I was the No.1 player in the state leave the state or their city. So I want to stay here. I didn't want to go far away from home. This is a great choice for me." 
In women's college basketball being able to declare for the WNBA draft isn't the same for the NBA. Players must be 21 years old, or older to enter their names. Although there are no restrictions for overseas players to enter the WNBA draft, there are stricter age restrictions. Meaning getting the chance to play four years and appear in an NCAA Tournament is where you get your name noticed. 
For the two seasons that Bruno had Rogers and Morrow on his roster, the duo never appeared in the NCAA Tournament. They got as close as the First Four of the tournament, which is a play-in game to get you into the actual tournament, when they lost 88-57 to Dayton, on March 16, 2022. 
Bruno, approaching his 38th season, at the age of 72, will have a challenge ahead of him to get this team back to where it expects to be. 
Throughout the season and the many losses, there was visual frustration within the team. 
Multiple times throughout the year following a loss, Bruno wouldn't bring out Morrow, Rogers or any player out for press conferences to speak on the loss.
Since 2019, DePaul is 38-28 with only one Big East Tournament win and a combined conference record of 22-18. 
Morrow and Rogers' departures caused roadblocks for the following season of DePaul women's basketball. This not only impacts the current roster, but also future recruits, and possibly calls into question the current state of DePaul's program.