Big East coaching carousel: Where DePaul fits in
The Big East is off to a strong start for 2023 after UConn collected its fifth National Championship. Three head coaching changes have also been made, highlighted by St. John's hiring Hall of Fame coach Rick Pitino to replace Mike Anderson. 
Georgetown hiring Ed Cooley from Georgetown is the first time in Big East conference history that a head coach has left one conference team for another. Providence Athletic Director Steve Napolillo felt his mentor, Georgetown Athletic Director Lee Reed, conducted a hire that feels like a betrayal.
"College athletics is really at a crossroads because we talk about educating our student-athletes, and that all goes out the door on a lot of things," Napolillo told Ian Steele of ABC6 in Rhode Island. "And for me at Providence College, to be in a room with my fellow colleagues where I felt a bond, where I felt a trust, where I felt that the athletic director was a mentor to me and a friend."
Where DePaul stands
In November, Tony Stubblefield will enter his third year as head coach of the Blue Demons with a 25-39 overall record. He led the team to a 15-16 record his first season but saw a step backwards recently after the team went 10-23 in 2022-23, which included ending the regular season on a 12-game losing streak.
"I'm proud of these guys and their fight and being a resilient bunch," Stubblefield said after the team's quarterfinal oss to Xavier on March 9. "Dealing with all the injuries that we had and things that happened to our team, it wasn't what we envisioned it to be over the course of the summer and even in the fall, but these guys really stuck with it."
When Stubblefield took over for Dave Leitao in 2021, the hope was that the team would move forward, not backwards. But after the conclusion of this past season, DePaul still stands in the bottom of the conference.
Stubblefield and staff have a busy offseason ahead for recruiting after losing eight players to graduation and the transfer portal. The team is expected to have a few key players return which include Nick Ongenda, Jalen Terry, Caleb Murphy and Zion Cruz.
DePaul's 2023 recruiting class is starting to shape up as well, featuring Minnesota transfer combo guard Jaden Henley, Triton JUCO junior transfer forward Keyondre Young, Olympus Prep 7-footer Babacar Mbengue and four-star NBA Academy Africa guard Dramane Camara.
Henley, a three star recruit coming out of Colony High School in Ontario, California appeared in 31 games for the Gophers this past season, starting in 18. He averaged 5.3 points, 2.2 rebounds and 1.3 assists per game, while shooting 37.8% from beyond the arc. 
Babacar was ranked as the No. 19 center in the 2023 class by 247sports.com and is a native of Senegal, where he played with the national team in the 2020 FIBA U18 African Championship.
"Babacar [Mbengue] is a really talented young player with an incredible amount of potential," Stubblefield said. "He has developed a lot over the last year or so and we are looking forward to getting him on campus and continuing his growth. He is a strong physical presence inside and has a desire to keep learning."
Young played in 25 games in 2022-23 for Triton with 16 starts, averaging 10.7 points, 4.9 rebounds and 1.7 assists per game, while shooting 40.1% from the field and 31% from beyond the arc. His best performance of the season was on Feb. 2 against Harry S. Truman College where he scored 25 points and made seven 3-pointers.
"We're really excited to add Keyondre [Young] next season," Stubblefield said. "Our staff really values the experience junior college players can bring to our roster and Keyondre is no different."
Pitino hired at St. John's
Perhaps the biggest splash of the coaching carousel is St. John's hiring Hall of Fame head coach Rick Pitino to a six-year deal in the neighborhood of $20 million with the Red Storm.
The hiring of Pitino could shake up the landscape of the Big East, but St. John's is not entering a rebuild according to Dave Berov, host of the Eye on the Storm podcast . The motivation behind hiring Pitino is likely to win right away, raising expectations for the program immediately.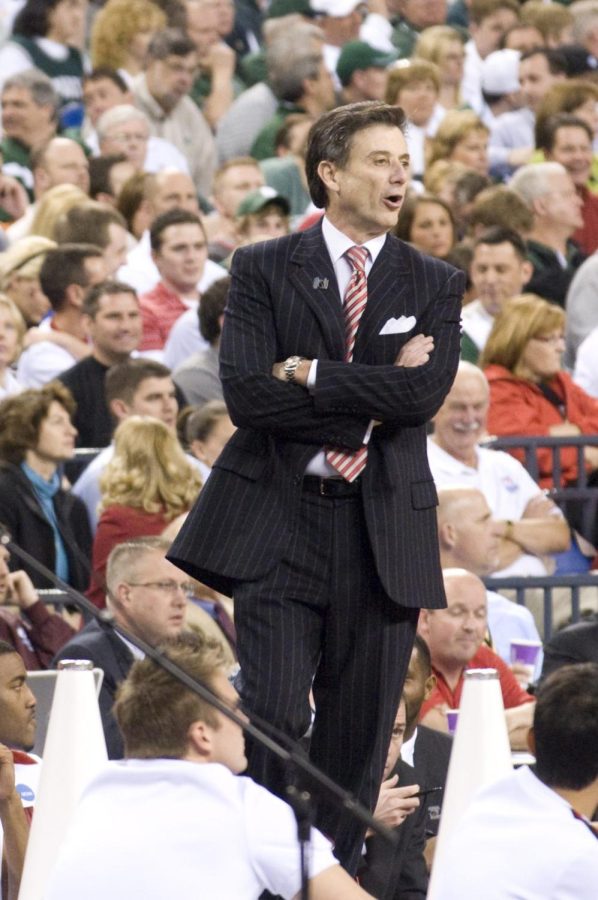 "The expectation right now should be to make the tournament," Berov said. "Rick Pitino was at Louisville from 2001-2016. In that time, I believe he missed the tournament only three times and one of those times was when he was on a self imposed ban… Rick Pitino doesn't miss the NCAA Tournament, it just doesn't happen."
Pitino has turned around every program he has ever been a part of and as soon as he arrives, the program immediately becomes competitive. He has taken four different teams to the NCAA tournament and coached two national championship teams. During his 32 seasons as head coach, Pitino has a 770-271 (74%) overall record and a 54-19 (80%) record in the NCAA Tournament.
"He's not wasting time, this is not a rebuilding project," Berov said. "This is a restocking  and he's going after kids who he knows will fit what he is looking for."
Ed Cooley leaves Providence for Georgetown
In an unconventional in-conference move, Georgetown poached Ed Cooley from its  inter-conference opponent Providence, hiring Cooley to replace NBA Hall of Famer Patrick Ewing.
"I'm incredibly grateful for every opportunity that's ever been given," Cooley said during his introductory press conference. "We're gonna lose some games, it's okay, losing is part of growth. But over time, it's gonna pay off, and the dreams do come true. It was a dream of mine to be here.
Cooley spent 11 seasons with Providence, finishing with a record of 221-141 and leading the Friars to six NCAA Tournament appearances. Cooley won the 2021-22 Naismith Coach of the Year Award and has turned around both the Fairfield University's program and now Providence as well. 
Kim English Takes Over at Providence
After the unexpected departure of Cooley, Napolillo hired George Mason head coach Kim English to a six-year deal to be the team's next coach. English, 34, is set to be the youngest head coach in the Big East Conference.
Prior to his short stint at George Mason, English was the assistant to Rick Barnes at Tennessee from 2019-21. The Volunteers made the NCAA Tournament two of the three seasons English was there, and he played a pivotal role in helping develop NBA talents like Keon Johnson and Grant Williams.
According to FoxSports' John Fanta, the Providence program was impressed with English's recruiting acumen, leadership and the prospect of hiring one of the industry's rising stars. 
DePaul's significant coaching turnover
Since joining the Big East conference in 2005, DePaul has finished .500 twice and seen just one season reach 20 wins. During that span, the basketball program has had an underwhelming overall record of 148-256.
The basketball program has visibly struggled with Athletic Directors Jean Lenti Ponsetto (2002-20) and DeWayne Peevy (2020-present). During that span, the program has experienced an inability to find stability at head coaching position that has resulted in five different hires, while also struggling to find a path to bringing the program back to relevance in the third largest market in the country.
Some major issues regarding DePaul's lack of success include a small budget and an inability to attract top-level talent. According to 247Sports, DePaul's biggest recruiting class came in 2005, when the program landed four-star recruits Rashad Woods and 14-year NBA veteran Wilson Chandler. 
In 2015, DePaul's head coaching search involved names such as Bobby Hurley and Bryce Drew, but Ponsetto opted to re-hire Dave Leitao instead, who served as the team's head coach from 2002-2005.
Hurley was hired by Arizona State in 2015 and since, has led the Sun Devils to three NCAA Tournament appearances and an overall record of 141-113. During his time in Tempe, Hurley has been able to land one five-star recruit and 14 four-star recruits according to 247Sports. 
How is DePaul Affected?
DePaul has struggled finding success since arriving in the Big East and with Rick Pitino, Kim English and Ed Cooley present, recruiting could become more difficult for Stubblefield and the Blue Demons.
The team has lost a lot this offseason and replacing multiple starters is likely to be no easy task and with the new coaching additions. Recruiting could also become much more complicated because many in the Big East usually target the same recruits and go through the same process.
Throughout his career, Pitino has shown an ability to land top recruits. If DePaul and St. John's target is the same player, it will be a challenge for the Blue Demons to compete. .
"I think bringing in Pitino though makes everyone stand up," Berov said. "They know who they're recruiting against and Pitino is a great recruiter. He could pretty much convince anyone to come play for him." 
There is still a long offseason, but with the increasing pressure on Stubblefield to win, next season could be a make-or-break year for not only him. The team has not seen tangible success since 2004 and has gone through two athletic directors and five head coaches since its last NCAA Tournament appearance.
View Comments(1)