Latine youth take lead on informing their communities about mayoral elections
Seen out in the streets passing out flyers throughout Chicago's South West Side, Gloria Drew, 70, played an active role in this year's mayoral elections. 
One of the reasons she became energized to vote and inform other constituents is because young Latines like her son, Billy Drew, gave her hope in the political process. 
"Young people know what's going on in their communities," she said. "I was motivated by them because they are the future."
Billy, an organizer for the 12th Ward Independent Political Organization who canvassed for Johnson's campaign, said it is common for Latine youth to take on the responsibility of informing the elder folks in their community while dismantling anti-Black sentiment entrenched in Latine populations.
One of the reasons many Latines voted for Vallas was because of his 'tough on crime' approach which was rooted in fear against members of the Black community, Billy said. 
"Vallas was using dog-whistle politics to say 'if we defund the police then you're not going to be safe from the other,'" Billy said."We would hear that [rhetoric] talking with people at the doors, it's sad."
Among Latine registered voters, 46% favored Vallas, and 35% preferred Johnson, according to a poll released Tuesday from Northwestern University's Center for the Study of Diversity and Democracy and a coalition of Black and Latino nonprofits.
Jocelyn Bravo, a worker for the Illinois Coalition for Immigrants Rights and a Brandon Johnson supporter, said she had to tackle misinformation about mayoral candidates among the Latine community.
"There were some Latinos who thought Paul Vallas was a Latino," Bravo said. 
Encouraging Latines to vote on policies rather than a candidate's race or other identities should be central to conversations with constituents who are undecided, Bravo said. 
"Sometimes [we] make the mistake of selecting a Latino that is very harmful to our community," Bravo said. 
Other reasons some Latines do not go out to the polls on is because they do not trust politicians, did not know there was an election or they lost vigor after Congressman Jesús "Chuy" García came in 4th in the Feb. 28 primaries, Bravo said. 
Although racial politics are not novel in Chicago's elections, mayor-elect Brandon Johnson became the city's 57th mayor by receiving support from the North and West Sides and the core of the South Side.
Vallas garnered votes from the Far Northwest Side, the westernmost parts of the Southwest Side, and the Southeast Side, the Loop and the Near North Side.
Throughout elections, older voters make up a majority of the vote, though unofficial election data shows that Chicagoans ages 18-24 saw a 30% jump in Tuesday's turnout compared to February's elections according to Block Club Chicago. There is no data yet showing the turnout amongst different Latine age groups. 
But not every Latine votes the same. Lenin Plaza, who was once a Jesus 'Chuy' Garcia supporter, said he voted for Vallas in the runoffs because of his approach to crime and the economy.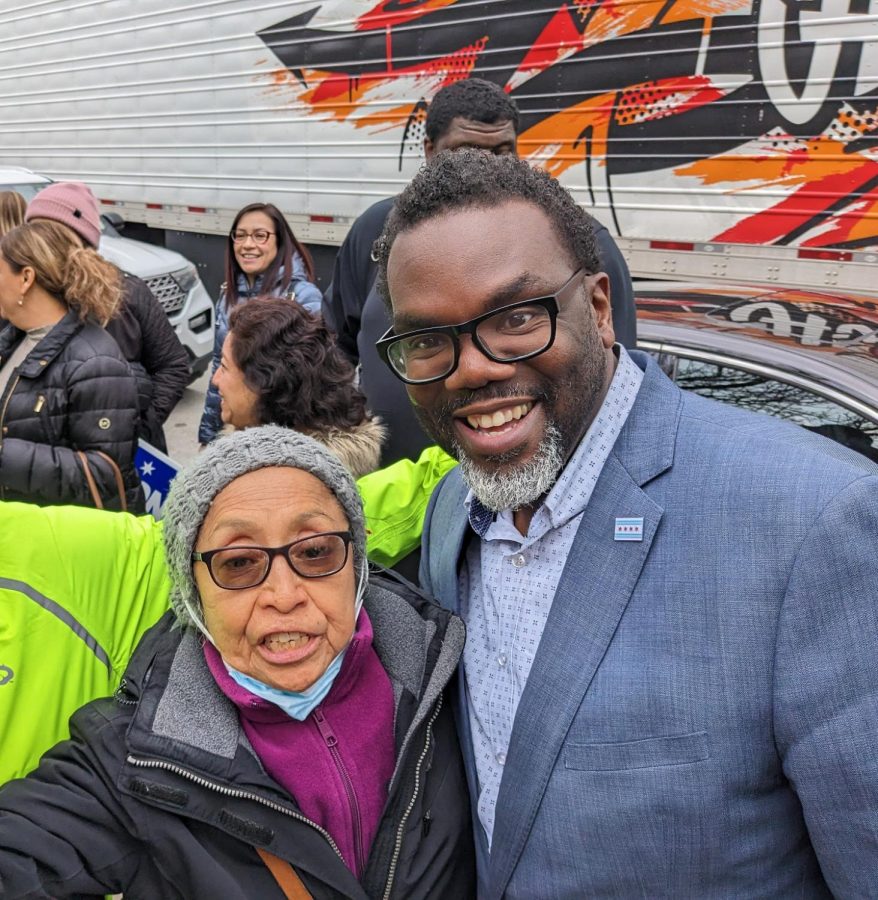 Vallas pledged throughout his campaign to bring back retired police officers to fill vacancies throughout CPD while also promising to deploy officers to the same neighborhoods to curb crime. Vallas also said he would replace CTA private security guards with uniformed police officers. 
Johnson's approach to crime was centered around his 'Treatment Not Trauma' plan which would prioritize non-police responses to mental health crises and domestic disputes. He also promised to promote 200 more detectives to help solve crime in Chicago. 
Plaza said he felt Johnson's earlier remarks on "defund the police" remark was "irresponsible to say."
Even if Johnson had a tougher approach on crime, Plaza said he still would not vote for him because he felt he frequently curbed questions asked by moderators at the open forums he attended. 
In a poll conducted by the Hispanic Federation, over 70% of Black and Latine voters think Chicago would be better if Black and Latino communities work together on issues.
Karina Ayala-Bermejo, CEO and President of the Instituto del Progreso Latino said, "it dispels the old narrative that voters from these communities will only vote along racial lines."
Ayala-Bermejo, a mother of two teenagers, said she made it a family tradition to head out to the polls every Election Day. 
"The sooner you engage a young person in local, state and national government, the more connected they feel to the issues and outcomes," she said. "If there's anything this election taught our young people, it was the power of every single vote."
Editor's Note: La DePaulia and The DePaulia use 'Latine' when referring to the community. Read our statement here.