Hoops programs struggle to attract and retain talent despite NIL
Name, image and likeness (NIL) has opened new resources and tools for DePaul, but years of mediocrity and failing to produce wins has caused athletes to seek opportunities elsewhere. This lingering problem puts DePaul at the bottom of collegiate sports. 
"Frankly, a lot of it is going to come down to production on the court," said Andy Wittry, an NIL business reporter for On3 sports. " In the men's basketball program, it's been at or near the bottom of the Big East for a long time. So a lot of it is going to come to break through that pro market and all that noise." 
DePaul men's basketball has failed to see sustained success since Ray Meyer roamed the sidelines from 1942-1984. The program is approaching 20 years since its last NCAA Tournament appearance and has not been a main attraction for players, nor has it been able to find a sustainable winning head coach. 
There has been a lack of ability to bring high-level talent to DePaul out of high school and now the transfer portal. 
As for the women's program, the opposite is true regarding the head coach position. Doug Bruno has been at helm for 37 seasons and has 25 NCAA Tournament appearances, but success has wavered as of late. 
Since April 5, Bruno has lost seven players to the transfer portal, all of which contributed to last season's team. 
DePaul women's basketball had their first sub .500 season since the 1997-98 season, failing to reach the NCAA Tournament. 
According to Bruno, one of the players left the program due to the lack of NIL resources as she felt undercompensated during her time at DePaul.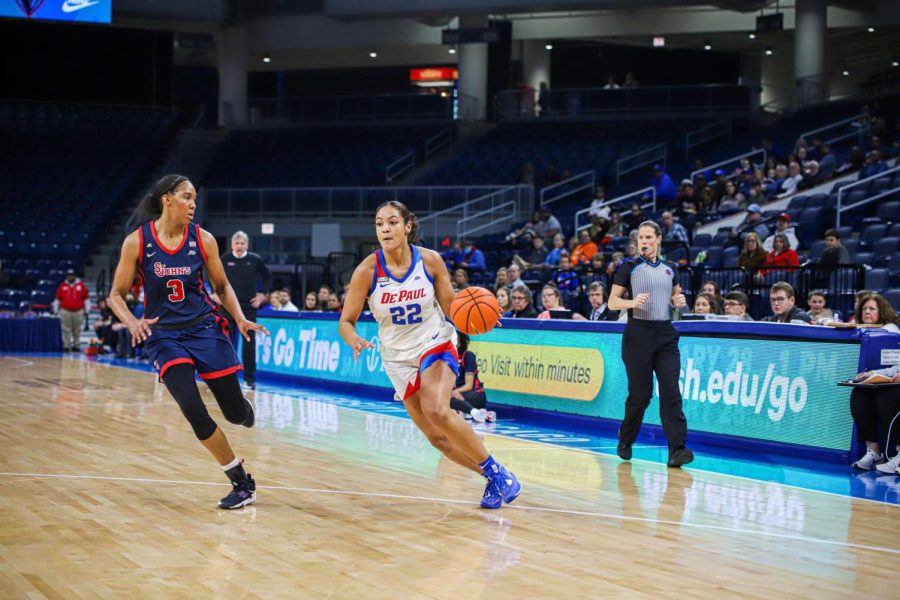 The new age of collegiate sports, with the transfer portal and NIL, has DePaul and its athletic department playing catchup with the rest of the NCAA Division-I and Big East teams before they lose all remaining and future talent. 
After the Illinois legislature passed a bill in May 2022 that allowed student athletes and third party collectives to receive compensation for NIL, doors opened for DePaul to take the next step in NIL and guide its student athletes to the right path. 
Following the passed bill, Under the 'L' collective launched, which is an independent third party that is able to gain money and funnel it to its student athletes so they can be compensated for their NIL.
Gov. JB Pritzker signed Senate Bill 2338 lifting restrictions for schools to involve themselves in arrangements with their student athletes to sell their publicity rights.
While the guidelines have changed, universities in Illinois still cannot directly compensate and give student athletes publicity rights. Now under the new bill, universities can help arrange compensation and publicity opportunities for student athletes. 
The new Amendment does not require universities to get involved in the arrangement between student athletes and NIL partnership. 
In the previous bill, student athletes provided their representation agreement to the universities, with seven days of officially signing. But now, the universities make the decision on when a student athlete must provide their representation. 
On Sept. 1, 2022, DePaul and collegiate sports management agency Athlete Advantage announced an affiliation agreement, allowing the launching of Under the 'L' Fund. 
Athlete Advantage's mission will be to identify and secure NIL opportunities for student athletes, while maintaining compliance with all NCAA, state of Illinois and DePaul University, laws, regulation, policies and guidelines. 
The funding raised can then be given to the company that reached an agreement with the student athlete allowing them to be paid for their name, image and likeness.  
According to Wittry, with how unknown Under the 'L' is, it's hard to tell what kind of alignment or support is there. But with patience future recruits might learn that there is a support system and a program they can invest themselves into. 
For teams like Villanova, Providence and other Big East powers, the support and alignment from alumni and coaching has been present, allowing for the collectives to gain leverage. Something that DePaul hopes will soon take place with the Under The 'L' Fund. 
While the opportunities have reopened for DePaul and its players for NIL compensation, more must be done by the individuals to market themselves as well as perform in their sport. 
The emergence of NIL has brought a larger social media component allowing for players to build their own brand, and has been another way for players to reach NIL deals individually. 
Senior women's basketball forward Anaya Peoples has over 15,000 followers on Instagram and has reached several NIL deals, including the Chicago White Sox, Wilson Sporting Goods and multiple food companies in Chicago. 
"As soon as I got to DePaul, I got a variety of options," Peoples said. "Honestly being at DePaul and the resources here, it was crazy how many people contacted me." 
The concept of NIL itself can be taken through many angles and is something that DePaul is still learning and figuring out. 
For international players like basketball senior Nick Ongenda who is from the Bahamas on an F-1 Academic Student Visa, NIL deals are not a possibility. 
Following 9/11 when the United States passed the Patriot Act, it changed the status of F-1 Student Visas that don't allow students to make money in the United State while they are in school. 
Graduate student Brenden Farve who is from Switzerland and Ongenda were only able to accept any kind of NIL deal during the teams mid-season trip to the Bahamas tournament, when they were outside the United States. 
Ongenda said with the recent Big East success, there should be a new outlook on how teams should receive attention. 
"Considering [UConn] just won the NCAA Tournament," Ongenda said. "I feel like it's going to have many more opportunities because they've seen how many teams made the tournament from Creighton, UConn and Xavier. So, I feel like it's going to open up a lot of Big East players, and a lot of people are going to have eyes on us." 
The tools and resources are starting to build for DePaul and its student-athletes. Deals through DePaul merchandise stores have given student athletes the ability to profit off their NIL. 
DePaul has also implemented the influencer marketing format to allow players to build a portfolio that might attract potential NIL deals. The application has a global and local exchange allowing connections to be made for players anywhere. 
Men's basketball general manager Litisha Hall wants future recruits to know there is help at DePaul and to educate its student athletes about NIL. She indicated that NIL could certainly be the reason players are leaving and not choosing DePaul. 
"We have a financial literacy person that comes out at the beginning of every season that talks about savings, taxes and investing," Hall said. "One of the messages I am working on is to instill that community service will help them build their personal brand." 
While NIL gains traction at DePaul, everything comes down to how the production on the court elevates the rest of the account of DePaul's NIL success for the team and players. 
"Well of course, in anything that anyone partakes in, if you're doing well and people are watching, then the payoff comes," Hall said. "I do think that once they conquer the court the community is going to want to buy in." 
View Comments(1)