Las comunidades indígenas Kichwa en Chicago preservan su cultura a pesar de la distancia de Ecuador
Con más de 65 mil grupos étnicos diferentes en Chicago, muchos miembros de las comunidades indígenas Kichwa Runa están comprometidos con un mismo objetivo: mantener su cultura viva a pesar de estar lejos de sus tierras. 
El grupo indígena Kichwa de Ecuador, Perú y Bolivia, viven en la Cordillera de los Andes, en la parte occidental de Sur América. 
Kichwa Community of Chicago es una organización con la meta de preservar y promover la cultura y las tradiciones de la comunidad mientras también proporciona servicios educativos y defiende los derechos de los Kichwas. 
Actualmente hay aproximadamente 20 mil ecuatorianos en Chicago, de acuerdo con The Chicago Community Trust y en 2006 había más de 18 mil, más no no hay datos exactos sobre cuántos son Kichwa.
Manuel Chancoso, presidente de una organización llamada Kichwa Runa, dijo que preservar su cultura requiere esfuerzo de la comunidad, y para mantenerlo, es necesario enfocarse en la naturaleza. 
"Hay que seguir insistiendo a través de la música, a través del arte, la danza, los sonidos de la naturaleza, que es lo mismo, el viento, el sol, la tierra es lo mismo en todo el mundo", agregó Chancoso.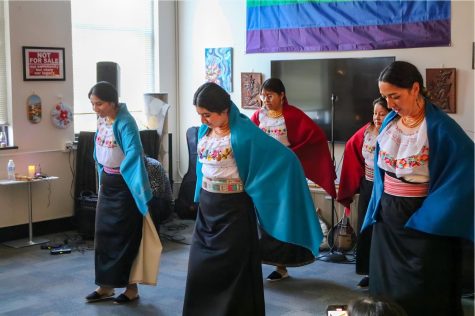 Cada danza, como el espirituoso San Juanito y el animado Capishca, tiene movimientos, música y trajes distintivos que reflejan la profunda conexión del pueblo de Kichwa con su tierra y sus tradiciones.
Pero de acuerdo a Chancoso, la cultura sólo puede ser sostenida si se tiene orgullo de la identidad.
"No sintamos vergüenza de dónde somos y demostremos todo a cielo abierto que estamos vivos; que por más que nos hayan querido extinguir pues seguimos vivos y seguiremos vivos con nuestras metas que nuestros antepasados nos han dejado", enfatizó Chancoso. 
Chicago se convirtió en un destino importante para los ecuatorianos en la última década, ya que restaurantes, clubes y tiendas brotaron a lo largo de varias avenidas al norte de la ciudad.
La población ha crecido aceleradamente gracias a los esfuerzos de líderes comunitarios y organizaciones como Kichwa Community of Chicago y Kichwa Runa.
A principios de abril, Kichwa Community of Chicago, una organización sin fines de lucro,  celebró el lanzamiento oficial para su logotipo. Este hace tributo a los Mindalaes, un tipo de música folclórica andina, ecuatoriana, y The Bean la escultura icónica de Chicago.
"Nuestra visión está dirigida hacia el fortalecimiento de nuestra identidad cultural por y para nuestras futuras generaciones expresadas también en el diseño", un portavoz de Kichwa Community of Chicago escribió en un post de Facebook.
Sin embargo, integrarse en la ciudad no ha sido fácil para ellos.
"Nos veíamos limitados con el presupuesto para poder realizar la festividad", dijo Nelly Lema, la Presidenta de Kichwa Community of Chicago. 
El lanzamiento es un hito importante para la comunidad Kichwa de Chicago, ya que sirve como una forma de establecer su marca en la ciudad y promover su cultura, permitiéndoles tener un lugar establecido en la ciudad.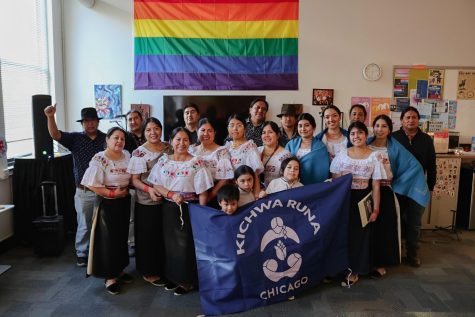 Kichwa Runa también ha dejado su marca en la ciudad. 
Recientemente el grupo participó en DePaul, durante un Concierto de Candlelight de SOMOS, celebrado por la organización cultural latina Tepeyac, en el Latinx Cultural Center. 
Para Mariela Aranda, la coordinadora del Latinx Cultural Center, poder ayudar a realizar estos eventos para la comunidad de DePaul es muy satisfactorio. 
"La mejor parte de todo es ver a las personas conectarse entre sí", dijo Aranda. 
Chancoso dijo que su objetivo es crear un espacio donde su cultura pueda permanecer viva. 
"Me gustaría, al futuro, tener un lugar…dónde informarse…dónde otra gente pueda llegar con esa tranquilidad y comodidad a reunirse: Este es mi sueño grande de cumplir", dijo Chancoso.  
A Chancoso le gustaría invitar a todos a ser fuertes y a valorar de dónde vienen, y no tener ni miedo ni vergüenza de mostrar tus verdaderos colores.
Pueden unirse a la comunidad de Kichwa de Chicago en la celebración de Inti Raymi, el 24 de junio.