Illinois legislators push for I-55 expansion, Chicagoans concerned about environmental impacts
For residents in Chicago's Southwest Side, air pollution is a constant issue, even more so in the summer months. 
In 2020, the city conducted an air quality health report that found transportation is a main contributor to air pollution in minority communities, specifically those located in industrial corridors where particulate matter from diesel trucks is prevalent. 
When the I-55 Managed Lane Project was first proposed in 2016 by the Illinois Department of Transportation, environmental activists voiced concerns about how the project will affect already high levels of air pollution in the Southwest Side. 
On May 25, during the last few weeks of the Illinois legislative session, House Joint Resolution 23 supporting the I-55 Managed Lane Project and IDOT's efforts to pursue the project as a public-private partnership (P3) was adopted by both houses, despite pushback from environmental groups across the state. 
The project proposes adding managed toll lanes to a section of Interstate 55 between the Dan Ryan Expressway and I-355. However, activists and legislators raised concerns over how expanding the highway will cause increased pollution in areas already burdened by environmental impacts.
"These are areas that already see super high rates of asthma and other respiratory issues in these communities, including heart disease…[and] that's pretty much directly linked to bad air quality, and you're talking about like a pretty big project," said Eliot Clay, the state programs director for Illinois Environmental Council (IEC).
According to Andrew Cunningham, the executive director for infrastructure council and legislative relations in the Illinois Chamber of Commerce, the resolution does not create the deal with private partners, but only gives IDOT the ability to pursue the project as a P3. 
P3's allow large-scale government projects to be completed with private funding and can often allow them to be completed faster than expected.
"So the actual deal that might be, you know, years from now," Cunningham said.
If the Managed Lane Project is completed, the portion of I-55 known as the Stevenson Expressway would be expanded by 1 to 2 toll lanes in each direction along a 25-mile corridor in Chicago's Southwest Side, according to IDOT. The corridor includes communities like Little Village, Brighton Park, Chinatown, McKinley Park, Archer Heights, Pilsen, and Berwyn among others — all communities impacted by heavy industry.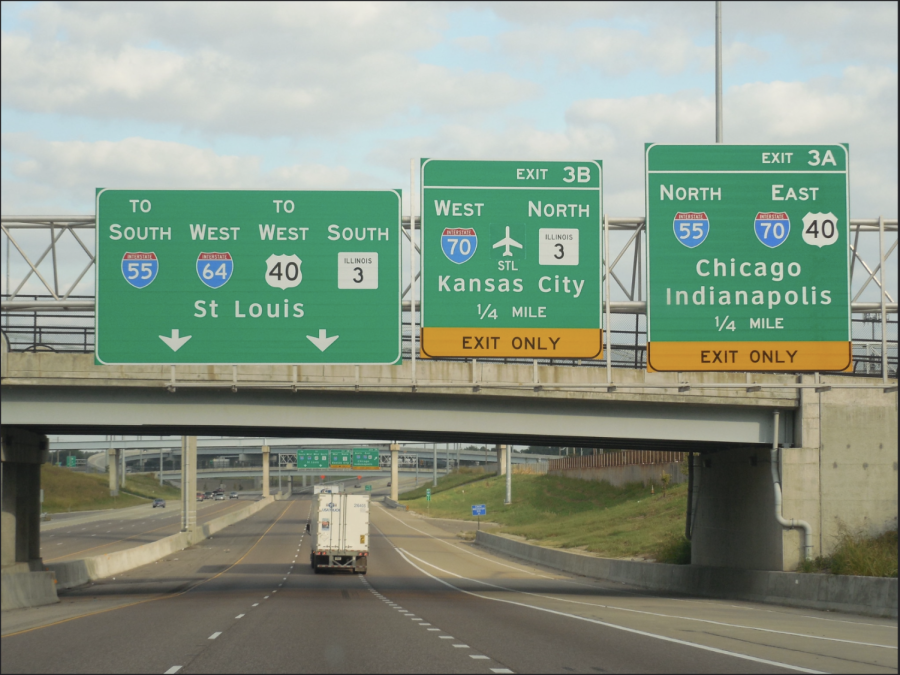 Clay said a major concern for environmental activists and residents of neighborhoods that extend along the corridor is how the construction of the added toll lanes will increase pollution in surrounding areas. 
"That is going to be a heck of a lot of heavy duty equipment sitting on roads, idling for very long periods of time," Clay said. "And this is the stuff that contributes to really bad particulate matter, and just bad air quality overall."
To remedy these concerns, IDOT conducted an environmental assessment in 2016 when the project was first proposed. In the report, IDOT claims the project will improve air quality and noise complaints will decrease due to less congestion on the interstate. 
"The impacts from the I-55 Managed Lane Project to Environmental Justice communities are summarized as following: the local communities will experience an overall improvement to air quality, the project will result in less impacts from noise with the construction of new noise walls, the local communities will experience no changes in the project setting adjacent to I-55, other than potential noise walls and their associated benefits," the 2016 study states.
For Clay, an environmental assessment conducted in 2016 does not accurately portray how communities will be affected today. 
"They were basing some of this off of studies that were done, I mean, back in 2016," Clay said. "It's been a while since they've actually evaluated this the way that it needed to be. And a lot of the stats that they were giving, we think are just outdated, they needed to be redone again."
Cunningham said the Chamber filed a witness slip in support of the joint resolution because they agree with the environmental assessment undertaken by IDOT, and primarily because it will reduce traffic congestion and improve the mobility of people and goods.
"We just have to rely on the official report conducted by IDOT, which would show reduced pollution due to the reduced congestion," Cunningham said. 
While IDOT's assessment claims decreased traffic congestion on the interstate will decrease pollution overall, Julia Lippert – a DePaul professor and public health researcher – said traffic will add to the concentration of pollutants such as nitrous oxides, ground level ozone, and particulate matter. 
"All of these have respiratory impacts such as increased asthma, heart disease and premature death," Lippert said.
A cumulative impacts bill held up in the Illinois House proposes involving community members in legislative discussions that affect environmentally burdened neighborhoods in Chicago. For Clay, if the cumulative impacts bill was passed, this joint resolution would have involved more public discussion before it was passed, which is a key point environmental activists have been pushing for in other legislation this session. 
"And unfortunately, that's just not not the law yet," Clay said. "There should be a study involved, there should be a lot more public participation involved with this project, if it was going to happen."
Clay said because the resolution came up late in the legislative session, it was difficult to combat it. He said Senator Rachel Ventura, an avid environmental activist, removed herself as a sponsor when it was brought before the committee last Thursday, May 25. 
This project is one of several transportation expansion projects in the country that have been heavily criticized by environmental groups due to the fear of added pollution. 
"We definitely fought hard on it, but just couldn't get done," Clay said.