EDITORIAL: Seniors reflect on their time at The DePaulia
Erik Uebelacker
The DePaulia was instrumental to my growth as a young journalist. It was also a blast. As a journalism student, the most important thing we can get is a platform. The DePaulia gave that to me. I was a green 20-year-old writer when I started writing for the paper.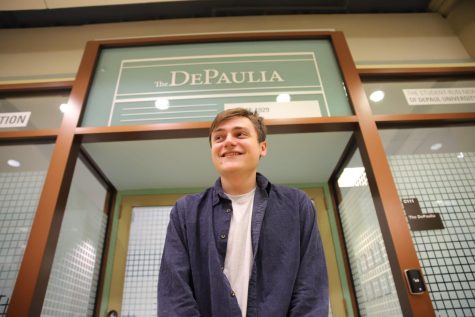 I left with experience covering critical elections, writing feature stories about incredible people and breaking campus news critical to my peers. The fact that I was writing stories that people actually read was an incredible feeling, and one that I felt immensely grateful for as an amateur journalist. I was thrust into the editor-in-chief role after just a year at the paper—it was terrifying—but I was carried by a staff of fellow students that were as motivated and talented as I hope to be. Working with them was a pleasure every week, and I made some of my closest friends as a result. The day I left was heartbreaking. Even as I move into the professional world, I'm not sure I'll ever get the authentic newsroom experience that The DePaulia offers. I'll be forever grateful for my time there.

Amber Stoutenborough
I began my journey at The DePaulia with a rejection email. Looking back, I'm glad I was rejected the first time because it pushed me to prove that I was worthy of a job as an editor.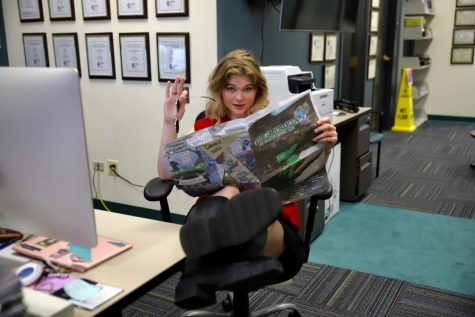 I devoted the past two years of my life to The DePaulia. In that tiny, overheated confined office in the basement of the DePaul Center, I discovered both the pinnacle of my stress and the most cherished of memories. Assuming the role of multimedia managing editor at The DePaulia was undoubtedly a pivotal moment in my career.
At first, our managing team appeared to be a haphazard assembly of individuals with seemingly contrasting personalities and leadership styles. I think we all thought Marla was crazy for choosing us, but she knew something we didn't at the moment. The four of us brought so many opposite strengths that complemented each other, and we became a cohesive support system to bring together our paper. 
I'm so grateful for the other managers because this job was definitely not an easy task. A lot of the time, it was rough. Late nights in the office on Sundays just to run the papers the next morning, and no matter how much time we spent editing all 28 pages, something was always amiss. Nevertheless, we picked ourselves back up each Monday, ready to face another weekend of unexpected findings and exceptional writing.
Lily Lowndes
My roommates recently told me that journalists seem very intense. While I was at The DePaulia, I was frequently rushing around, talking about whatever story I was reporting on, and furiously typing out stories on our living room couch.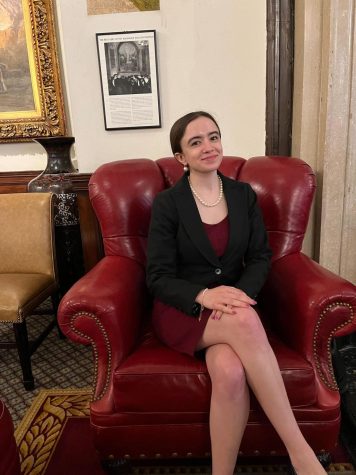 While I initially had mixed emotions, my roommates' observation wasn't wrong. Journalists are intense, especially when they are cutting their stories a little too close to a deadline. In all seriousness, I've seen that intensity at The DePaulia. Sometimes the intensity is related to deadlines,, but mostly I see the intensity in the drive and passion our staff has for reporting stories for the DePaul community.
As social media editor, I read every single story we ran to plan our social media posting strategy. Going through all of the features, investigations, opinions, reviews and news articles was the easiest part of my job.
I loved reading the paper because I knew how much work went into every single story, photo, art and spread. I saw the work that was put in on Fridays and Sundays in the office, but I knew that even more time was spent going out and talking with members of the community, researching facts and creating a compelling visual for each story.
Being a part of student media can be intense. Journalists can be intense. I can be intense too, but we are intense because we care.

Big things are coming to The DePaulia next year. I am so proud of our staff and I know things will only get better from here.
Preston Zbroszczyk
The DePaulia is so much more than a student-run newspaper. When I arrived on my first Friday at the paper I was nervous and awkward. Not knowing what to do or except. 
As I walked in for my last Sunday as a member of The DePaulia, it isn't awkward or nervous, instead comfortable and having a sense of appreciation for the people I've met and the work that has been done.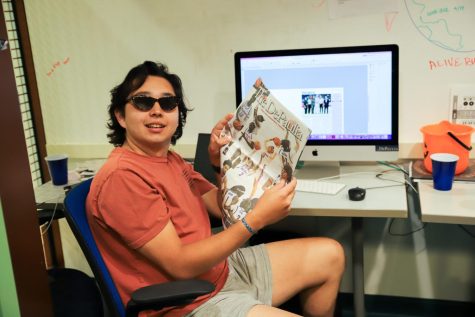 The work is challenging at times, but The DePaulia has prepared me for what the real world is like. I've learned to do things that get me out of my comfort zone, which might not sound good at first but will help in the long run. 
Being the assistant sports editor this year was an exciting experience, where I built relationships and got to feel like I was on a real beat covering DePaul sports. 
As I finish my last week of college I can't help but reflect. Coming to DePaul and being a part of The DePaulia was something I'm glad I worked toward and became better at. Things can pile up and become overwhelming. Wanting to be a part of everything and not miss out, but it's good to take a step back at times and not get caught up in a million things. 
For future sports writers, keep covering all sports. I learned to appreciate the sports that weren't men's basketball and at times found some of the best stories in sports you wouldn't expect. 
Kara Zubo
I joined the The DePaulia staff as a copyeditor this year not really knowing what to expect. I'm not a journalism major and my biggest connection to newspaper-related work previously was watching "The Post" with Meryl Streep.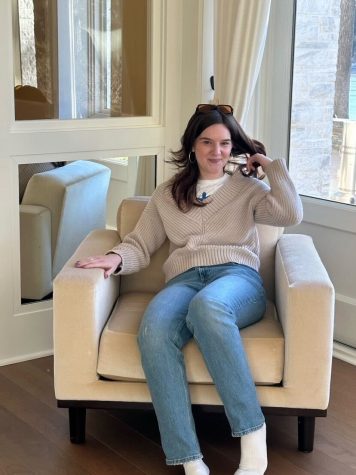 However, I love to write and I will admit to being weirdly obsessed with grammar, thus this position gave me a healthy outlet to correct it and partially stop correcting my loved ones. 
I have had the privilege of reading about half – the other half to my co-copyeditor and AP style wizard Amber Corkey – of all the stories published in The DePaulia. From this, I have seen writers' astute approach to informing their audience while simultaneously letting their voice and style shine through. Working on The DePaulia staff has been so beneficial to my own writing and I applaud the courage of those able to publish theirs. Writing in my opinion is such a vulnerable activity even when writing stories on the routine antics of DePaul. 
Working with a team of such passionate young writers and editors has raised my confidence for my writing and I am in awe of how much material these people are able to produce. The work ethic is insane. In all seriousness,  I am grateful for my time at The DePaulia and all the skills I have gained from my time here. To those writers like myself who may be intimidated or nervous about contributing to The DePaulia, I urge you to do so. If you choose to, just please, for me – a humble copyeditor – do not use semicolons or the Oxford comma.  
Patrick Sloan-Turner 
If I took everything I learned in every journalism class I've taken at DePaul and added it together, it wouldn't equate to half of what I've learned working at The DePaulia.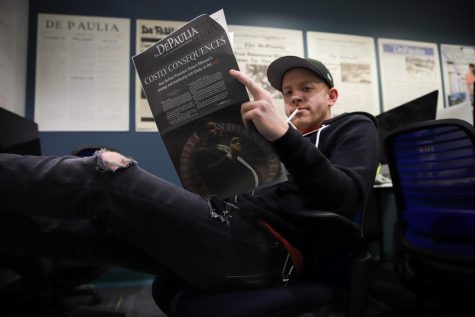 It's made my grades worse, lessened my chances of a social life and upset my dog, Parker, for the long hours I've spent in the office away from home. But, it's all been worth it and then some.
It's been an honor to be a part of the managing editorial staff this past year and is something I will miss. More than anything else, I'm grateful for the support I've gotten from peers for the tough, critical stories I've written. No matter the risk my reporting has posed to our outlet, the staff has ensured they get published. 
Drive fast, take chances, break news.