Welcome back Blue Demons! 
La DePaulia compiled a list of Latine centered organizations and resources that will help you settle into the new school year.
Academic and Career-centered Organizations
Arts and Entertainment
Latinx Artists at The Theatre School

is a club designed to create a space for Latine students involved in The Theatre School to "collaborate, share events, and celebrate one another-through cultural, political, and artistic lenses," according to their website. They want to embrace and celebrate Latine culture and have the core values of being "Culturally Responsive, Community, Unapologetically Authentic, Breaking Molds, Familia." 
Cultural and Safe Space Organizations
Movimiento Estudiantil de Solidaridad y Apoyo

(MESA) is a student organization that meets weekly, providing a space for Latine students to discuss "what must be done" in DePaul's community and Chicago as a whole, according to their website. With their weekly meetings, MESA tries to create a safe space for Latine students on campus. Their

instagram

is updated regularly with events like painting murals, bicycling to reggaeton music, planting with community garden Semillas y Raíces and more. Their mission is to facilitate events and "provide mental, social, academic, and professional resources while emphasizing our cultural ties." Their first meeting is Tuesday September 12 at 5 p.m. in O'Connell Hall Room 360.

Queer people of color

is an organization that tries to untie and uplift individuals who identify as queer people of color, providing students a safe space to express themselves. On their

instagram

, they post about the events they hold. Last year, they made flower bouquets for Valentine's Day, discussed intersectionality in the LGBTQIA+ community, watched movies and more.

Tepeyac

is a student organization that meets Thursdays for Cafecito con Tepeyac, where students can join in on discussions about Afro-Latino solidarity, Latinx Art Exhibition, the diversity in Latin America and more topics. They put updates on their

instagram

weekly. Tepeyac has a mission to serve Latine students at DePaul through facilitating "student involvement, engagement and leadership development," according to their website. They want to foster a safe space for Latine students to "share their opinions, reflect on personal experiences, and participate in the Vincentian mission through our programming based on the pillars of faith, culture and service."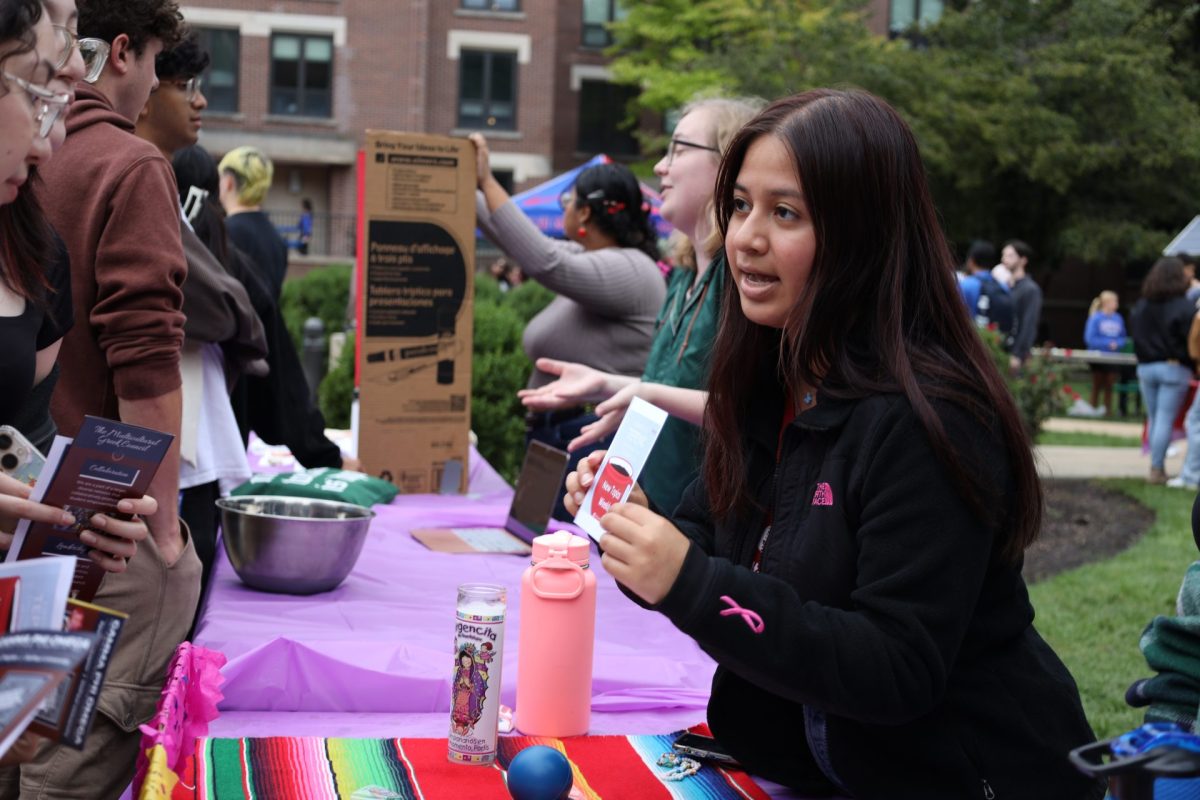 Sororities and Fraternities
Alpha Psi Lambda

is the largest and first co-ed fraternity for Latine students at DePaul. Members are able to get involved in community service and become leaders in a group setting. Want to keep up with the jaguars, you can follow their

instagram

. 

The

Gamma Phi Omega International Sorority Inc.

was the first Latina-oriented sorority at DePaul. Nationally known, DePaul's chapter works to unite their sister members in achieving "academic excellence," "cultural awareness," "serving communities," and "preserving the sacred bond of sisterhood," according to their website. They offer mentorship opportunities between undergraduate and graduate sisters. 

The

Lambda Theta Alpha Latin Sorority, Incorporated

is another sorority at DePaul, focused on fostering leaders who will "promote unity" by creating charitable and educational programs. They seek to "maintain a higher standard of learning and serve as a voice for all students," according to their website.
Student Media
La DePaulia

is DePaul's Spanish language newspaper, whose mission is to provide a voice for the Latine students and writers on campus. Interested writers and photographers can have their work published on NBC and Telemundo Chicago while gaining real-life experience in the field. The publication is currently hiring. For more information contact:

[email protected]

National Association of Hispanic Journalists

(NAHJ) is an organization working to support, connect and recognize Latine journalists throughout the world. DePaul's two time award winning chapter provides a pathway for student journalists to connect with professionals and land job opportunities post graduation. On their

instagram

, the chapter posts updates about the events the organization hosts.

Pueblo

is the university's bilingual publication, where Latine journalists, writers and creatives can showcase their work. If you want to publish your writing, Pueblo works with all writers, not just journalists. According to their website, the publication writes about art, poetry, news and political issues that bring together the Latine community at DePaul and around Chicago.
DePaul DePartments offering Students Resources:
These are departments that DePaul offers to provide resources for students.