For most of his younger years, photojournalist Alex Garcia couldn't travel to his father's beloved Cuba from Chicago due the political turmoil and travel restrictions. But his curiosity and "obsession" with his father's native country grew year after year.
Finally in 1995, he was able to step foot on the island when he became a reporter for the Chicago Tribune and began to cover Cuba for the newspaper. There, he set out to connect with his estranged family, and documented the lives of the people and the culture.
Garcia has now spent over 30 years capturing photographs of the joys and struggles of life on the island and he is displaying his work at an exhibition in the Chicago Center of Photojournalism.
"These pictures are the best way that I could approach the bigger story of my entire experience," said at an Artist Talk on Sept. 17, where he spoke on his Cuban heritage, and his journeys visiting his family in Havana.
Garcia was born in Chicago but he is a son of a Cuban father and a white American mother.
"There's so many aspects about this show that it's really more about sharing with you all what I'm learning is a scratch that I've been itching and scratching for the past, you know, my entire life basically since I was five," he said.
Garcia took photographs of important moments and figures from the mid-90s to 2010s. He was there when Pope John Paul II visited the island for the first time in 1998. He also took photos of Fidel Castro, former leader of Cuba. But Garcia said he was more interested in the daily lives of average Cubans.
"I saw a lot of challenging situations and challenging circumstances," Garcia.
He took pictures of ballet dancers, festivals, old buildings and Cuban boxers.He worked on a photo essay at a boxing gym in Havana and visited multiple times since then. He took multiple photos of the athletes boxing.
When publishing his work at the Chicago Tribune,he hoped his photographs would have an impact on the American public. But that didn't happen at the time, he said.
Most people, he recalled, did not pay much attention to the photographs.
Garcia found it "frustrating" that his photos did not have as great of an impact on the public's view of Cuba.
Garcia's cousin, Oritta Garcia, is Cuban and spent her entire life on the island. She helped him through this journey and reconnection with Cuba as a translator and guide. She is now living in Chicago and was present for the Artist's speech.
Oritta Garcia said she has a great admiration for her cousin and his work.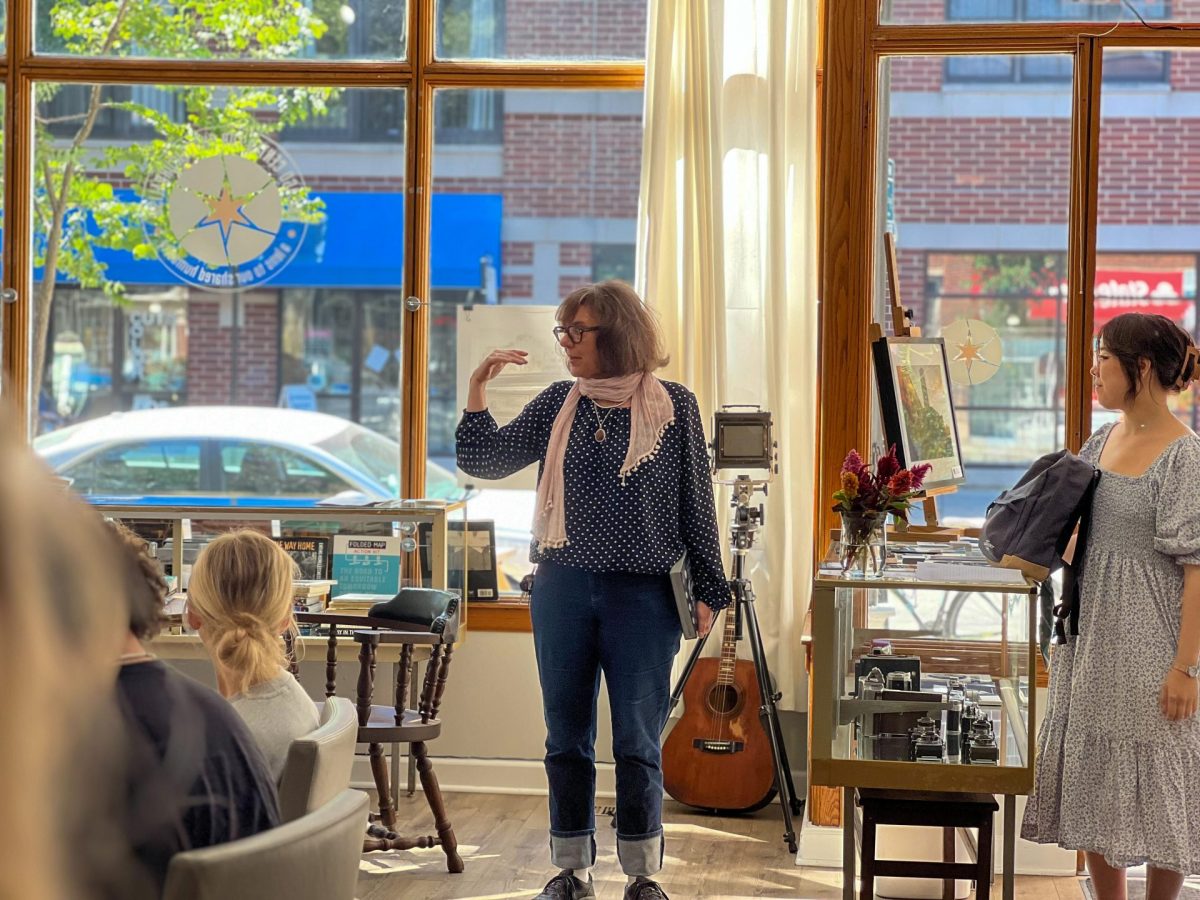 "I've seen many photos [of Cuba] taken by other foreigners. They're kind of disconnected, kind of different. You feel differently when you're looking at a photo that was taken by somebody that has a connection; that has a deeper understanding, that knows where to point a camera, what the story is, what the background is, it's different," Oritta Garcia said.
Her favorite pieces are the photos of families. Some of them, she said, told Alex Garcia their life stories and that connected them further.
Oritta Garcia said the photographs were "incredibly magical. I don't know how but it's kind of reflecting all of those feelings of those families onto a single image."
Fellow Latino photojournalist and friend of Alex, Mike Rivera was also in attendance that night.
The exhibit resonated with Rivera, he said, making him realize that "as a first gen, my parents were born in Honduras, I didn't realize that I'm like a bridge to two different generations and also two cultures. Being reminded where I'm from and the little bit of change that I can make here, photography can do that."
Rivera is originally from Texas, but moved to work for the Chicago Tribune and now lives in the city. Both photojournalists worked at the Tribune but met after Alex Garcia left the publication three years ago. Garcia gave Rivera a call and quickly connected as Latino storytellers.
"The Latino experience is not a monolith. Cubans struggle, Mexican struggle, central americans struggle. It's all very different and people need to realize that we're not all exactly the same."
Alex Garcia now conducts photography workshops in Cuba with the help of his cousin Oritta Garcia.