The work of surrealist artist Remedios Varo is igniting curiosity at the Art Institute of Chicago.
The exhibit, "Remedios Varo: Science Fictions", curated by Caitlin Haskell and Tere Arcq is helping to share the artist's work with a broader audience in the city.
The exhibit contains over 60 drawings and paintings made by Varo. In some displays, you can see the finished paintings as well as a sketch of that same painting, showing her work's progress from start to finish. As you walk through the exhibit, you feel as though you're peeling back the curtain of reality and looking into a different world.
"On one hand, Varo's works are rich with passages of material abstraction, and on the other hand she used storytelling to remarkable ends, showing how the creative imagination could have social and political reach," curator Caitlin Haskell said in a press release. "This exhibition provides an opportunity not only to share Varo's works with new audiences, but also to underscore her vital place in our conception of mid-20th-century art making."
The descriptions of the paintings, and the history of the artist posted on the walls, are written in both English and Spanish, making the exhibit accessible for both English and Spanish speakers and highlights the artist's hispanic heritage.
The exhibit was made possible by The Instituto Nacional de Bellas Artes y Literatura (INBAL) in Mexico City, the Museo de Arte Moderno (MAM) in Mexico City, and the Art Institute of Chicago. The goal of the collaboration was to share parts of Mexico's cultural heritage, as well as Varo's work and her connection to Mexico.
Diana Kaplan, who was visiting the exhibit on a recent Thursday said that she appreciated the bilingual text.
"I liked that it's in Spanish because when I asked [the museum] they told me that there is nothing here in Spanish, and yet I saw that everything in here is in Spanish, I loved it," Kaplan said.
Remedios Varo was born in Catalonia, Spain in 1908. Varo's father was an engineer; he taught her how to create technical drawings and ignited her initial interest in science. Varo and her father fled Spain to Paris in 1937 during the Spanish Civil War. Later, in 1941, during World War II, Varo fled to Mexico City in search of safety and financial stability. While Varo began her training as a painter in Madrid, and joined the surrealist movement while living in France, it was in Mexico City where she perfected her craft, according to historians.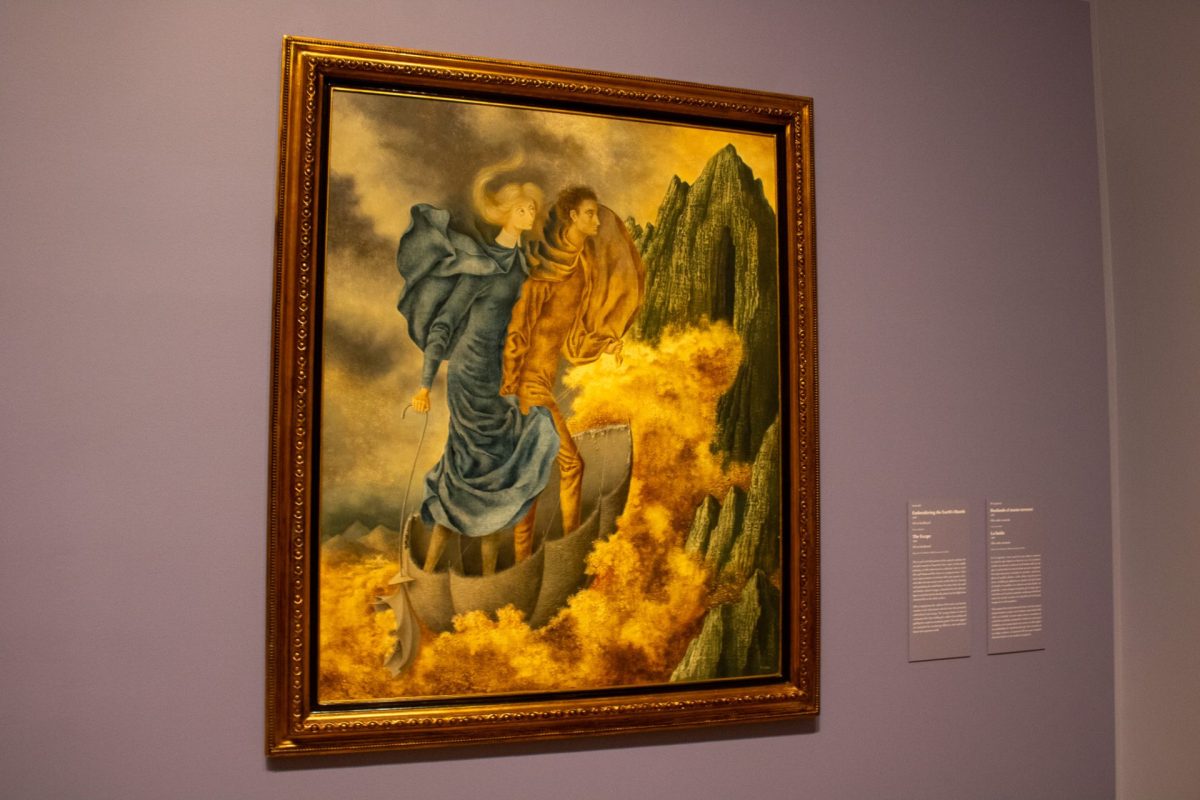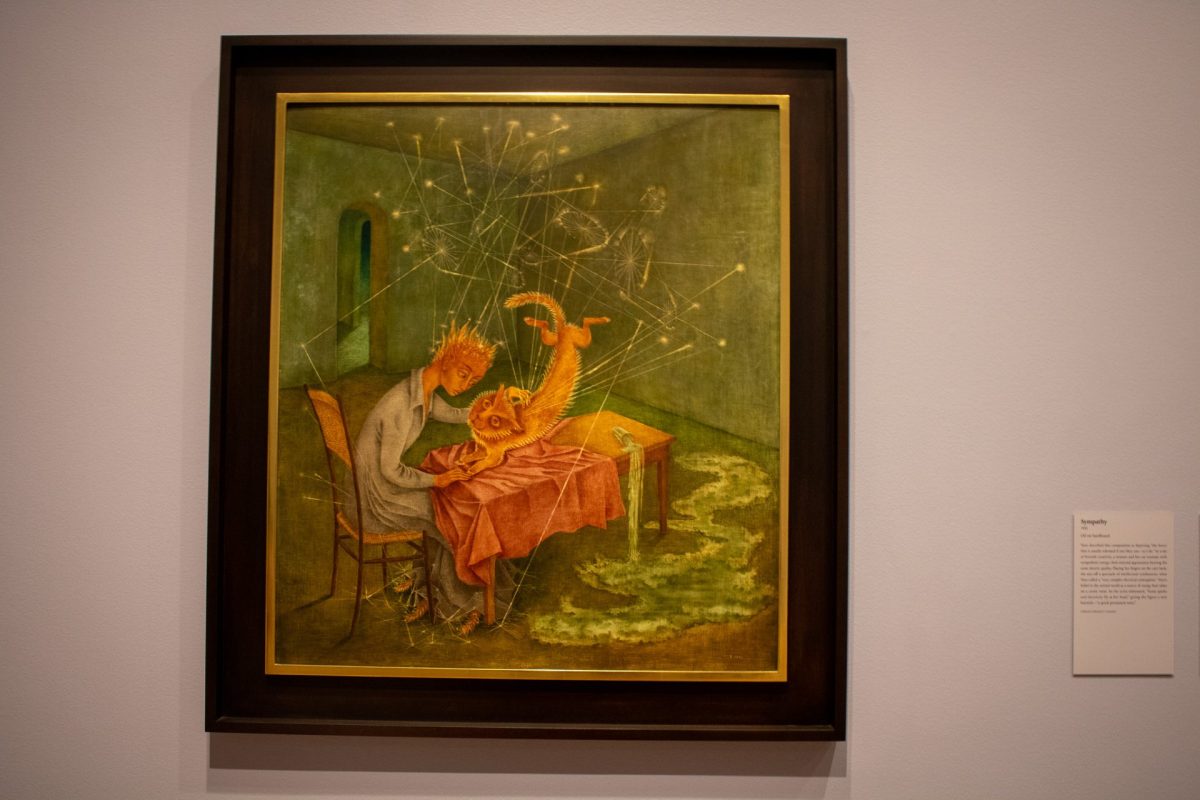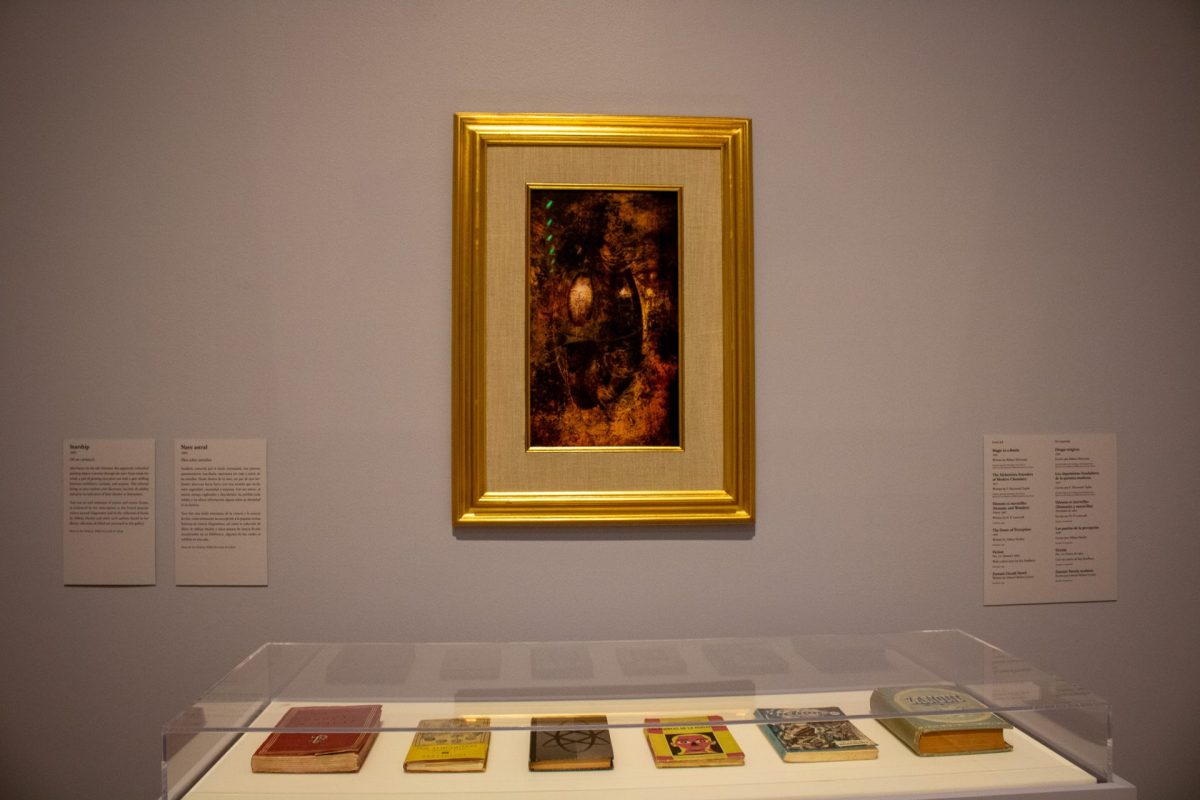 Varo joined a community of European and Mexican artists in Mexico city. It was through this community where she met painter Leonora Carrington and photographer Kati Horna. Varo, Carrington, and Horna began exploring magic and performing occult ritual practices together.
The trio became known as the "three witches" of surrealism. Varo believed that using magic symbols and materials in her art would help her to transcend what was visible and reveal to others the unseen truths of the world. She would often perform rituals while painting, thus further intertwining her artistic work with her spiritual work.
Curators Haskell and Arcq wrote a catalog of the exhibit. They say that "Varo's works are enigmatic, blending ideas and imagery from sources as wide-ranging as chivalric romance, ecology, esotericism (including tarot), geographic explorations, feminist critique, mysticism, and psychology, among others."
Varo's paintings leave a lasting impression on those who view them. Museumgoer Carolina Mansano said she felt a personal connection to Varo's work.
"I thought it was really magical the way she can combine techniques, it seems like a fantasy world. I like to write so I really appreciate it when I can see an artist that opens a different window and can transport you to another place. It's fascinating seeing this not with words, but with paintings," she said.
Those who would like to view the exhibit and connect with the artist can visit the Art Institute of Chicago through November 27th, 2023.