When Maria Arvizo first began working at DePaul University more than two decades ago, there were fewer Latine students on campus, she recalled. 
But when she would encounter one, there was always a special feeling: As a Mexican mother, Arvizo felt proud to see them at the prestigious institution. But she could also sense their struggle, she said. Many were the first ones in their family to go to college and in most cases, it meant a financial sacrifice for their working parents. 
It is still, she said. 
So Doña Maria, as many now call her, doesn't just walk around campus with her uniform keeping the hallways and bathrooms clean, she has become a motherly figure to many of Latine students who have attended and continue to attend DePaul university by proving words of support, but most importantly, by providing them with food. 
She now helps to serve free traditional Mexican food to students battling food insecurity at the Latinx Cultural Center (LCC), a space for all DePaul students to learn about Latine culture, heritage and traditions. 
"Sometimes I bring tamales, cookies, whatever I have with me. I offer it to students because I know they study a lot and kill themselves over school," she said in Spanish. "It makes me sad to see them not able to bring lunch or eat at home, so I offer my lunch to them. I love them as if they were my own."
This has led Latine students in particular to refer to her as "Doña Maria", which is a common title given to older Latin American adults to honor them and show respect. 
Doña Maria said many students come and go over the years, but "she'll always be here to provide a meal." 
She hopes that the dinners will help boost attendance at the LCC. And she also wants to bring more life to the space with Mexican food and traditional foods from other Latinx countries.
"Not a lot of people know about the LCC," Doña Maria said. "I bring new people to the center. I don't want it to shut down. More and more Hispanics are entering DePaul, it's good to see that, they're the future."
Though the center had hosted the free meals for a few years, they were halted during the pandemic. That worried Doña Maria. 
Jane Baron, Associate Director in the Office of Multicultural Student Success at DePaul, said Maria wanted to bring back the LCC free dinners like there was before the pandemic. 
"Maria was the one who initiated bringing back the weekly dinners. She would always bring tamales to the office," Baron said.
Four years ago, the center hosted a birthday party for Arvizo, who brought her favorite dish, pozole, to share with the students and staff. 
"They become so happy when I bring food. They thank me, and I tell them if they need anything, tell me and I'll make food to share," Doña Maria said. "If I don't bring food I made at home, I'll offer snacks just to calm the hunger. Sometimes if there's events at the LCC, I'll bring flautas or other meals to share."
Doña Maria immigrated to Chicago over 40 years ago to escape the poverty she experienced in Mexico, she said. In 2011, she started working at Depaul and seven years ago, began working at the cultural centers as a housekeeper. 
Now she also helps to oversee new employees, she said. Thanks to her work, she has been able to raise five children in Chicago. 
Doña Maria, however, considers many of the students also her children. 
They often go to Maria for advice and emotional support. Sometimes some even go to her when they're feeling sick or in pain when they're unable to reach their own parents. 
"I see my mom in her too. [Maria] is one of those people who is constantly overlooked until you personally meet her," said Jessica Soriano-Villada is a DePaul senior who moved to Chicago from a small town in North Carolina.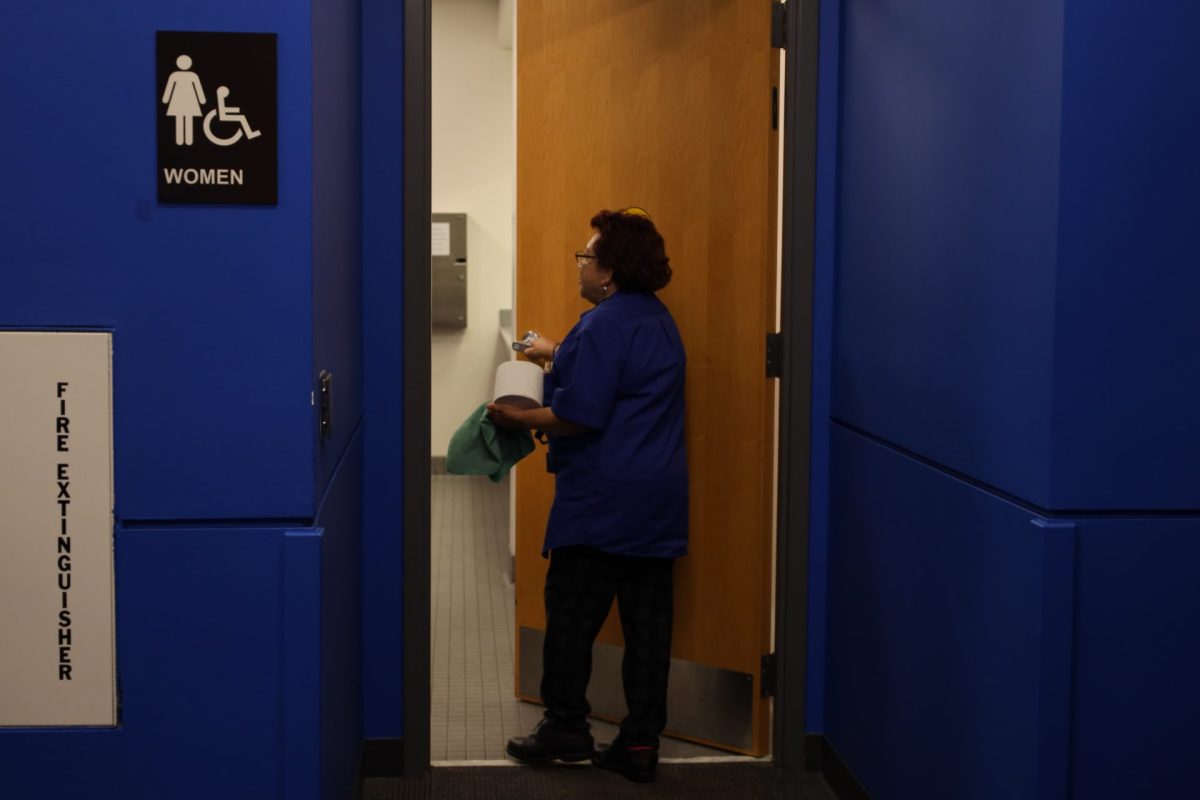 Soriano-Villada said she had never flown on a plane or been away from her family, so it was hard moving to Chicago. 
"Getting to know Maria really made it a lot easier to transition, and knowing who to talk to, and knowing there are people who care for me even though I may not show it," the student said. "She made it more comfortable, more easy, because she was one of the people who interacted with me when I first moved here."
In her first interaction with Doña Maria, Soriano would talk about where her parents were from, where she lives and how Chicago is treating her. Soriano-Vallada said it wasn't just small talk, she wanted a full conversation.  
"It's not just with me, [Doña Maria] likes to build connections with all the students. We dubbed her as our 'grandma' because she loves taking care of us. It's not just superficial, she genuinely likes making conversations with us. She's very loving and caring, you really see the motherly instinct within her," she said. The relationship with Maria "hits home" because her mother used to be a housekeeper.
Doña Maria is further connected to DePaul through her youngest daughter Aileen Ramirez. She's a DePaul senior studying nursing. 
"My mother is so generous,"Ramirez said, "because she sees her children in other students and wouldn't want them to go hungry."
"When I'm overstressed or overwhelmed from school, I lose my appetite in a way. I'm too busy to worry about food. Later at night when I eventually relax, it's when my body starts reacting. I have headaches and my stomach starts growling," says Ramirez. 
Arvizo is constantly telling Ramirez to eat; it's a cultural thing, Ramirez said. "Most Hispanic moms have always contributed and given more than what they have to the next generation."
Ramirez said she and her siblings are persuading their mother to retire, but Doña Maria is resistant. 
She believes this is because her mother is very extroverted and loves interacting with others.
The first dinner of the quarter was held in September and served Puerto Rican food. These events will continue with the next dinner being on Nov. 8. at 3 p.m. in the LCC. 
During the dinners, students can also engage in discussions about issues within the Latine community.