DePaul club hockey captain Brock Ash played a pivotal role in the team's first regional qualification since 2009. A seventh-year law student who is also a left winger and captain, led his team to the top. Ash switches from his daytime activities of law classes and work to put on his hockey gear. As he touches the ice, his mindset is focused on the gratitude of not taking what is left of hockey with his teammates for granted.
Ash, a native of Hoffman Estates, Illinois, is in his final year of law school at DePaul. A double Demon, he received a bachelor's in political science in 2021 and noted the connections between his studies and his sport.
"I wanted to find a profession that I enjoyed and fulfilled me and that would let me help other people," Ash said. "I'm also really competitive and like to win, so the adversarial system of law and going to court, arguing one-on-one, reminded me of hockey."
Ash, who has been skating since he was 18 months old, began his collegiate club career at Illinois State University (ISU).
However, Ash broke his collarbone playing hockey the summer before his freshman year. He chose not to get surgery in hopes of letting it heal naturally. 
Then he broke his collarbone in his third game at ISU and decided to get surgery.
"Not being able to play hockey during that time was really, really tough for me," Ash said. "My collarbone got infected after two weeks, got another surgery, went back to ISU… injecting antibiotics into my body. My mental health was bad there."
Ash felt isolated during his recovery as he couldn't spend time with his team and was still far from home.
"I felt no sense of community and missed my family," he said. "They're a huge part of my life and I'm happiest when I'm with them."
Ash said his family is also a huge reason for his caring mentality. His dad is his biggest role model, teaching him leadership skills that he uses to influence his siblings Bennett and Ellory. He loves being their big brother. He also said his mom taught him people skills.
"I love helping people," he said. "My mom is super empathetic and such a people person. Taught me and passed those skills just by how she acts and treats others."
Ash's cousin, Bradley Spangenberg, knew Ash needed to reconnect with his family and home. Spangenberg was a DePaul hockey player and suggested he transfer to DePaul. He felt they had a good hockey club and a great law school, a program ISU did not have. Ash transferred to DePaul in January 2018 and began playing with Spangenberg and the Blue Demons. He said he immediately felt a sense of home again.
"Playing with my cousin was one of the best moments of my life honestly," Ash said. "During the national anthem it hit me, took it all in, Brad's been there for me my whole life. …You get through it, right? The bad times make you stronger. Couldn't have done it without him."
Ash was named captain in 2022 after displaying what his teammates say are the ideal qualities of a leader.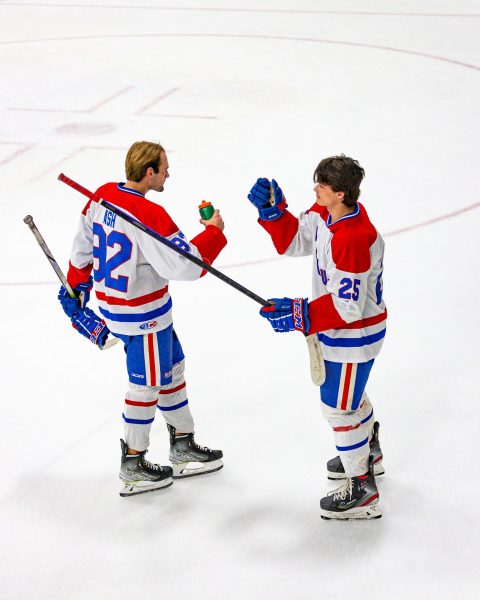 "I believe that Brock Ash has a 'C' on his chest for a reason," junior defensemen Ryan Plotke said. "Both on and off the ice, this is someone who will always look out for you and your best interests. He sets an incredible example of what it means to be a leader, a great teammate and most importantly, to always have a smile on your face."
Right wing junior Danny Mannarino agrees.
"He's the type of guy that says hi to everybody when he first walks in the locker room," Mannarino said. "He's always asking me how I am doing before I can ask him. He's talking to all the kids in the locker room, asking how school is, very charismatic, good team guy, that is why he wears the 'C.'"
Ash expressed surprise at being named captain, but felt honored to take on the challenge.
"I love being captain," Ash said. "It's a responsibility I embrace and really enjoy. You can lead whether you have a letter on your jersey or not. That has always been my philosophy at DePaul. It's how you treat people."
As a Christian, Ash said his faith guides him on and off the ice. When voted captain, he put a cross with a "C" on his gloves and equipment.
"I give it all up to God," he said. "I wouldn't be in this position without Him."
Ash's pregame ritual consists of praying for his team's safety during the national anthem to remind him what he feels is bigger than hockey.
"I take the time to ground myself and feel grateful," he said. "I'm just trying to live my life in accordance to His plan and be the best human that I can be," Ash said.
Ash's teammates say every team needs a player like him.
"You always need to have a positive, uplifting leader," said junior linemate Matt Newton. "He'd be good on any team because of his attitude and the way he plays the game. It's always fun passing to him."
DePaul coaches say his personality is what makes leadership come so easily to Ash.
"Not just Brock the hockey player, you want Brock the human on your team," head coach Dan Wood said. "He's one of the nicest kids around."
As Ash begins his final season at DePaul, the goals for his team are stronger than ever.
"I want everyone to be fulfilled and happy, looking back and enjoying their hockey career," Ash said. "If that comes with winning, great, but it might be a different portion of their life, a new job opportunity, passion in career or just graduating. That would make me happy."